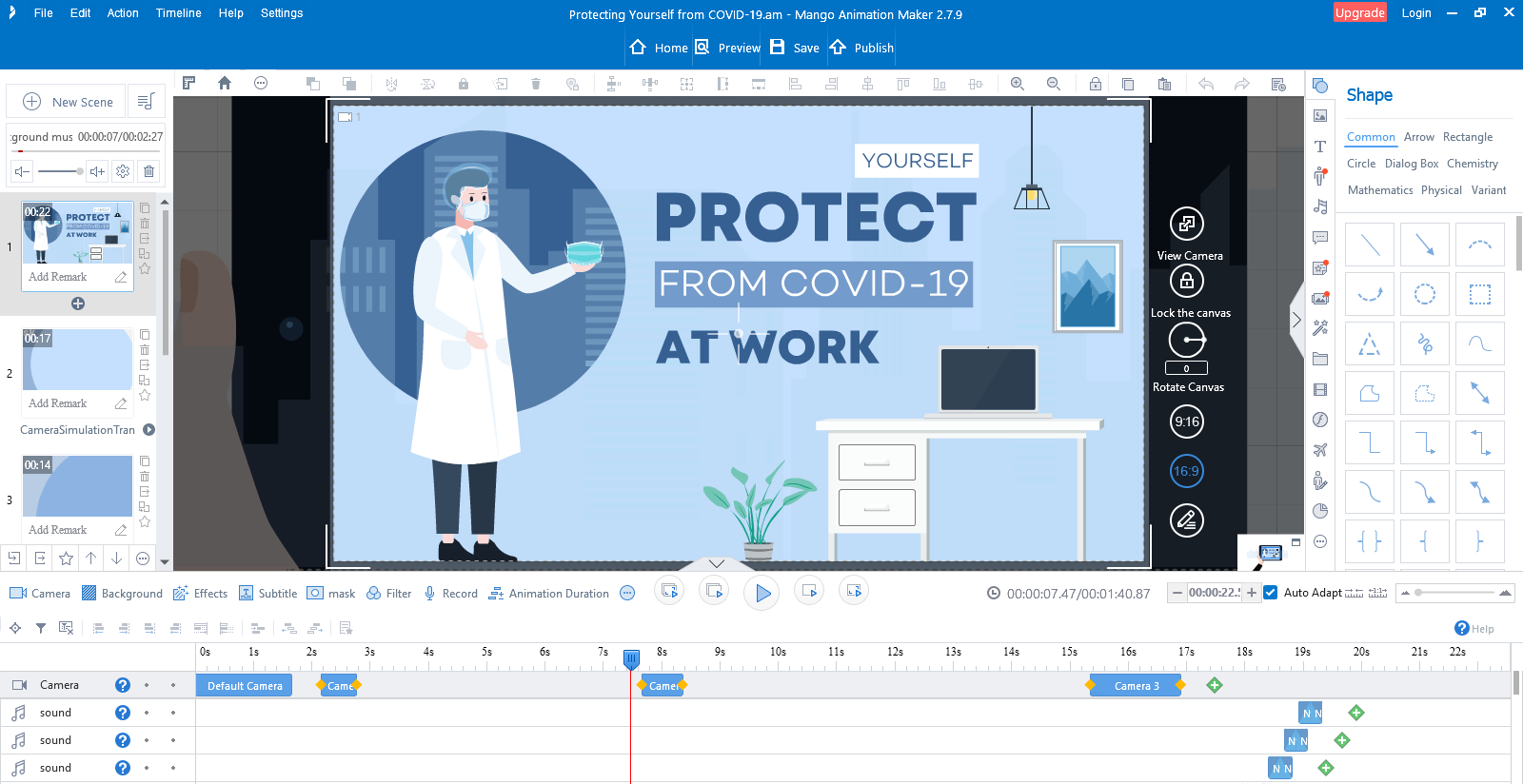 Mango Animate's animated presentation creator empowers users to present their ideas in the most creative and memorable way possible.
Primarily used as an animated presentation creator, Mango Animate Animation Maker, also known as Mango Animate AM, allows users to develop eye-catching content for sharing.
Mango Animate's animated presentation creator allows users to create an impactful delivery that will stand out amongst its competitors. By providing powerful subtitle and recording capabilities, Mango Animate AM will enable users to bolster the emotional response to their project. Plus, with thousands of free media assets to choose from, professionals from all backgrounds can develop a clear and concise animation to keep viewers engaged and excited.
Using slides or static images for presentations can feel redundant. Mango Animate has developed an animated presentation creator that tackles boring content by bringing it to life. With over forty dynamic characters from various industries to choose from, including a teacher, doctor, student, and businessman, Mango Animate AM makes it easy to tell an engaging story in a fun manner.
This animated presentation creator is ideal for business meetings, classroom presentations, and more. Mango Animate AM makes it easy for presenters to deliver their message in a compelling way by conveniently providing SVG images, charts, symbols, and shapes within its platform. Not to mention, the software's dynamic animation effects and stunning scene transitions will create a memorable impact on any critical audience.
Instead of just reading ideas off slides, users can bring concepts to life with this powerful animation creator. With numerous bold entrance, exit, and emphasis animation effects to choose from, Mango Animate AM can help highlight the most critical points of a presentation. By keeping audiences entertained with amazing zooming, panning, and rotating camera effects, they are more likely to keep watching and eager to learn more.
Mango Animate AM allows users to quickly create attention-grabbing animated videos to present content. By offering various pre-designed templates, users can quickly get started building an animation in just minutes. This animated presentation creator allows users to export their videos to YouTube, offline, or GIFs for easy sharing.
"Our animated presentation creator makes sharing ideas exciting and captivating," says customer service head at Mango Animate, Lynn Tang. "It's a great way to appear professional while keeping audiences amused."
For further information about the animated presentation creator, please visit Mango Animate.
About Mango Animate
Mango Animate has launched various software for use in personal, business, and educational settings alike. Offering a user-friendly interface, a one-time download, and versatile sharing options, Mango Animate is the leading choice for animated presentation creators.
Media Contact
Company Name: Mango Animate Software Co., Ltd.
Contact Person: Paul
Email: Send Email
Phone: +86 020-61972665
Address:Room 1003, 10/F, Tower 1, Lippo Centre, 89 Queensway, Admiralty
City: Hong Kong
Country: HongKong
Website: https://mangoanimate.com/