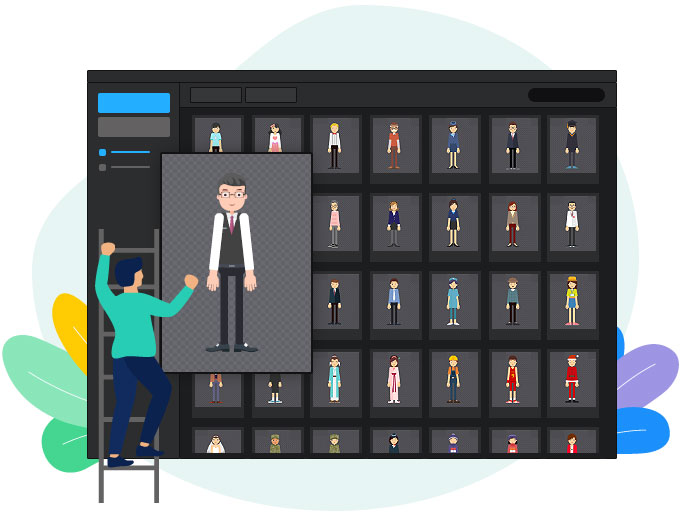 Mango Animate CM provides users with greater flexibility in character customization, which will help them unlock their creativity in animation video projects.
The free 2D character animation software developed by Mango Animate is ambitious to offer users more customization in character making.
Characters tell stories, there's no doubt of that. Animated characters tell them even better. For modern businesses looking for creative ways to put their brand out there, or trying to find ways to keep internal communications engaging, 2D character animation is something to be considered. Of course, it's also very useful for educational and even more personal uses. Animation software giant Mango Animate is about to launch its free 2D character animation tool, the Mango Animate Character Animation Maker (Mango Animate CM).
Mango Animate CM is free 2D character animation software that allows users to convert static images to funky and entertaining animated characters. It supports PNG and PSD formats and users simply need to import their files into the Mango Animate CM to begin. They can then add bones and nodes, edit characters' postures, facial expressions, motions to create all the characters they need for their projects.
With this free 2D character animation tool, users have access to a wide range of resources to create spectacular animated characters. Mango Animate CM comes equipped with a full library of professionally designed, fully rigged animated characters that are ready to be used in any training or marketing project. They can be used just as they are or modified to suit the user's needs. There is also a large collection of premade motions and facial expressions so users can quickly and easily animate their chosen characters.
Customization is important as no one wants their animation to look like it was mass-produced. This free 2D character animation software lets users change outfits and accessories for their characters to match their unique style and brand. They can also choose various facial features and add appealing decorative items to the characters. Mango Animate CM uses a smart Inverse Kinematic feature to edit characters' poses and movements so that they are more precise and have a more natural appearance.
Whatever purpose the free 2D character animation from Mango Animate is used for, it can be exported in numerous formats including GIF, MP4, MOV, and PNG, and quickly shared on social media and other platforms.
"We won't stop until our customers have everything at their fingertips to meet all their animation needs," says Winston Zhang, CEO of Mango Animate.
To learn more about their free 2D character animation software, please visit Mango Animate.
About Mango Animate
Mango Animate is a leading provider of animation software. They've developed numerous animated video makers for various purposes.
Media Contact
Company Name: Mango Animate Software Co., Ltd.
Contact Person: Paul
Email: Send Email
Phone: +86 020-61972665
Address:Room 1003, 10/F, Tower 1, Lippo Centre, 89 Queensway, Admiralty
City: Hong Kong
Country: HongKong
Website: https://mangoanimate.com/