Device allows families to seamlessly keep the surface of toilets perfectly sterilized using the same UV-C LED technology that NASA uses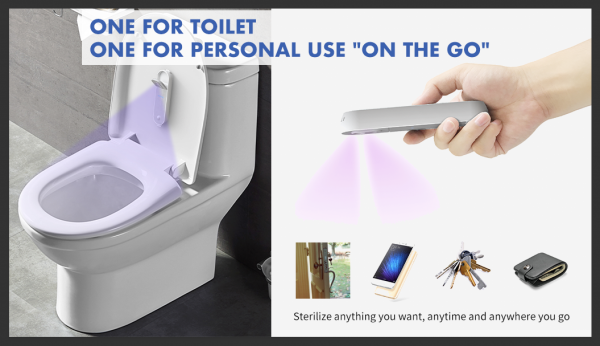 Mahaton Toilet Sterilizer, the world's first toilet sterilizer, is being launched today on Kickstarter to offer individual users and families an easy, intelligent and automated device to eliminate bacteria and germs both in home and public toilets.Using mercury-free deep UV-C LED technology, which NASA has used over the years to clean the water that astronauts drink and for other sanitation needs, this is a device that is also portable, compact and with an ease of use that has the consumer's needs at heart.
"Mahaton Toilet Sterilizer is extremely easy to use and effective," said Tony, founder of Mahaton. "People can use it hand-held, effectively sterilizing anything they need, not just toilets, or they can mount it on their toilet seat fixed brackets to automatize its functions." The device works whether the lid is in the horizontal or vertical position, repeating a 2-minute disinfection cycle every two hours. When its sensors detect a human body, the UV disinfection stream is automatically interrupted and resumed only when the sensors no longer detect a person.Mahaton Toilet Sterilizer "is a water-resistant device that offers people a green, safe and chemical-free way of not getting exposed to bacteria dangerously and needlessly, when squatting is really not a comfortable or effective alternative," Tony further commented.Mahaton's mercury-free UV-C LED used technology eliminates 99.9% of bacteria in 90 seconds. At 275mm, the UV-C light effectively destroys the DNA and RNA strands of bacteria, also eliminating germs and dust mites. This is a technology that holds FDA, CE and SGS certifications, which is another layer of safety that users can rely on.

The streamlined and extremely effective sanitizing experience that the device offers is also improved due to its portability and ease of charge. A user can charge Mahaton Toilet Sterilizer and use it anywhere and the device's battery is likely to require a new charging cycle every 10-15 days. The Mahaton Toilet Sterilizer campaign on Kickstarter at < https://bit.ly/34H9h75 > is seeking to raise $10,000 to fund the large-scale production of the bacteria-eliminating device for toilet surfaces. Backers who support the campaign gain early and discounted access to the sterilizer.
About Mahaton
Mahaton is one of the earliest teams in the world to develop UV-C LED technology based consumer products. We are incubated by Northeastern University IDEA Venture in Boston, USA. Our vision is to use the technological innovation to improve people's living environment, that's why we developed innovative, high performance and chemical free disinfection products for families and individuals. Mahaton found by Northeastern University alumni, director of a semi-conductor company in Silicon Valley and the designer who won Red Dot, IF and IDEA design awards.
For more information, please visit: https://www.kickstarter.com/projects/995799020/mahaton-worlds-first-portable-smart-toilet-sterilizer?ref=439qd2, or contact Ashley, on +1 617-642-0527 or at hello@mahaton.com
Media Contact
Company Name: Mahaton LLC
Contact Person: Ashley
Email: Send Email
Phone: +1617-642-0527
Country: United States
Website: https://www.kickstarter.com/projects/995799020/mahaton-worlds-first-portable-smart-toilet-sterilizer?ref=439qd2