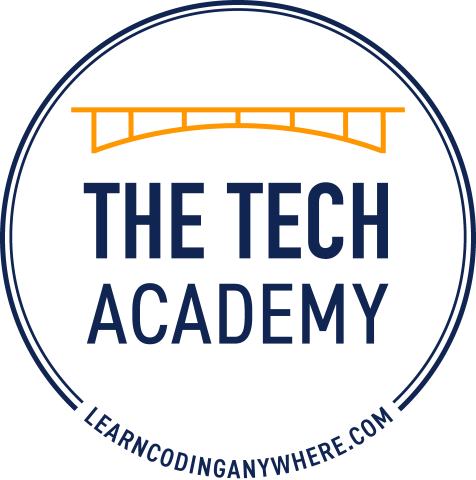 As a school that has delivered coding boot camps since 2013, The Tech Academy is one of the longest-running boot camps in the world. Through the years, we have seen many boot camps and various approaches come and go.
There are four important tips we recommend students keep an eye out for during their coding boot camp search:
1. Tuition guarantee. There are some schools out there which offer a guarantee that if you don't get a job within a certain amount of time, they will refund your tuition. While this may sound like an excellent opportunity, always read the fine print. There are many rules to tuition guarantees and if you violate one of them, the agreement is canceled. For example, if you don't graduate, you forfeit your tuition guarantee (the school that offers this has a 20% graduation rate – while our graduation rate is around 72%). Other examples of reasons these other schools can cancel the tuition guarantee include: if you fail two mock interviews with them or if you don't answer a communication within one business day. The Tech Academy does not offer tuition guarantees because we feel they can be misleading. Here is an example of some of the "fine print" from a competitor that offers tuition guarantees: Example Tuition Refund Guarantee Fine Print.
2. You get what you pay for. The Tech Academy is priced under the national average but there are cheaper boot camps. Here's the difference: whereas we provide on-demand Instructor support 60+ hours a week, the less expensive boot camps either don't have Instructors at all, or your interaction with them is limited to occasional scheduled meetings. Meaning, with other schools, if you get stuck or lost, you have to wait. For example, one of these cheaper boot camps offers one meeting a week with a mentor, while the rest of the time students fend for themselves. Again, The Tech Academy instead provides you with near-instant support as you need it, with Instructors who have graduated from your boot camp. The point is, while we are cheaper than most, the reason a few are even less expensive typically is because they: a. offer less support from their staff, and/or b. their boot camps are shorter (include less study content).
3. Job placement guarantee. Similar to the tuition guarantee, there are some coding boot camps that guarantee a job. Again, read the fine print. The simple fact of the matter is that no employer in the world hires staff without interviewing them first, and your school can't interview for you. Just like the tuition guarantee, there are terms and conditions that allow schools to cancel the agreement. For example, the school can get rid of the job guarantee if you turn down a single job offer. There are also some statements which are open to interpretation, like "situations that void this Guarantee include, but are not limited to:…You do not put sufficient and consistent effort into your job search." Here is an example of some of the "fine print" from a competitor that offers tuition guarantees: Example Job Guarantee Fine Print.
4. Transparent outcome reports. The Council on Integrity in Results Report (CIRR) is an independent organization that monitors and reports the outcomes of coding boot camps. You can find The Tech Academy on CIRR and read about our completion rate, job placement rate and other outcome data. Here's the problem: Most of the coding boot camps that offer job or tuition guarantees have either no data or outdated data on CIRR. Understanding a school's outcomes is an important part of the decision-making process.
In summary: If an offer sounds too good to be true, it is.
Unfortunately, no one can do your job interviews for you and breaking into the tech industry can take hard work.
At The Tech Academy, according to our own internal tracking policies, we have an average completion rate of around 72% and a job placement rate of about 85%. These are some of the best rates in the industry.
We hope this information helps in your search for the right coding boot camp!
To find out more about The Tech Academy, visit: https://www.learncodinganywhere.com/
Media Contact
Company Name: The Tech Academy
Contact Person: Briar Willette
Email: Send Email
Country: United States
Website: https://www.learncodinganywhere.com/