Mu Ying Optical's Light Chaser Raman Spectrometer has been continuously designed, developed and optimized for more than ten years, achieving rapid detection at the microsecond level. It has become the most advanced research-grade micro-Raman spectrometer, which can meet your current and future needs.
Efficient, stable, and accurate: the safety lock for microbial detection:
Light Chaser breaks through the limitations of traditional laboratory micro-Raman, and its superior performance compared to similar products enables staff to easily analyze in real time, adding a stable "safety lock" for microbial contamination control.
Efficient: fast processing of microbial information
Stable: ensure reliable operation for a long time
Accurate: achieve single-bacterium level detection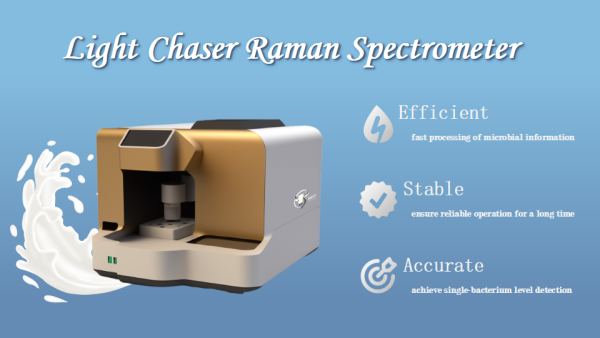 Enjoy the advanced intelligent instrument performance and flexibility:
It has a built-in fully automatic in-situ system, which does not require manual operation procedures, improves detection efficiency and safety, and has simple operation, outstanding performance, and reliable results. Even for the most challenging experiments, it is no exception. You can generate information-rich and clear chemical images, as well as highly accurate data on discrete points.
High specificity: extract the characteristics of bacteria specifically
Adaptive: automatically adjust parameters by learning from data
Strong generalization ability: have good noise reduction effect under different noise interference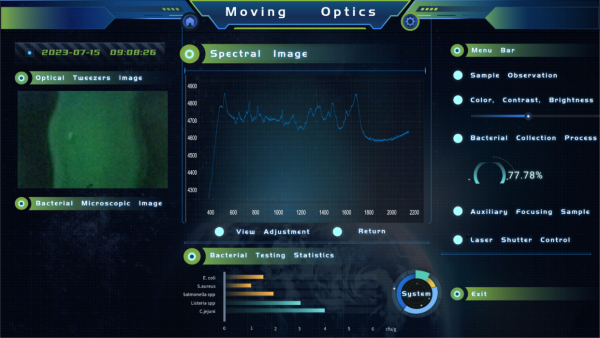 Light Chaser Raman Spectrometer is a microbial detection artifact that integrates efficiency, precision, and intelligence. It will provide safer, healthier, and higher-quality products and services for microbial detection in various industries, and bring consumers more peace of mind, comfort, and satisfaction. Experience.
Light Chaser Raman Spectrometer uses optical detection methods, green and environmentally friendly, in line with sustainable development requirements, reduces the burden and pollution on the environment, reflects social responsibility and conscience, and has won the trust of many scientists and engineers around the world.
All the innovation, performance and ease of use you expect from Mu Ying Optical's Light Chaser instrument have passed the certification and testing of relevant national departments. They are currently being promoted and applied in the market. We welcome interested production enterprises and institutions to contact us. We will provide you with professional technical support and preferential price policies. Please visit our official website for more details.
Media Contact
Company Name: Lingrong Culture
Contact Person: Wang Yurong
Email: Send Email
Phone: 2134007851
Address:3185 Wilshire blvd
City: Los Angeles
State: CA
Country: United States
Website: www.lingrongculture.com