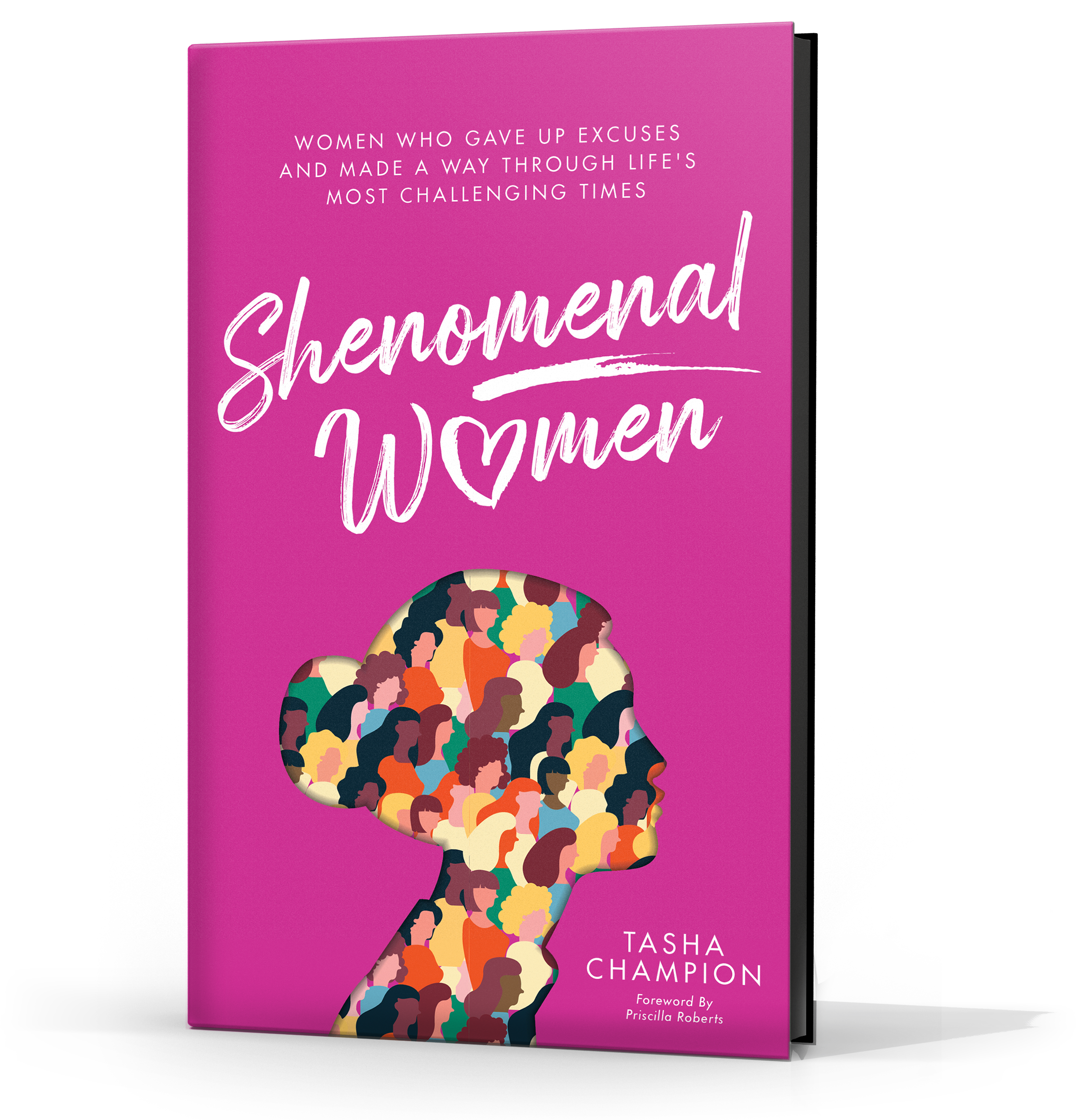 Women are constantly putting a smile on their faces and braving through their everyday lives while living with and holding on to hurt and pain caused by heartbreak, molestation, abandonment, and poor decision making. To help women heal from the shame and embarrassment of their traumatic experiences, Tasha Champion has released Shenomenal Women: Women Who Gave Up Excuses and Made a Way Through Life's Most Challenging Times.
APPLE VALLEY, CA – April 8, 2021 – In Shenomenal Women, bestselling author and life coach, Tasha Champion and twenty-two inspirational co-authors, are authentically sharing their stories of triumphs and victories. Each woman reveals how she made the decision to change her life, embark on her own healing journey, and confront the past choices that kept her in a cycle of distress and disappointment. Readers will see themselves reflected within these pages and gain the necessary strength to unlock their own power and overcome obstacles.
"I gave myself permission to be the fearless woman I am today, and I urge you to do the same. You deserve it. It can be scary because fear has been part of your comfort. Ask yourself, is this the life I want or deserve? If not, step out on strong faith, and it will push you past your fear. When you learn there's nothing holding you back except you, it changes how you see things and how you proceed in life," says Champion.
The topics covered in Shenomenal Women, such as healing, loss, illness, grief, trauma, self-worth, and success will provide readers with the hope and encouragement that no matter their life experience, they can not only survive but also find life, love, joy, and happiness after the darkness. Through the compelling narratives disclosed in this anthology, women will be emboldened to rise beyond any situation and declare victory.
Shenomenal Women gives readers the courage they need to conquer the world on their own terms—fearlessly. "Being fearless doesn't mean you're not afraid. It means the fear will no longer immobilize your ability to move forward. It's about taking action, imperfect action, in spite of the fear."
Tasha Champion is a certified master life coach, intuitive healer, and award-nominated bestselling author. Healing from her personal struggles, she launched Champion EmpowHERment, which specializes in supporting women through self-love and discovering their purpose. In addition to her efforts in empowering women, Tasha consistently speaks out to raise awareness and funding to eradicate cancer. In 2018, she was selected as a Voices of Hope Honoree with the American Cancer Society.
Published by Publish Your Gift®, Shenomenal Women: Women Who Gave Up Excuses and Made a Way Through Life's Most Challenging Times is now available for purchase at www.shenomenalwomenbook.com.
Media Contact
Company Name: Purposely Created Publishing Group
Contact Person: Shani McIlwain
Email: Send Email
Phone: (888) 949-6228
Country: United States
Website: www.publishyourgift.com