In an age when cleanliness and hygiene are the focus, maintaining a pristine environment has become a top priority for both domestic and commercial spaces. Among the many cleaning tools available, disposable floor cleaning pads are popular for their convenience and effectiveness. To meet the growing demand for customized cleaning solutions, manufacturers in the cleaning industry are now focusing on offering customized and branded options for Disposable mop pad refill. These new developments will revolutionize cleaning practices by offering tailor-made solutions for every need.
Custom disposable mop heads that feature a company's logo, colors, or specific branding elements can help cleaning companies establish a consistent and professional image. This is especially valuable in commercial environments where cleanliness and professionalism are essential.
Branded disposable mop heads can include visual cues like lines or patterns that guide cleaners in achieving thorough and consistent cleaning. This streamlines the cleaning process and helps maintain a high level of cleanliness.
In the latest development in the cleaning industry, there has been a breakthrough innovation in the form of customizable disposable floor cleaning pads. These new mops will change the way cleaning professionals and homeowners approach cleaning tasks. By incorporating advanced customization options such as personalized logos and different sizes, these mops will provide a more efficient and customized cleaning experience.
Plus, these microfiber disposable mop pads come in different sizes to ensure all people's cleaning needs are met. Whether it's a larger commercial establishment or a small apartment, there are mop sizes designed to meet specific requirements. This customization ensures maximum efficiency, as cleaners can choose the optimum size for different tasks, reducing cleaning time and effort.
The benefits of these customizable disposable microfiber flat mop heads go beyond aesthetics and size variations. The use of disposable mops ensures a higher level of hygiene and solves the problem of cross-contamination. Even after several rounds of cleaning, traditional mops can still accumulate dirt, bacteria, and odors. With a single-use mop, the user simply discards it after use, eliminating the risk of germs spreading from one area to another.
Another significant advantage of disposable microfiber pads is convenience. Cleaning professionals can now carry a personalized set of mops to different job sites, increasing their efficiency and professionalism. Plus, homeowners can have a custom stack of disposable mops on hand for any unexpected cleaning needs, minimizing storage space and simplifying cleaning routines.
Customizable Options For disposable mop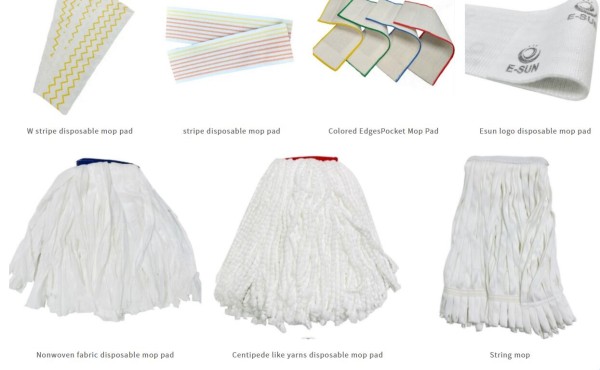 How To Customize disposable microfiber mop pads
Tell us people's disposable mop pad requirments
Mop material Disposable mop pads are often made from a combination of materials that are designed to be absorbent and effective for cleaning, but they are not typically meant to be washed and reused.
100% Polyester Mop Material: Polyester is a synthetic material that is known for its durability, quick-drying properties, and ability to trap dust and dirt. It's often used in mop heads because it can effectively clean various surfaces and maintain its shape even after multiple uses. Polyester mop heads are typically more affordable than some other materials and can be suitable for general cleaning tasks.
70% Polyester, 30% Polyamide Blend: Polyamide, often referred to as nylon, is another synthetic material that is known for its excellent absorbency and scrubbing capabilities. Blending polyamide with polyester combines the strengths of both materials. The polyester provides durability and helps maintain the mop's shape, while the polyamide enhances absorbency and can provide better cleaning performance, especially on tough stains or dirt.
Non-Woven Fabrics: Many disposable mop heads are made from non-woven fabrics, which are engineered fabrics made by bonding or felting fibers together. These fabrics can be effective at absorbing liquids and picking up dirt and debris.
String or Rayon: String mops are made from synthetic materials like rayon or blended fibers. They have a frayed or string-like appearance and are used for heavy-duty cleaning tasks. String mop heads are highly absorbent and durable.
Mop size (Regular size 45*13.5cm,OEM size)
Disposable mop pads sizes can vary based on the manufacturer, intended use, and specific cleaning tasks they are designed for.
Mop weight
The weight of disposable mop heads can vary depending on their size, the materials used, and the level of absorbency they offer.
Design patterns.
Disposable mop heads often come in a variety of design patterns and styles to suit different cleaning needs and preferences. While the primary purpose of disposable mop heads is functionality, some manufacturers incorporate visual elements to enhance the user experience.
Solid Colors: Many disposable floor cleaning pads feature solid colors such as blue, green, or white. These neutral colors are often associated with cleanliness and hygiene.
Stripes: Some disposable mop heads have stripe patterns, where alternating lines of different colors or shades run across the mop head. These stripes can make it easier to see the cleaning path and ensure even coverage.
Textured Patterns: Textured patterns, like grids or diamond shapes, can be integrated into the mop head's design. These patterns might help with scrubbing and cleaning more effectively.
Branding and Logos: In commercial settings, disposable mop heads might be branded with company logos or specific branding elements. This is common in industries where cleaning is a part of the business's identity, such as janitorial services.
Color-Coded Options: In environments where cross-contamination prevention is crucial, disposable mop heads might be color-coded. Different colors can indicate specific areas or tasks to avoid using the same mop head in different zones.
5.How to Packing (opp bag or printed bag ect)
(It would be better if people tell us their information as detailed as possible! )
Provides Price Quote & Free sample
Give that their requirements are detailed enough, E-sun will provides product for product. E-sun can provide free samples, but they need to provide the delivery fee.
Confirm their Purchase Order
Once people approve E-sun's price quotes, E-sun will issue people the sales contract or proforma invoice for deposit payment and start to customize their samples or batch orders.
Media Contact
Company Name: Zhejiang E-sun Environmental Technology Co., Ltd.
Email: Send Email
Country: China
Website: https://www.esunesun.com/