Airwheel, a leading luggage manufacturing company that helps its clients enjoy a genuine, comfortable life, is introducing its Outdoor Expert, the 28L capacity/built-in electric scooter luggage that can hold up to 286lbs.
Even with all of our technological advancements in this age, there's one thing we still have yet to figure out: How to make airports suck less. Security, delays, overpriced snacks, and more are all awful, but that doesn't even begin to scratch the surface of how terrible it is to carry a bag around while walking across a terminal. The rolling suitcase has helped, but it wasn't until now that the burden of suitcase carrying was completely eliminated. Enter Airwheel, a suitcase that is also literally an electric scooter. That's right—you can now ride your suitcase around the airport or sidewalks.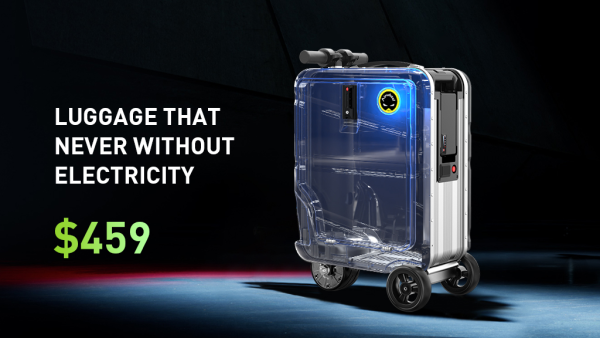 Airwheel launched amazing ride-able luggage so that you can ride wild during the journey, no longer be afraid to carry too heavy luggage, do not need to walk long distances to hotels or attractions on the road, ride on the luggage can quickly arrive. The luggage from Airwheel has a unique ride-able function with a speed of up to 10km/h. Fully charged for a 10km ride, the removable battery allows it to ride indefinitely. This is complemented by a 4-inch large wheels, abrasion resistant, and shock absorption.
Speaking about their product, Jamie, the project designer, said: "our luggage has a transparent design you have never seen before, walking at the forefront of fashion, you can DIY on the suitcase as you like, each suitcase is unique and different, come and play with your creativity, and let us see what the suitcase is like.
"This suitcase comes with dozens of light colors and flashes. The suitcase can be linked to the mobile APP, and the light can be adjusted with one button, Ride on your luggage to look stylish and make you the center of attention on the road!"
Airwheel's luggage has an external USB port, and the device can be charged by connecting the data cable line; the battery on the luggage is easy to remove, you can remove the battery and use it as a portable power bank. Additionally, Airwheel has a unique patented design, aluminum alloy frame, PC material shell, and one-piece frame technology to ensure that the suitcase body is stable and not deformed, the load can reach 130kg, which is about 286.6 pounds.
About Airwheel
Airwheel have been active in the luggage field. The company is committed to addressing users' troubles and improving everyone's travel quality. In the field of rideable luggage, the company is far ahead of other companies in the industry.
Airwheel have studied several models before. After continuous improvement, they have brought this latest product. There company has more than 20 designers and engineers who are constantly developing new products and making progress all the time.
To have an in-depth look at the fascinating Airwheel, check out the company's page on Kickstarter.
Media Contact
Company Name: Airwheel
Contact Person: Jamie
Email: Send Email
Country: China
Website: https://www.kickstarter.com/projects/1568546283/airwheel-semini-ps-the-rideable-luggage?ref=actxzt&token=7c206930