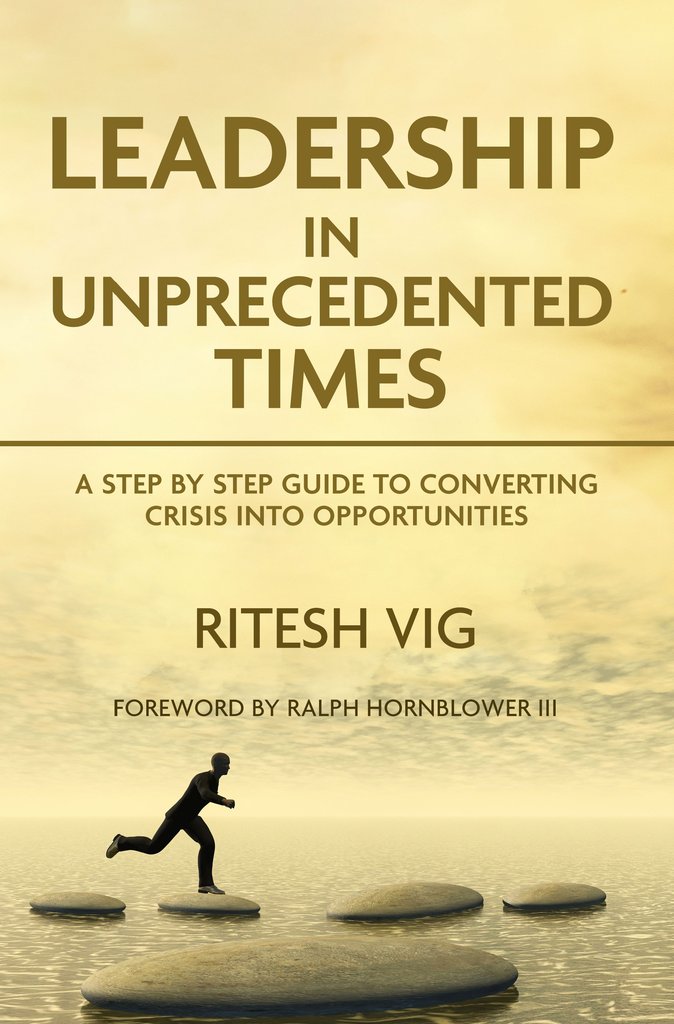 A Step by Step Guide to Converting Crisis into Opportunities
We are going through an unprecedented time of COVID-19, and it impacts us in many ways (Financial, Business Operations Bottlenecks, the concern of health due to non-availability of vaccination, general depression, and anxiety as a ripple effect). Society at large needs support and wants to hear positive aspects and news. In light of that, we have put one step forward by having the book "Leadership In Unprecedented Times" written by Mr Ritesh Vig to spread positivity and boost positive energies across society. The book highlights the impact of the crisis, helps find the ray of hope by business leaders to win back initial confidence, and outlines the recovery timelines.
SoftBank India Head Mr Manoj Kohli launched the book digitally on 17th November and looks very optimistic towards India's digital market. Manoj Kohli says, "India is already one of the top 3 digital nations in the world with 750 million mobile internet users. In the next decade, digital businesses will grow rapidly and will fulfill the gap of physical infrastructure in India." Kohli says, "Digital businesses are doing so well in India as they offer affordability to the customers which is appreciated and hence transition from offline to online businesses is happening rapidly." Coming to Indian Government policies for digital businesses he added, "The government policies for digital businesses are evolving well. Clearly digital businesses are an important part of Atmanirbhar Bharat mission."
"Challenge the Challenge" of Uncertainty!
"Unprecedented times need unprecedented measures. There are no set rules to find solutions to times of uncertainty," tells Mr Ritesh Vig in his newly released book. "The book is valuable for business leaders, common man, youngsters and special business entrepreneurs.
Business CEOs are facing dark clouds of uncertainty and their existing brands, business plans are dimmed under this uncertainty. Board of directors have a fear of business continuity, need to revalidate the purpose of business and look at their business leaders for solutions.

Display leadership at three levels, at home as parents, at job as an employee and for the nation, building true values in children. More importantly, during uncertain times to save them from anxiety and fear, using this as an opportunity for developing true leadership. Parents should be the BEST LEADERS FOR THEIR CHILD!

This book is more relevant for you because you can understand how leadership should be embedded within you, how you can understand the other side of the table; why parents need to develop the leadership within you during these times, and you can understand how business leaders behave during unprecedented times."
He further states that digital businesses will do well in India especially as consumer behavior has changed to on-line shopping in the last 8 months and all the major brands are deeply impacted and are in crisis now.
The book, published by White Falcon Publishing, is available on major online channels worldwide both in paperback and ebook formats.
The paperback copy can be purchased here – https://store.whitefalconpublishing.com/products/leadership-in-unprecedented-times
Media Contact
Company Name: White Falcon Publishing Solutions LLP
Contact Person: Media Relations
Email: Send Email
Phone: 08283843446
Address:SCO 70, Second Floor Sector 47D
City: CHANDIGARH
Country: India
Website: https://whitefalconpublishing.com