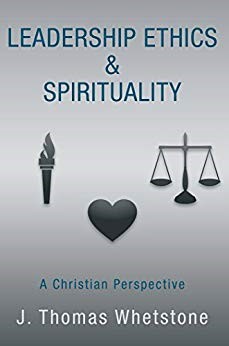 Chesapeake, Virginia – August 29, 2019 – "Leadership Ethics & Spirituality: A Christian Perspective" is a thoughtful, and practical, guide for those seeking to be good leaders which the author, Dr. J. Thomas Whetstone, argues are those who apply their technical leadership skills with sound ethics and spiritual-mindedness. From a biblical worldview, the author draws upon leadership research and ethics theory to explain what practices and character qualities are needed by a good leader and how to develop and apply them successfully to the challenges to be faced in today's organizations. The author makes the case that this is a spiritual endeavor, requiring a person to examine his or her calling as a leader and to ground leadership understandings upon a consistent worldview as well as a sound approach to ethical decision making. A Christian's spiritual leadership is grounded in Scripture and God-centered. And although the book primarily targets Christians seeking to be better leaders, the book might well offer insights for other spiritual traditions as well.
This TopLink version is the 2019 Revised Edition of "Leadership Ethics & Spirituality: A Christian Perspective." It's to be noted that this book has a blue cover and adds thought and discussion questions at the end of each chapter, missing in the original 2013 (gray cover) version published by WestBow. These new questions are posed to help readers consider their own leadership roles, personal attributes, and experiences and to facilitate group discussion of the ideas and challenging issues offered in the text. Packed with real-life examples and documented theory, the Revised Version is very readable, written in an engaging style.
The book's appendix addresses some of the more difficult issues that leaders can expect to face. The final chapter proposes some daily practices that leaders can adopt to develop their individual plans for growing as good leaders. As Dean Beth Doriani observes in her review, "Whetstone challenges us to thoughtful consideration of leadership itself as spiritual, not something to which we apply spiritual lessons." As a practical guide, it explains how to be both effective and ethical as a successful leader while walking by faith."
The book is dedicated to the memory of Dr. John Reed Miller, the author's mentor and friend. Those who will benefit from the 2019 Revised Edition Leadership Ethics & Spirituality: A Christian Perspective are not only study groups in churches, businesses, and other organizations, classes in Christian colleges, universities, and seminaries in the U. S. and internationally, but also any adults and students considering their life purpose and career callings. The author hopes readers are able to apply the insights in this book and be better leaders.
For more information, visit Amazon book link https://www.amazon.com/Leadership-Ethics-Spirituality-Christian-Perspective-ebook/dp/B0792QKPFM/ref=sr_1_1?keywords=9781950540280&qid=1554836757&s=gateway&sr=8-1
About the author
Dr. J. Thomas Whetstone is exceptionally qualified to integrate leadership, ethics, and spirituality. In addition to his doctorate (D.Phil.) from the University of Oxford, he also completed degrees at Washington & Lee U. (B.S.), Sloan School, M.I.T. (M.S. in Management), and Reformed Theological Seminary (M. Div. & Th.M.). An international authority on virtue ethics in business, he has experience in corporate management with two Fortune 500 diversified energy firms, church ministry, university teaching and administration, and leadership in civic organizations.
Website: tomwhetstone.wordpress.com
http://leadethicspirit19rev.com/
Social Media Accounts:
Facebook: twhetstone1@cox.net
https://www.facebook.com/J-Thomas-Whetstone-606602969807739/
Twitter: tomwhetstone@outlook.com
https://twitter.com/authorwhetstone
Tumblr: https://authorjwhetstone.tumblr.com/
About Toplink Publishing
Toplink Publishing offers highly scalable platforms that are growing quickly, positioned to become the global leader in accessible and strategic publishing and marketing solutions. For new book/books to publish or publicize one's published work, contact by calling 1-888-375-9818.
Media Contact
Company Name: Toplink Publishing
Contact Person: Oneil O. Green
Email: Send Email
Phone: 888-375-9818
City: Kelly
State: North Carolina
Country: United States
Website: https://www.toplinkpublishing.com/