The holiday season has started. It's an exciting for people around the world spend more time with their loved ones, attend and organize creative events!
The holiday season has started and there are many reasons to be happy about it. All around the world, people spend more time with their loved ones, attend and organize creative events, and their feelings are enhanced in every way, especially romantic ones.
Latamdate, an international dating website, is happy to welcome a large group of users that are not willing to spend the holidays single to the platform.
Why is November an Ideal Month to Register for Dating Platforms?
Cold weather makes people stay indoors more. Singles start to feel alone if they don't have anyone to spend the cuddling season with. Thus, the registration rate on dating platforms increases significantly during winter. With more people online, the probability of finding "the one" is higher.
Deep conversations, all-night texting and calling, and complete coziness are closely associated with winter. For that reason, those that are not dating anyone already should sign up for dating apps as soon as possible, unless they want to start a new year single.
Creative Dates
In November, long-distance couples get notably creative. Dates are wholesome and they strengthen the bond between partners significantly. The more time they spent at home, the more eventful their virtual dates will be. LatamDate shared some ideas for virtual dates.
Movie nights
Movie nights are mandatory when it comes to online dating. Couples can either watch movies at the same time while staying offline or they could call and watch films while staying on the call. That way, they can comment on the movie and feel as if they were physically together.
Understandably, romantic comedies are highly recommended for date nights. However, watching other genres should also be a practice. Partners should suggest their favorite movies and introduce them. Through films, people can get to know each other better by learning their preferences, favorite genres, actors, and even their favorite characters from the movies. All those factors speak about someone's personality; with some analysis, this activity will be very useful in learning about each other while having fun.
Online games
There are multiple online games created exclusively for long-distance relationships. Couples can access them and bring their experience as close to reality as possible. Some of those games revolve around virtual tours that partners can take together. They could go to any city in the world virtually while staying together.
Trying out virtual tours is exciting and fun, especially for people that didn't get to travel to some top world destinations. For long-distance couples, virtual tours and games are an introduction to the world that waits for them once they get together in person.
Interactive games
Interactive games are extremely fun for couples online as they help them learn about each other the most. These games include "20 Questions", and "Truth or Dare". Asking questions and giving honest answers is the best way to break the ice and learn some interesting (or even shocking) facts about someone. For that reason, couples should play games of this type. They will have a good time and learn each other's secrets and information that nobody else knows!
How to Find a Date Online?
The most important step in finding a date online is choosing a suitable website. Dating platforms usually focus on certain categories of users; those that identify in those categories have a chance to use those sites properly.
For example, LatamDate focuses primarily on connecting Western men with Latin women. That being said, gentlemen that wish to meet and date Latinas register on this app intending to meet girls from the mentioned region. New users of dating sites need to find a website that matches their preferences and create profiles. Furthermore, those users need to provide information about themselves to the site, upload photos, and share quality material that would make women want to talk to them. Professional photos, a thoughtful bio, and a list of hobbies/preferences are extremely useful on dating websites. Members use all the provided information to find their perfect matches. There are multiple filters on LatamDate that men can utilize to check out all the women on the site that meet their criteria.
After registering on a dating site, writing profiles, and connecting to Latin ladies, men should show the best versions of themselves and try to impress the ladies they talk to. Of course, they should not lie or invent anything about their lives. Women highly appreciate honesty; lying about age, name, or anything else life-related is highly disappointing to women and such lies definitely lead to separation in the future.
LatamDate is ready for the holiday season! The representatives of the website invite people from all over the world to join this quality platform, use advanced communication tools, gain an incredible experience and find their ideal women on the app. Nobody wants to be alone at the end of the year. Now is the best time to start searching for a partner to spend the holidays with!
About LatamDate.com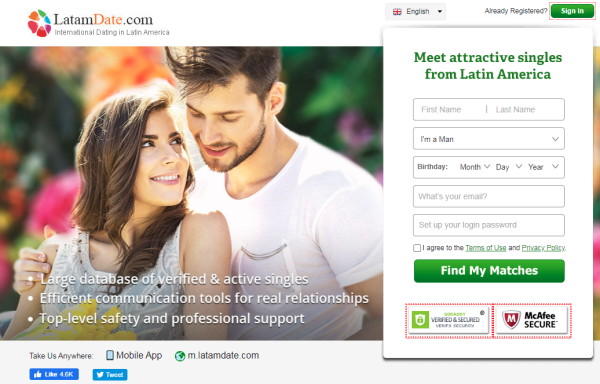 LatamDate.com is an international dating website, primarily connecting Latin singles with people worldwide. The platform utilizes advanced tools to make the user experience enjoyable and easy. Apart from the standard Live Chat, members of LatamDate.com can use Love Call, Video Show, and EMF Mail features.
Media Contact
Company Name: LatamDate
Contact Person: Media Relations
Email: Send Email
Country: HongKong
Website: http://www.latamdate.com