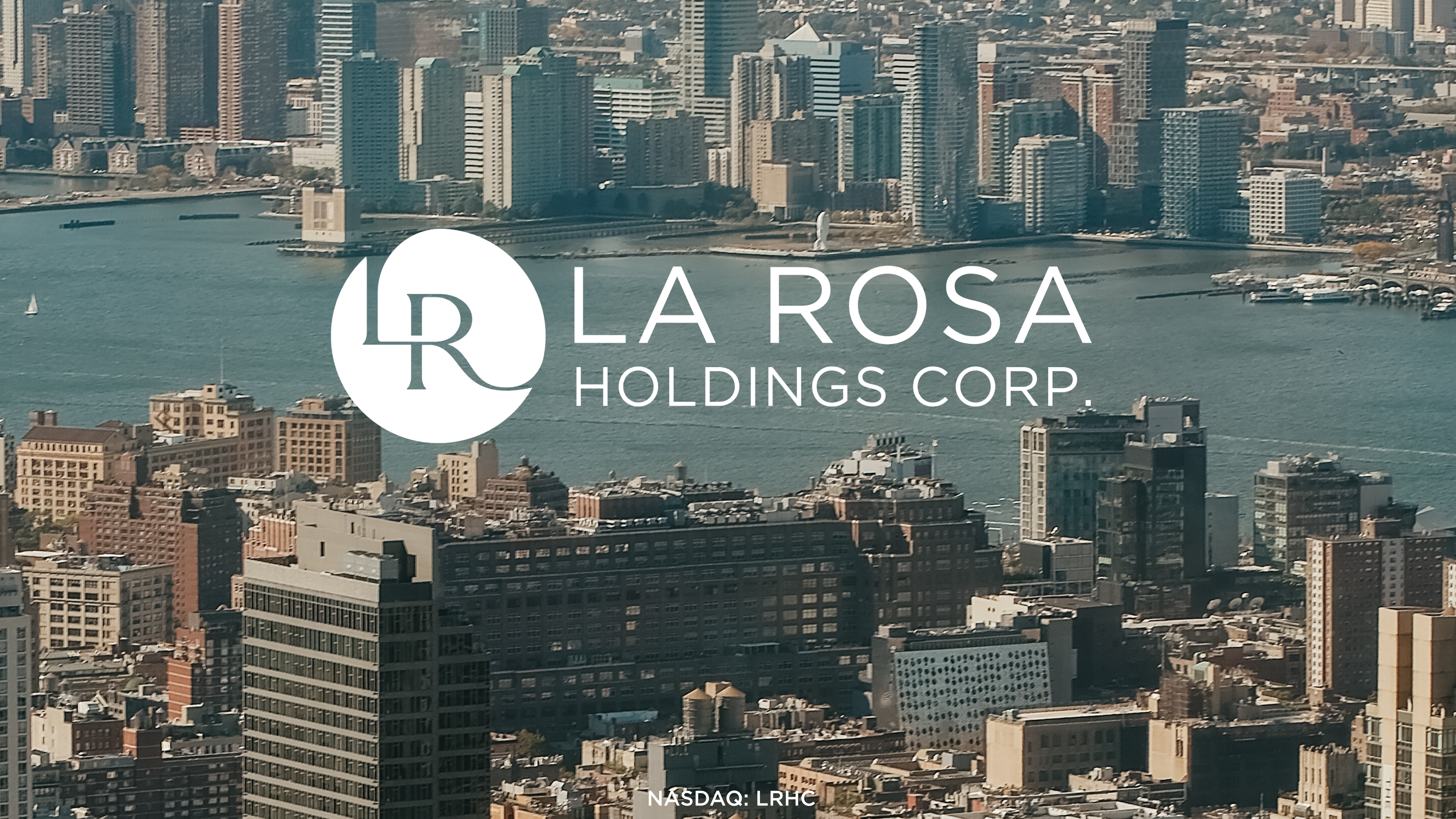 La Rosa Holdings Corp (NASDAQ: LRHC) continues to do the right things at the right time, including leveraging its post-IPO strength to acquire net-income-producing assets and launching a revolutionary AI-empowered tool to support its roughly 2450 agents. And the better news for LRHC, its agents, and investors is that the pace of growth at LRHC is shifting from hyper-speed to warp from a La Rosa roll-up strategy that adds to top and bottom-line growth. Most recently, the company announced acquiring a controlling interest in two franchised offices in Florida that delivered roughly $20.6 million in combined 2022 revenues and, better still, both generated net income.
And those deals are expected to be the first of several more, which would do more than further expose a disconnect between the company's share price, assets, and potential; it puts into play a value proposition too compelling to ignore. In fact, the recent weakness in LRHC stock, despite its value creation, presents more than a ground-floor investment opportunity; it's a bargain-basement one. That sentiment is more than warranted; it's justified by comparing a fast-growing LRHC to sector peers, including eXp World Holdings (NASDAQ: EXPI), Fathom Holdings (NASDAQ: FTHM), and The Real Brokerage Inc. (NASDAQ; REAX), which have all found favor and inclusion in growth stock portfolios.
So far, the post-IPO turbulence in LRHC has been a tough ride to handle. However, it's certainly not representative of the deals LRHC is making, especially its acquisitions expected to double revenues and be accretive to bottom-line growth starting this year. That's not all contributing to immediate and sustainable growth. Last week, LRHC announced the launch of JAEME, its proprietary real estate artificial intelligence (AI) assistant created to support and inspire its agents with personalized content to drive marketing, efficiency, and sales. It's anything but ordinary. And that matters in a currently competitive market.
Video Link: https://www.youtube.com/embed/7eBbC200pYo
Harnessing AI To Simplify And Expedite Sales Strategies
Through JAEME, LRHC agents get more than a sales platform; they get a virtual assistant able to, among other things, generate compelling property descriptions, facilitate effective e-mail campaigns, and author high-conversion newsletter and video campaigns. It can also create systematic business plans and mine for exclusive lead generations, designed in its entirety to provide services to clients in a more efficient and modern way, including from mobile devices. Having those advantages keeps LRHC competitive. As important, it keeps LRHC agents in the next generation of real estate, keeping pace with traditional real estate offices like ReMax (NYSE: RMAX), which also has introduced a virtual tool.
However, comparing LRHC to ReMax beyond having an AI-empowered platform gives too much credit to the latter. La Rosa Holdings doesn't intend to be part of the old regime. Instead, they are blazing a trail to usher in a new era of how the real estate sector operates through an agent-centric approach to business that can be best described as transformative. That's not an exaggeration.
Turning the current sector rules upside down, LRHC pays its agents 100% of the commissions on each residential property sale. That's a far cry from traditional earnings models that pay agents a percentage of a percentage. While that's creating a tsunami of interest in working with LRHC, agents aren't the only winners. La Rosa also scores its share of income from a unique business model that provides revenues through franchising, member dues, and a 10% commission from commercial transactions. Currently, agents pay La Rosa monthly dues of $75 and a one-time transaction fee of up to $495. Additional revenues to the company are generated through franchise agreements and ancillary services like mortgage insurance, title services, and coaching.
That win-win model has and is doing more than providing LRHC agents leading technology tools and over $7,000 worth of free marketing, training, coaching, and the ability to close deals quickly and efficiently; it led to LRHC completing $2.9 billion in total transaction volume last year, a target on pace to be eclipsed this fiscal year. Utilizing the value inherent to JAEME, especially its abilities to provide its agents a better understanding of their target audience, deliver more personalized content, and generate more leads, that's more than likely; it's probable. Even better, that target aligns very well with a capital structure that could fuel bullish momentum, noting LRHC has only about 11.1 million shares outstanding and roughly 805k in the float.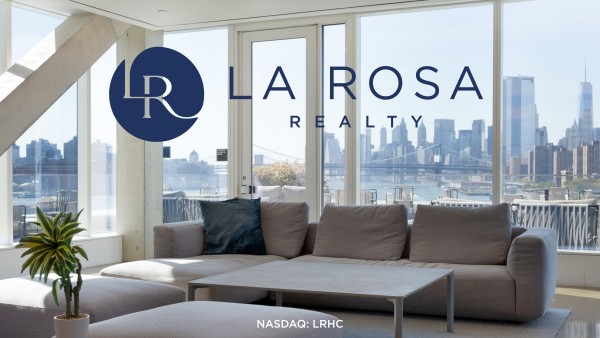 A Running Start To Support Higher Share Prices
There's more good news- unlike most newly-listed companies, LRHC isn't starting from scratch. They have 35 (and counting) affiliate and franchised offices, an agent headcount of over 2450, and completed over 8,300 transactions last year that generated company revenues of $26.2 million last year, which, as noted, is expected to double after acquiring a controlling interest in two Florida offices. That growth trend line is expected to steepen. LRHC indicated that several other acquisitions are in its pipeline. Better still, expecting "several" may still sell LRHC opportunities short. The company noted in its recent update that it has developed an infrastructure that can support five times its current agent count.
And LRHC could reach that limit sooner rather than later, not only by paying 100% commissions but also by providing turnkey solutions to real estate brokers and sales agents seeking financial independence. Those benefits, combined with the support from LRHC, incentivize brokers and agents while enabling LRHC to maintain a high margin, high cash flow business model that benefits from multiple and recurring revenue streams. Of course, money is also an excellent motivator, which is why LRHC's model provides its agents the lion's share of it.
It's an innovative model that is actually quite simple to understand. Start by assuming a home sold for $350,000. On average, a traditional brokerage model would earn a 3% commission of $10,500. From that $10,500, the brokerage house may make about 30%, or $3,150. The remaining 70% would then pass to the agent, generating $7,350 as a net commission. La Rosa considers that model the old way to incentivize agents. Its new way can be described in two words: Game changer. How so? By paying its agents the entire $10,500, less the once-monthly association dues and a transaction fee of at most $595, no matter the sale size. That's a nearly 32% pay increase from simply using the marketing power, technology, and trust the La Rosa Holdings brand provides its agents.
And keep this in mind. Considering Team La Rosa generated $2.9 billion in transactions last year, a massive amount of dollars stayed in agents' pockets. Still, in the current $113 trillion real estate sector, and with LRHC expanding its current six-state presence, millions more can be directed to rewarding agents' work. That potential is indeed in play, especially as the sticker shock of higher interest rates subsides.
Since 1971 Mortgage Rates Averaged 7.74%
That's starting to happen. No one's arguing that purchasing dynamics don't change along with interest rates. They do. However, it's essential to acknowledge that the current interest rate environment fits into a historical range, with 30-year fixed-rate mortgage rates between April 1971 and September 2023, averaging 7.74%. While a vast difference from the easy-money environment of the past several years, sector analysts expect markets to continue stabilizing, with growth returning in 2024. With sellers wanting to bank enormous increases in home values over the past five years, sellers will likely oblige.
Therefore, positioning in a company ahead of that inevitability makes professional and financial sense. Remember, in buyer's or seller's markets, the LRHC business model provides the ultimate agent offer: 100% commissions. Good for them is also excellent for LRHC, especially as the company scales operations to maximize its opportunities on both sides of the sale by offering a platform that simplifies the buying and selling process.
In other words, by supporting sellers and enabling agents to leverage its strength in limited and high inventory markets, LRHC provides the best of both business worlds by supporting agents to make a sale and supporting sellers where competitive bidding and multiple offers can create considerable emotional stress. More simply said, LRHC has created a recipe for deal-making success on both sides of the transaction.
Capitalizing On An LRHC Valuation Disconnect
Providing that result and earning value from it separates LRHC from others in the sector. And that gap is expected to widen as LRHC uses its post-IPO war chest to penetrate and expand new markets, increase its agent count, and capitalize on shifting market sentiment that puts the company in the right place with the right model at the right time to maximize market potentials. Better said, at current prices, LRHC stock appears tremendously discounted, likely, but wrongly, in sentiment with traditional real estate houses struggling in a limited inventory market.
Frankly, anything less than its $5.00 IPO price may present a value investment opportunity too good to ignore. That argument is supported by deals that happened and those expected that are and will create immediate shareholder value. Moreover, La Rosa Holdings is providing evidence that an already excellent company will continue to get better. In fact, it's providing the tangibles to justify a significantly higher share price using a revenue multiple or a model factoring bottom-line growth.
In both cases, LRHC stock is attractive, even more so when coupling performance with guidance. That combination is, after all, paving a streamlined path of least resistance for LRHC shares higher.
Disclaimers: Hawk Point Media Group, Llc. (HPM) is responsible for the production and distribution of this content. Hawk Point Media Group, Llc. is not operated by a licensed broker, a dealer, or a registered investment adviser. It should be expressly understood that under no circumstances does any information published herein represent a recommendation to buy or sell a security. Our reports/releases are a commercial advertisement and are for general information purposes ONLY. We are engaged in the business of marketing and advertising companies for monetary compensation. Never invest in any stock featured on our site or emails unless you can afford to lose your entire investment. The information made available by Hawk Point Media Group, Llc. is not intended to be, nor does it constitute, investment advice or recommendations. The contributors do NOT buy and sell securities before and after any particular article, report and publication. HPM holds ZERO shares and has never owned stock in La Rosa Holdings, Inc.. In no event shall Hawk Point Media Group, Llc. be liable to any member, guest or third party for any damages of any kind arising out of the use of any content or other material published or made available by Hawk Point Media Group, Llc., including, without limitation, any investment losses, lost profits, lost opportunity, special, incidental, indirect, consequential or punitive damages. Past performance is a poor indicator of future performance. The information in this video, article, and in its related newsletters, is not intended to be, nor does it constitute, investment advice or recommendations. Hawk Point Media Group, Llc. strongly urges you conduct a complete and independent investigation of the respective companies and consideration of all pertinent risks. Readers are advised to review SEC periodic reports: Forms 10-Q, 10K, Form 8-K, insider reports, Forms 3, 4, 5 Schedule 13D. For some content, HPM, its authors, contributors, or its agents, may be compensated for preparing research, video graphics, and editorial content. Hawk Point Media Group, LLC. has been compensated ten-thousand-dollars cash via wire transfer from One Eyes Jacks, Inc. to produce and syndicate content for La Rosa Holdings, Inc. for a period of one month beginning on 10/09/23 and ending on 11/06/23. This compensation is a major conflict of interest in our ability to be unbiased regarding our alerts. Therefore, this communication should be viewed as a commercial advertisement only. Any non- compensated alerts are purely for the purpose of expanding our database for the benefit of our future financially compensated investor relations efforts. As part of all content, readers, subscribers, and website viewers, are expected to read the full disclaimers and financial disclosures statement that can be found on our website. Contributors reserve the right, but are not obligated to, submit articles for fact-checking prior to publication. Contributors are under no obligation to accept revisions when not factually supported. Furthermore, because contributors are compensated, readers and viewers of this content should always assume that content provided shows only the positive side of companies, and rarely, if ever, highlights the risks associated with investment. Thus, readers and viewers should accept the content as an advertorial that highlights only the best features of a company. Never take opinion, articles presented, or content provided as a sole reason to invest in any featured company. Investors must always perform their own due diligence prior to investing in any publicly traded company and understand the risks involved, including losing their entire investment.
The Private Securities Litigation Reform Act of 1995 provides investors a safe harbor in regard to forward-looking statements. Any statements that express or involve discussions with respect to predictions, expectations, beliefs, plans, projections, objectives, goals, assumptions or future events or performance are not statements of historical fact may be forward looking statements. Forward looking statements are based on expectations, estimates, and projections at the time the statements are made that involve a number of risks and uncertainties which could cause actual results or events to differ materially from those presently anticipated. Forward looking statements in this action may be identified through use of words such as projects, foresee, expects, will, anticipates, estimates, believes, understands, or that by statements indicating certain actions & quote; may, could, or might occur. Understand there is no guarantee past performance will be indicative of future results. Investing in micro-cap and growth securities is highly speculative and carries an extremely high degree of risk. It is possible that an investors investment may be lost or impaired due to the speculative nature of the companies profiled.
Media Contact
Company Name: Hawk Point Media
Contact Person: Editorial Dept.
Email: info@hawkpointmedia.com
Country: United States
Website: https://hawkpointmedia.com/