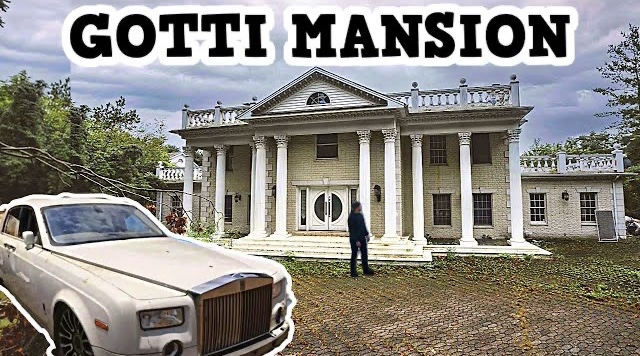 Popular YouTube content creator, Kyle Mcgran, takes the world on an amazing revelation of mafia boss John Gotti's 7,000 square foot abandoned mansion
Kyle Mcgran is again looking to entertain and educate his fans across the globe with the release of a series of videos where he brings the world into the abandoned mansion of popular mafia boss John Gotti and the Lynne Wood Hall. The American YouTube celebrity has become increasingly popular over the years, known for exploring abandoned places across the globe while revealing some hitherto unknown facts about the sites.
The world is filled with thousands of historical places, many of which have been abandoned for decades for different reasons. Some of such sites remain unknown to millions of people across the globe, with the circumstances surrounding their abandonment oblivious to the world. However, some adventurous minds go all the way to explore these places. One of such individuals is the daring Kyle Mcgran, who has pushed the boundaries in content creation, leveraging his filmmaking skills to bring abandoned places to the awareness of millions of people worldwide.
Kyle's recent exploration of John Gotti's 7,000 square foot abandoned mansion revealed a secret room located behind a cabinet in the guest room. The video also shows the abandoned cars at the mansion while bringing viewers closer to the location of "Growing up Gotti," a hit TV show filmed by Victoria Gotti, the daughter of the mafia boss. The house was passed down to Victoria after the demise of her father before she lost it, leading to its eventual abandonment.
The 25-year-old actor and internet personality has also posted new videos of his exploration of the titanic owner's mansion called Lynne Wood Hall. The urban explorer was able to uncover these locations and carefully documented his findings in videos to teach history to as many people as possible across the globe.
Kyle Mcgran continues to grow in popularity, with more than 200k subscribers on YouTube and more than 300k TikTok followers.
For more information about the Gotti mansion as well as the Lynne Wood Hall and other eye-opening videos from Kyle Mcgran, visit YouTube. The filmmaker and explorer also has a growing fanbase on Instagram, and Twitter.
Media Contact
Contact Person: Kyle McGran
Email: Send Email
Country: United States
Website: https://www.instagram.com/kylemcgran/