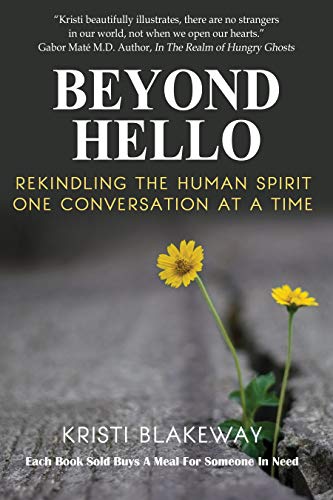 School principal, TEDx speaker, and author, Kristi Blakeway, releases her new book titled "Beyond Hello," where she aims to encourage readers to see those who are often invisible and rekindle the human spirit one conversation at a time
Published by As You Wish Publishing, "Beyond Hello: Rekindling the Human Spirit One Conversation at a Time" is a compilation of different real-life stories told by the homeless community in Canada's poorest neighborhood – Vancouver's Downtown Eastside. The book is currently available on sale and can be gotten for as low as $0.99 on Amazon.
It all started as a way of giving back to society and allowing some of the most vulnerable people in Canada to let the world know of their struggles as Kristi Blakeway, and her students invited the homeless to tell their stories. The one-day event quickly spiraled into decade-long labor of love and the eventual product – Beyond HELLO. The book contains touching stories from the streets with a blend of wisdom gained from those that seem to have lost it all. The author was also able to add her personal and unexpected journey into forgiveness, as she aims to inspire readers to connect with compassion and rekindle the human spirit that is seemingly on the decline.
Kristi's works have helped her receive accolades from different quarters, including public figures such as BC Minister of Housing. "Kristi's commitment to listening to people as they share their stories about who they are, where they come from and who they want to be, touches upon the humanity of those who have been forgotten," said the Minister, Selina Robinson.
In a similar vein, with the sale of each paperback book, Kristi will purchase a meal for someone in need.
The paperback and Kindle versions of "Beyond Hello" are currently available on Amazon for the sale offer of $0.99.
About Kristi Blakeway
Kristi Blakeway is a school principal in Maple Ridge, BC, where she lives with her husband Shawn and sons, Jaden and Cole. She is also the founder of Beyond HELLO, a student-run initiative established to help Vancouver's homeless reconnect with friends and family. The TEDx Speaker and winner of the YWCA Women of Distinction Award for Connecting Community is passionate about encouraging everyone to step outside their comfort zone, engage in soulful conversation, and connect with compassion.
A storyteller at heart, she welcomes the opportunity to speak and inspire, blogging regularly at www.hopefullearning.com and www.beyondhello.org.
Media Contact
Company Name: As You Wish Publishing
Contact Person: Kyra Schaefer
Email: Send Email
Country: United States
Website: https://www.amazon.com/Beyond-Hello-Rekindling-Spirit-Conversation-ebook/dp/B07Z49GP3M/