KOREA DIGITAL Co.ltd's 'SCIENCECUBE' is set to mark its presence at the esteemed GESS2023 educational equipment exhibition in Dubai, expanding its global reach beyond the U.S. and Europe.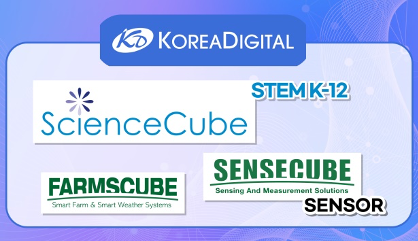 KOREA DIGITAL Co., Ltd.'s flagship brand, 'SCIENCECUBE', renowned for its avant-garde sensors and intelligent education programs, is tapping into the education market of the Middle East. This move is beyond its already established reputation in the U.S. and European markets.
GESS (Global Educational Supplies & Solutions) is a three-day event scheduled from October 30 to November 1, 2023, at the Dubai World Trade Center. This prestigious exhibition will witness participation from over 300 companies across 40 countries, introducing innovative educational products and solutions. It presents a vibrant opportunity for Korean educational companies to discern market trends and initiate their Middle Eastern ventures.
Historically, the UAE has admired Korea's educational fervor from the 1960s. Korea's growth trajectory since the 1950s is attributed significantly to its educational strides.. Sheikh Zayed Bin Sultan Al Nayan, the first president of the UAE, emphasized, "The true asset of any advanced nation is its educated talent. An individual's lasting success is determined by the level of education they receive." His lifelong philosophy of establishing a knowledge-based economic structure underscores the allocation of 15.5% of the UAE's $17.1 billion federal budget in 2023 for education. The Emirates School Establishment (ESE), responsible for public schools, kindergartens, and public education, is intensifying its collaboration with the global private sector. 2023 has set the stage for foreign education-related service and equipment companies to make inroads into the Middle East.
KOREA DIGITAL, representing Korea, has solidified its reputation with its smart education service brand "SCIENSECUBE". The brand enjoys immense trust and recognition, thanks to its 200+ advanced sensors and smart educational content tailored for STEM (Science, Technology, Engineering, and Mathematics) domains in the United States and Europe.
KOREA DIGITAL is steering its ambitions toward becoming a comprehensive platform business. Their goal is to integrate SCIENSECUBE in ICT-based STEM science experiment education, SENSCUBE in sensing and measurement, and FARMSCUBE to illuminate shortcuts in precision agriculture. "Since our inception in 1997, our participation in this exhibition marks a step in our ongoing global expansion. We have consistently introduced the U.S. and European educational communities to 'SCIENSECUBE' – a blend of state-of-the-art sensors and superior educational content. By participating in GESS, we aspire to proliferate KOREA DIGITAL's technological prowess and educational vision throughout the Middle East, harmonizing the unique attributes of our educational tools and smart content," said a company representative.
Drawing upon the experience of organizing and participating in the Korea Pavilion at GESS 2022, the company anticipates achieving even more tangible and significant outcomes this year. In a bid to overhaul its public education system, the UAE unveiled the Ajyal School Project in 2022 and has forged partnerships with international education service providers like Taaleem, Bloom Education, and Aldar Education. Through GESS, KOREA DIGITAL is optimistic that SCIENCECUBE, a proven brand both domestically and internationally, will find its footing in the UAE's education infrastructure. Engagements at the exhibition, through consultations and conferences, aim to reinforce the brand's strengths, fostering trust among local educational stakeholders.
It is expected that CEO Jeon Young-Yil's vision becomes the cornerstone that encourages smaller Korean enterprises and local buyers to venture beyond their borders.
Media Contact
Company Name: KoreaDigital co., ltd
Contact Person: Mr. Sunny Yoon
Email: Send Email
Country: South Korea
Website: www.koreadigital.com