Author May Berchon joins the ranks of Black female novelists chronicling institutional racism in America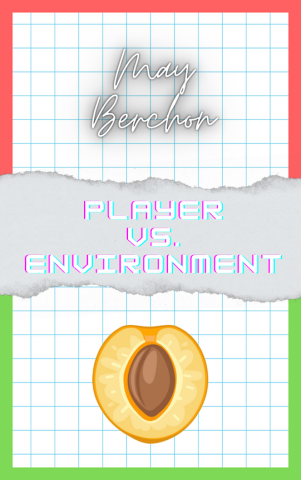 "Player vs. Environment" is the provocative debut novel from May Berchon. It tells the story of Jamie, a Jewish husband and father in his early thirties who winds up working at an online video game publication with Ebony, his Black ex-girlfriend. Both characters are still reeling from their gut-wrenching breakup three years earlier as they individually attempt to make peace with their new lives. Berchon uses the device of the fictional outlet's content to tell Ebony and Jamie's compelling love story while inviting the reader into their politically incorrect work environment, in which Ebony struggles to gain acceptance as the only Black employee.
Berchon's prose unfolds with all the pearl-clutching naughtiness of Henry Miller's "Tropic of Cancer," while simultaneously treating the reader to an intellectually arousing glimpse at the film, editorial, and video game industries. It's a distinctive voice that cleverly and gingerly indicts the lack of inclusion of Black people in Hollywood, Big Tech, or other spaces that have long enjoyed a "Whites Only" membership. There are moments of acerbic wit unlike any penned in the past. At other times, the writer plunges her audience into heartbreak and intensely human moments that will easily make this work a favorite among the book club set. Berchon's past as a freelance journalist shines through in her storytelling, a detail that makes her quite proud.
"I'm no longer a journalist. I haven't been for quite some time, but I adore literary journalism. Pretty much because as a genre, it's more about making the reader a proactive voyeur rather than a complacent bystander. When I write, even though I'm writing fiction, that's the vibe I strive for because it feels more real and less flowery."Other themes associated with the fight for social justice are strong within "Player vs. Environment." Plot points involving colorism, antisemitism, gun violence, abortion, suicide, and political discourse figure prominently. Even the book's title serves as the perfect heads-up for the action within. A "PvE" in the gamer world forces players to go up against and ultimately conquer different challenging environments around them. Berchon spent much of the pandemic brainstorming the current state of society and how its daily unraveling could integrate into her storytelling. She admits to borrowing from her own frustrations enduring microaggressions and being discriminated against in the editorial world; discrimination that she says bubbled up and eventually led to her making a career change. Contrasting some of its more serious subject matter are cooler-than-cool pop culture references throughout "Player vs. Environment." Those range from music playlists to video game recommendations. The author didn't have to go far to curate those options. Berchon first fell in love with playing video games while growing up on military bases in the United States and abroad.
"I feel so lucky to have been a kid when I was," she says. "I mean, all the adults around us were freaking out that we'd rather stay in and play on the computer than go outside. I was the worst offender. My mom once locked me out of the house to make me go play with the other kids. But seriously, though, video games were such an integral part of my upbringing and really activated my imagination in such amazing ways."
Player vs. Environment releases November 30, 2022
Media Contact
Company Name: Kind Citizen
Contact Person: Avi King
Email: Send Email
Country: United States
Website: mayberchon.com