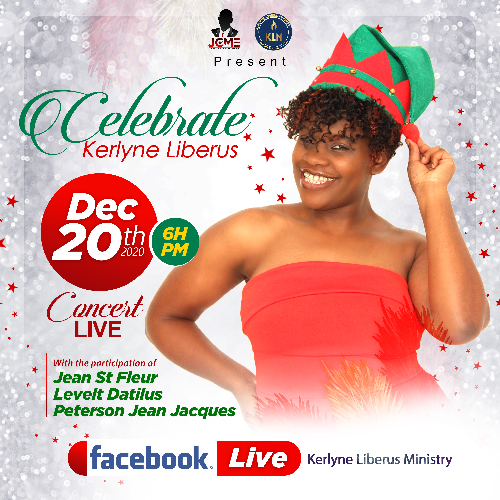 Born on December 20th, the singer and songwriter celebrated her birthday in style by doing a virtual concert live on social media.
Kerlyne Liberus is a Gospel singer, songwriter, and the lead singer of the spoken word group called Troupe Paul El Sadate (T.P.S). She is also a pivotal part of KerlyneLiberus Ministry (KLM), believing in spreading the Gospel of Jesus Christ through her songs.
The artist recently celebrated her birthday in style by performing an hour-long virtual concert live on social media. The celebration was available for all to watch on December 20th last month, where Kerlyne performed a set of exciting numbers live. This performance was broadcasted live on her YouTube channel and her Facebook page, as well as several other Facebook pages.
While the gifted artist showed off her amazing talent during the event, love and adoration poured in from all over, with fans watching and wishing Kerlyne a very happy birthday. "I am really thankful for all the love and support and would particularly like to thank all the Facebook pages that shared my virtual concert," said the artist. Kerlyne is also known for specializing in event planning and event hosting, apart from singing and songwriting.
Through Kerlyne Liberus Ministry, she offers special services for weddings, concerts, social events, and so on. According to a previous interview, Kerlyne was quoted as saying, "At KLM, we also do humanitarian work overseas, and we help young new aspiring singers."
The gifted artist continues to spread love and positivity through her platform, and only time will tell what more she has in store for her followers. As the former lead singer of "Pelerins Choir" and a long time group "Symphony," she always dreamed of singing in front of large crowds, and she is well on her way.
For more information, visit her official website at https://www.kerlyneliberus.com/ and subscribe to KLM's YouTube Channel at www.youtube.com/user/dsmber82.
Media Contact
Company Name: Kerlyne Liberus Ministry
Contact Person: Kerlyne Liberus
Email: Send Email
Country: United States
Website: https://www.kerlyneliberus.com/