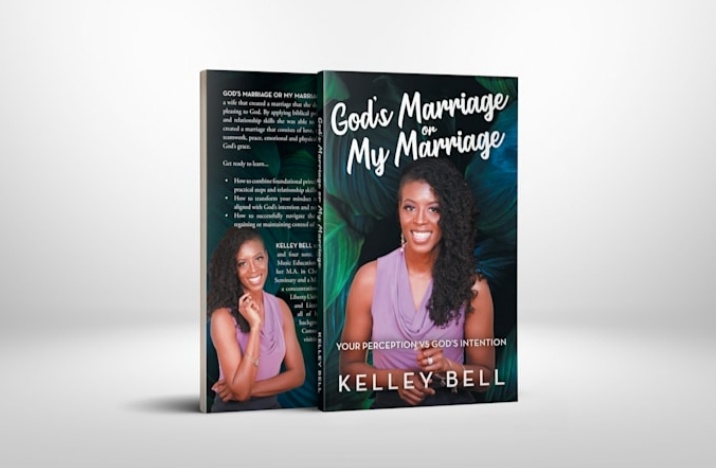 Author and relationship expert, Kelley Bell, launches a new book titled God's Marriage or My Marriage, where she aims to help women identify key areas to strengthen their marriage
Kelley Bell of Kelley Bell Consulting, LLC has taken her pursuit of helping to build as many successful marriages as possible a notch higher with the release of God's Marriage or My Marriage. The book serves as a self-help guide containing practicable tips for building a marriage that is pleasing to God and gratifying for members of the family.
There has been a disturbing rise in divorce cases across the globe. While marriage remains an institution of two parties, the wife plays an important role in ensuring the success of the relationship. Unfortunately, many marriage guides have failed to address the aspects of the marriage that wives can control, which is where Kelley Bell aims to make a difference with Kelley Bell Consulting, LLC and the new book, God's Marriage or My Marriage.
The transformational guide teaches readers how to control their emotions to help them navigate the marital journey successfully. The book contains self-reflective questions and strategies that will help transform women's mindset about marriage and ultimately translate into a relationship that aligns with God's intention. God's Marriage or My Marriage also comes with a workbook to help readers assess their progress and understanding of the content.
God's Marriage or My Marriage is already enjoying rave reviews from readers across the globe. "This book reminded me that my husband and I are on the same team. That we want the same goal, and we should work together as one, like the good Lord intended. Thank you, Mrs. Bell, for sharing your wisdom, knowledge, and heart in this book. I will refer to it for many years to come!" said Jessica Williams.
For more information about God's Marriage or My Marriage and other works from Kelley Bell, please visit – https://www.order.kbconsultingforher.com/.
Media Contact
Company Name: Kelley Bell Consulting, LLC
Contact Person: Kelley Bell
Email: Send Email
Country: United States
Website: http://www.kbconsultingforher.com/