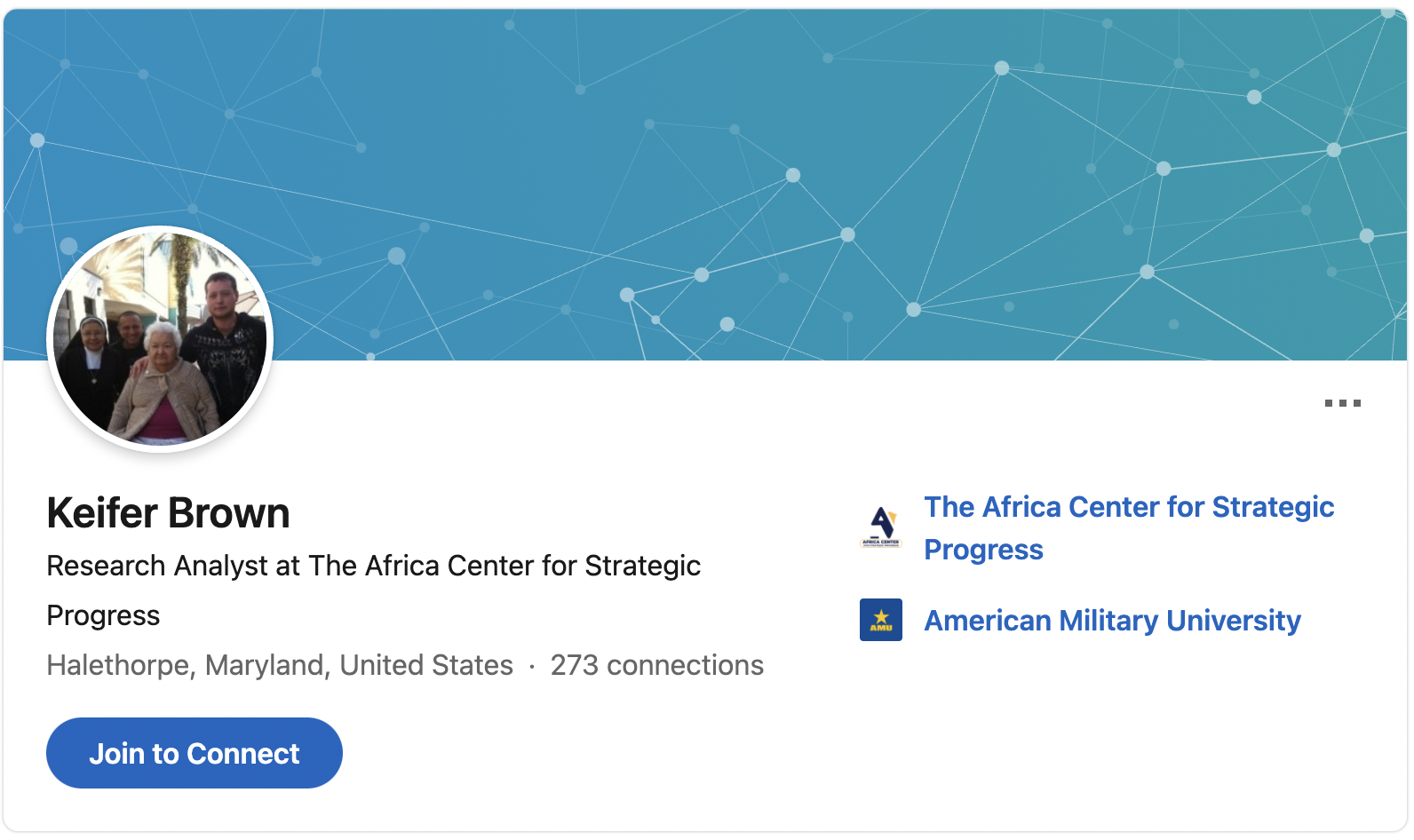 Keifer Brown currently works as a research analyst with the Africa Center for Strategic Progress, contributing to important humanitarian research into international relations and migration policies. We spoke with him about how he found his way into the humanitarian field and what some of the challenges that those entering the field can face.
Humanitarian efforts come from nations, organizations, and individuals. There is an ongoing need for experienced and skilled people in many fields to meet the need for humanitarian aid, with upwards of 200,00 people involved directly in humanitarian efforts. They are composed of both volunteers and employees of countless distinct organizations.
Today, Keifer Brown works with the Africa Center for Strategic Progress, a think tank that provides research and analyses on policy work and external policy concerning African nations. The organization gives African stakeholders and policymakers access to reliable and non-partisan policy research, analysis, and discourse.
The team that Keifer Brown works with within the organization has most recently focused on issues around migration through the Central Mediterranean route. The international relations between European and African nations, along with the human rights of migrants, are of significant research interest to many organizations.
Brown received his master's degree in international relations and conflict diplomacy from the American Military University in 2018. He told us that his decision to proceed in this direction came from a wish to have a more global worldview, rather than the more US-centric field of intelligence studies that he had also been considering.
During his master's degree, Keifer Brown secured an unpaid internship with the Baltimore Council of Foreign Affairs. While this opportunity allowed him a significant opportunity to learn, and he did have the chance to meet the ambassadors of several African nations, it also highlights one of the first hurdles of entering the field of professional humanitarian efforts: unpaid internships.
Keifer Brown submitted his master's thesis on the ongoing North Korean peace process. He explained that it was a particularly difficult task during the turbulence of 2018, where new events constantly shifted his perspective and required changes to the thesis.
After graduation, Brown had another unpaid internship, now with the International Rescue Committee, helping refugees and their families establish themselves here in the United States.
During his time there, Brown told us, "It's very, very different here. And sometimes it's a difficult adjustment for a lot of the refugees, asylees, and SIVs that come here looking for economic opportunities."
Because of the many volunteer positions and unpaid internships inherent to the field of humanitarian efforts, many with potentially useful skills and knowledge can face significant barriers to entering the field.
Brown explained to us that the people at these organizations come disproportionately from affluent backgrounds, whereas many that must simultaneously support themselves and their efforts are unable to maintain their humanitarian positions.
The road to a role in research analysis or any other professional humanitarian position is often winding and complex, and many cannot find their way. Combined with other factors like the impact of politics on funding for organizations, many humanitarian efforts face a shortage in professional fields.
Media Contact
Company Name: Keifer Brown Press Release Service
Contact Person: Keifer Brown
Email: Send Email
Country: United States
Website: https://www.linkedin.com/in/keifer-brown-66356b2b