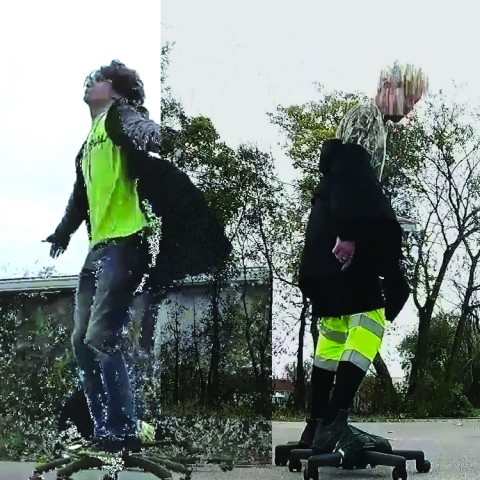 Based out of Kansas City, Missouri, CUSPS is a duo consisting of talented musicians Daniel Twombly & J. Sehorn. Both of them create amazing music together, but this collaboration was not something that they planned for initially. Twombly was working on solo projects alongside producing for some local rappers, while Sehorn was on a break and focusing more on art when they first met. But making music together and giving the world astounding pieces of work was destined for them. Therefore, what started as a pastime hobby, soon took the turn as full-time music-making. Together, they came to be known as CUSPS.
After giving hits like "Here, now" and "The Natural", CUSPS are back with their latest single titled "Classicide". Released on November 6, 2020, "Classicide" is accompanied by a captivating music video. Ever since the release of this song, it has created a buzz among the listeners on all major musical platforms. This track has "daydreaming and ego-death vibes", as mentioned in the description box of the song on the official YouTube channel of CUSPS. This song is like an escape from the chaos of the world. All that the listeners have to do is plug in the headphones and blast "Classicide" on full volume, and they have relaxation therapy to them, right there!
CUSPS' music is not to be boxed to a specific genre, as they combine different music styles to come up with a unique sound of their own. Telling about their music style, band member Sehorn says, "When I was young I was very into rock music, but now I am into electronic music much more. So when you hear our tracks, you still get a bit of that grit and ache that is in the pit of rock. Twombly is much more into funk and dance, so he brings a lot of life to the songs that I am not capable of. We both enjoy hip-hop and RnB so, I hear traces of that in our music too."
The name of their latest single "Classicide" is as distinctive as their music. The story behind the title "Classicide" was that the band members always name the work-in-progress some off-the-cuff phrase as a placeholder, so Sehorn had just hollered out the word Classicide, which was so good and went perfectly well with the final piece. Therefore, they decided to go with the same title in the end.
CUSPS' energy, zeal, and positivity are helping them rapidly pave their way through the music industry.
Listen to the latest single "Classicide" now on Spotify.com.
Media Contact
Company Name: CUSPS
Contact Person: J. Sehorn
Email: Send Email
Country: United States
Website: cusps.org