Kaichain is an upcoming blockchain network that overcomes the current flaws in major ecosystems, such as higher TPS, lower operational costs and environment-friendly transactions.

Kaichain offers a solution to the scalability faced by all major blockchain networks as they struggle to support the massive adoption. Blockchain adoption has seen an unprecedented rise in the last few years and running networks are not designed to sustain the load. The network is preparing to launch its first round of presale.
Slow and Overloaded Networks
Blockchain adoption, though increasing rapidly, is still in its infancy. With less than 5% of the global population using cryptos and even a lesser amount in GameFi, the stresses and load on even the most advanced blockchain ecosystems are being felt. One fine example is of the transaction confirmation time during bull runs, which can extend up to several minutes – and even hours.
Kaichain developers foresee the grind increasing day by day. Instead of using ad hoc methods and adding complexity to already overburdened networks, the team has come up with a solution of providing a new blockchain network that has extreme scalability already woven into its very fabric.
Top DeFi and GameFi blockchain networks offer extremely slow TPS (Transactions Per Second). Ethereum, the largest network does a mere 15 at maximum. Though rival networks such as Solana have a much better 50,000 TPS, these will soon face the same issues.
Kaichain, on the other hand, can handle more than 100,000 TPS, offering extremely fast movement of assets. Combined with an energy and economically efficient Proof of Authority, it is the logical choice for easy adoption and viability.
Kai ECoin: The Power of Kaichain
As an independent blockchain, Kaichain will have its economy underpinned by its native Kai ECoin (KEC). Acting as a utility token and a means of payment, it will empower users to hold and spend the coin for different dApps and services within the Kaichain.
With a fixed maximum supply of 1 billion KEC, the tokenomics offer benefits to early adopters as they can reap the value increase over time. The KEC will be made available soon in its presale.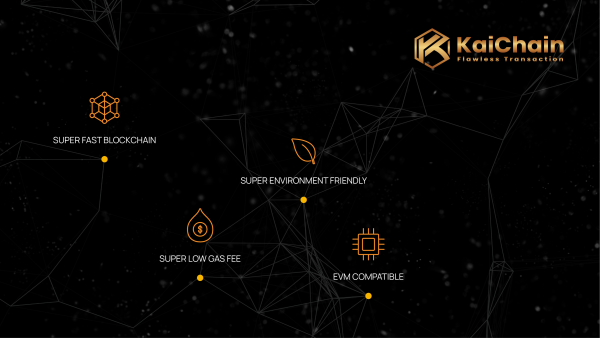 Kaichain's Roadmap of Success
The Kaichain developers have the mainnet up and running already. With that, they are now working towards adding DeFi and other capabilities to the network
Some important releases before the end of this year includes:
Code Audit: Third party security and penetration tests to ensure integrity of the network.
Multisig Wallet: Offering better security for corporate crypto use.
KaiDEX: A complete decentralized exchange for KRC-20 tokens without the need of an intermediary.
Launchpad: Making token and other digital asset launching easier than ever with a ready marketplace.
Kai Audit: An audit feature for all projects deployed on kaichain.
Multisender: A feature that allows a project owner to send tokens to multiple wallet in a single transaction.
The year 2023 will also see immense expansion and enhancements such as offering a Smart Payment System that will enable transacting without worrying entering complex wallet addresses to send tokens and coins. Other features in pipeline include Kai Labs for project owners to get financial grant from Kaichain team; and Kai Games, a dedicated GameFi platform and community.
An EVM compatible blockchain, Kaichain also offers existing dApps and platforms to switch over smoothly to the network, migrating their ERC-20 and BEP-20 assets.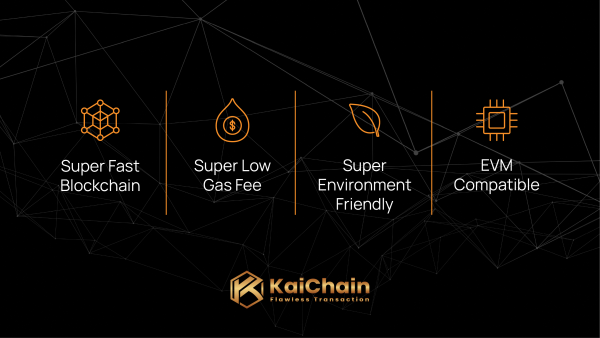 Contact Person: Rod
Media Contact: @Kaichain1 (Telegram)
Email: admin@kaichain.net
Visit Kaichain website – https://kaichain.net
Follow Kaichain on Twitter – https://twitter.com/KaiChain1
Read the Whitepaper – https://kaichain.net/wp-content/uploads/2022/11/KaiChain-Whitepaper-v2.2.pdf
Kaichain is the source of this content. Virtual currency is not legal tender, is not backed by the government, and accounts and value balances are not subject to consumer protections. Cryptocurrencies and tokens are extremely volatile. Invest in cryptocurrencies after you do your own due diligence.
Media Contact
Company Name: Kaichain
Contact Person: Rod
Email: Send Email
Country: United States
Website: kaichain.net