Innovative fintech company, K2D Finserv, bridges the gap between loan givers and loan seekers with their user-friendly marketplace app
K2D Finserv has continued to reiterate their goal of disrupting the auto loan industry by creating a marketplace that connects loan seekers with lending institutions, such as private financiers, to meet the diverse needs of potential loan seekers. The K2D Finserv is the India's First startup looking to leverage technology to solve issues of used vehicle loan seekers that have remained a major problem in the industry for years.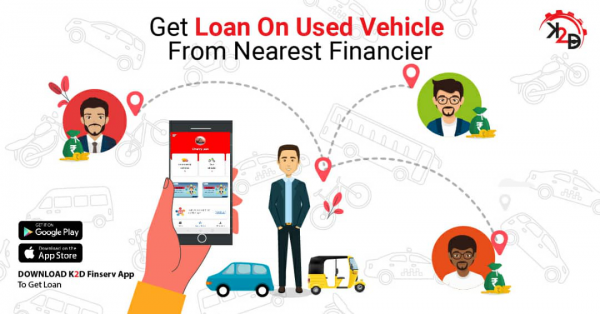 "Being into finance industry, we observed that Loan on Brand new Vehicle is not an issue, but the same person has to struggle a lot when he goes for a loan on his pre-owned vehicle or buying a used vehicle. At K2d Finserv we have developed a marketplace where Loan givers and loan seekers can meet and fulfill their needs," said Sharad Kumar Jain, founder of K2D FINTECH Private Limited.
The Indian car market has witnessed tremendous growth over the years, becoming a multi-billion-dollar market as demand from consumers across the country continues to increase. The used vehicle sector remains a part of the market, especially for individuals who cannot afford the relatively costly brand new cars. Unfortunately, there are not enough solutions to help stakeholders in this segment of the market to fulfill their needs, which is where Sharad Kumar Jain with his Co Founder Jayesh Tater are looking to make a difference with their innovative solutions.
The range of products provided by K2D Finserv includes K2D Finserv-Borrower's App which launches on December 10, 2020, K2D Finserv- Financer's App, and K2D Finserv- RTO's App. K2D Finserv aims to end the time-consuming and stressful process of getting a used vehicle loan, with a simple integrated app that connects the loan seekers with several nearest private financiers with expertise in used vehicle loans, and making them available to borrowers across the nation. The App's Integrated platform helps both the borrower and financiers to close the deal at preferred Rate of Interest, Loan amount and Loan Tenure. The in-build chat penal helps the financiers and borrowers to interact with each other and reduces the burden of reducing the multiple interfaces.
The solution is particularly unique as it offers a comprehensive solution to the problems associated with the traditional way of getting relatively affordable used vehicle loans. In addition to catering to the needs of used car loan seekers, K2D Finserv also offers pre-owned bike loan from reputable financers closest to them.
For more information about K2D Finserv and their innovative solutions, please visit – www.k2dfinserv.com. The app is available on play store and soon will be available on IOs
About K2D FINTECH Private Limited
K2D FINTECH Private Limited is a fintech company that aims to help as many people meet their financial obligations with relative ease by providing them with access to loans with reasonable interest rates from lenders across the nation.
Media Contact
Company Name: K2D FinTech Private Limited
Contact Person: CA Bharath Kumar Jain
Email: Send Email
Phone: +919444079258
Address:188 Poonamallee High road, Kilpauk
City: Chennai
State: Tamilnadu 600010
Country: India
Website: k2dfinserv.com