Considered As The Alpha Male Bible, this book contains 81 rules for success that are easy to study and recite, making it the perfect companion book for modern men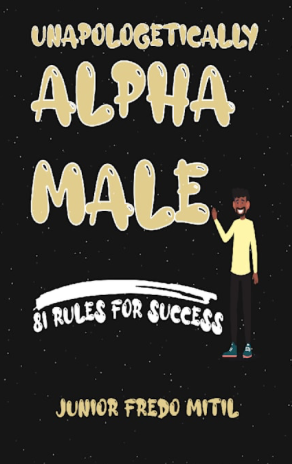 Author and life coach Junior Fredo Mitil is proud to announce his new book titled "Unapologetically Alpha Male." The book is written for men, to help them regain their alpha male status, boost confidence, gain love and respect, and live a better life. The 83-page book is written in simple English and is available on Amazon in hardcover and paperback format.
"I wrote Unapologetically Alpha Male because I realized that there were so many men depressed during and after the pandemic and it broke my heart," said Junior Fredo Mitil, author of Unapologetically Alpha Male. "I have narrowed everything down to 81 rules and created a book that was easily digestible for the busy man of today. As of late, I have been focusing on young men in high school and college because they seem to really need the extra support."
Unapologetically Alpha Male provides readers with rules in the form of powerful words they can use for affirmation to boost their mental capacity and become the person they are supposed to be. With so many issues going on in the world, like wars, economic downturn, and natural disasters, many men have found it extremely difficult to cope. This is because society expects men to be responsible for the welfare of their family by providing for them and protecting them.
Mitil's book is designed to prepare young men for the realities of life by offering emotional and physiological support through positive affirmations and encouraging words. The rules in these books have been carefully researched and included because they can inspire men to dominate and take charge of their world like they should.
Society has always demanded that men achieve and maintain an ideal posture and physical strength. However, to keep their souls in high spirits, they also need to feed them with powerful and encouraging words. Unapologetically Alpha Male is the right book for anyone looking for ways to gain higher mental strength and achieve their goal in life.
Junior Fredo Mitil is passionate about issues that affect the men of today. He has worked in several industries including behind the scenes on movie sets and as a creator of successful NFT projects. He now focuses more on life coaching because he believes he has what it takes to help men face their biggest challenges so they can become alpha again.
For more information, please visit https://alphamaleacademy.school/.
YouTube: https://youtube.com/channel/UCVW_DgG9R76ThyfDXTgc-3A
Media Contact
Company Name: Unapologetically Alpha Male
Contact Person: Fredo Mitil
Email: Send Email
Country: United States
Website: https://AlphaMaleAcademy.School