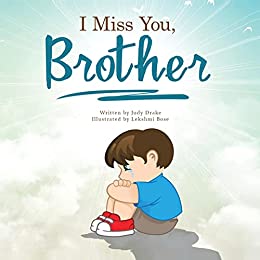 Gifted writer and author, Judy Drake, with her book, I Miss You, Brother, written from the view point of the author's youngest son who lost a sibling. It is meant to start conversations to express the grieving child's different emotions.
Judy witnessed the loss of a sibling through the eyes of his youngest son and wanted to share some of the issues, emotions, concerns, and questions that may arise in a young child after such a loss. Judy's family began fund raising to fight brain tumors and she has now chosen this avenue to help families suffering with this devastation.
Speaking about the book, Judy said: "Some children will be very vocal about their feelings while others will not shed a tear nor want to talk. He sees your friends embracing you, but his friends are not allowed to come play right now."
"Not knowing how to deal with grief, he may lash out in frustration. Adults are whispering and not sharing with him. He may feel confused about his parents crying or they may become over protective."
"He is afraid to talk about the things that scare him. We have protected him from the details of his siblings illness, the accident, the actual death. Allow yourself to go through all the stages of grief and help your child to do the same", she said.
About the Author
Judy Drake is a mother of four boys and six grandchildren. She has taught elementary school and has now retired from the corporate world. She understands a parent's grief of losing a child, she has lost two, one stillborn (her only daughter) and one at nineteen.
She has been an ambassador for The American Brain Tumor Association. She still makes his birthday cake, will cry at his favorite song, remember his silly jokes and songs, and wonders what his life would be like now without cancer.
I Miss You, Brother was published and marketed by Author's Tranquility Press, the best marketing tool for new and established authors, serving as the authors' ultimate book publicity partner.
Media Contact
Company Name: Author's Tranquility Press
Contact Person: Patricia Adams, Marketing Supervisor
Email: Send Email
Phone: (866) 411-8655
Address:239 Richmond Dr
City: Hiram
State: Georgia, 30141
Country: United States
Website: www.authorstranquilitypress.com