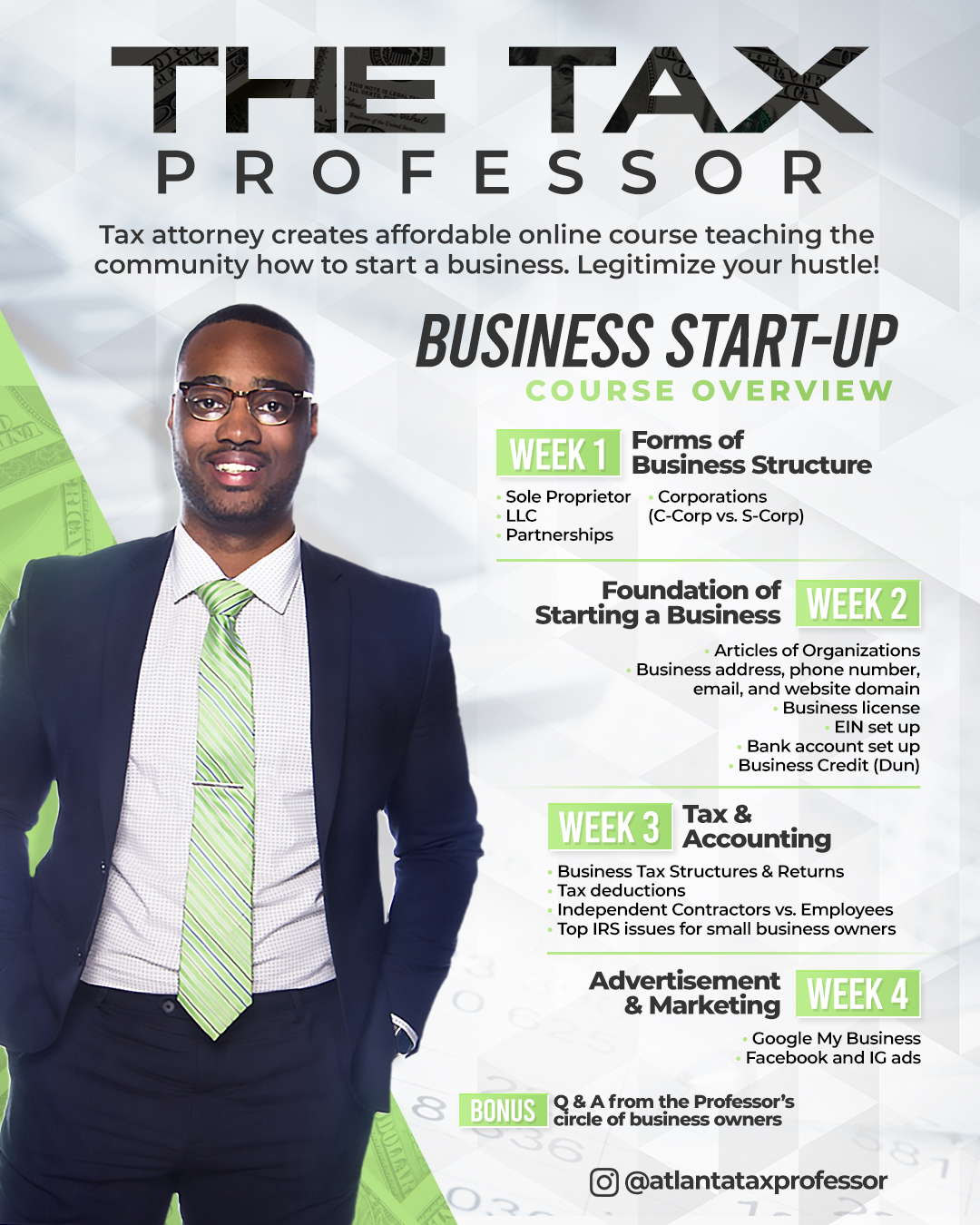 Experienced Atlanta-based tax attorney, Johnathan Whidbee, creates an online course for businesses to help the community
Johnathan Whidbee has created The Tax Professor Business Course as part of his contribution to the development of the community. The new course aims to provide aspiring entrepreneurs with the needed resources to succeed in their ventures. The experienced tax attorney will be sharing his wealth of knowledge in IRS federal tax and business formation by teaching them the foundations for starting a business.
"You probably want to go into business and be your own boss, but you don't know how to start. Well, it takes a lot to be an entrepreneur and there's also a lot to learn. It's important that we make this knowledge obtainable at a young age and it's more important that everyone has access. Therefore, I created a course to elevate and empower," said Johnathan Whidbee.
The joy of owning a business and becoming one's boss is easily palpable in young and aspiring entrepreneurs. Unfortunately, the business environment can be sometimes unfriendly, especially for individuals with inadequate knowledge and resources. The phenomenon has led to the failure of thousands of businesses yearly, with stats showing that 50% of businesses fail to make it past their first year. However, Johnathan Whidbee is looking to change this narrative as he launches the Business Start-Up Online Course.
The project is particularly unique as Jonathan has made it easily accessible for all categories of participants, including small business owners and individuals who desire to start a business but are struggling to find the starting point. The online course is relatively affordable and comprehensive, with content on every aspect of business formation and operation.
The aspects of starting and running a successful business as covered in the one-month course includes forms of business structure, the foundation of starting a business, tax and accounting, and advertisement and marketing. The subjects covered in the eye-opening course are delivered in easy-to-understand terms to ensure that everyone has a full grasp of the content.
For more information about The Tax Professor Business Course and how to scale your business, visit – Learn.atlantataxprofessor.com and Instagram.
About The Tax Professor
The Tax Professor is a project of Tax Attorney Johnathan Whidbee, an experienced lawyer who specializes in IRS federal business tax and formation issues. Jonathan has a law degree from North Carolina Central School of Law and a Masters in Tax Law from Boston University School of Law, with extensive business knowledge.
Media Contact
Company Name: The Tax Professor
Contact Person: Johnathan Whidbee
Email: Send Email
Country: United States
Website: http://learn.atlantataxprofessor.com/