Smart speaker is a key assimilation of improved microphones, automated speech recognition software and natural language processing (NLP), which help smart speaker to identify and process the voice command of the user with absolute precision. Growing smart home devices demand, penetration of artificial intelligence and consumer demand for easy, portable, convenient and smart devices are some of the major factors, which are driving the growth of smart speakers market globally.
According to Renub Research market research report titled "Japan Pet Food Market, Population by Animal Type, Products, Distribution (Store-based Retailing, Online Selling, Veterinary Clinics), Product Launch, Company" the Japan Smart Home Market is expected to surpass US$ 10 Billion by the end of the year 2025 due to constant rise in urban population in Japan. Currently urban area of Japan holds 92% population that is largest in the world.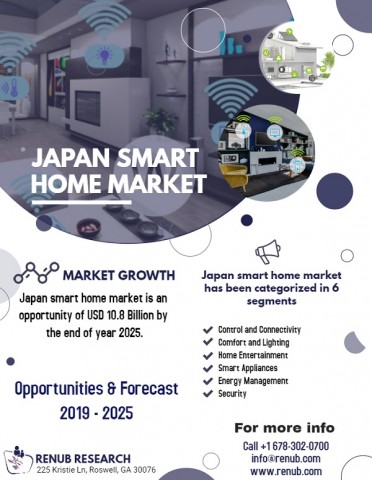 The key factors that influence the Japan smart home market to outperform in forecast period are; rising urban population, government initiative regarding infrastructure, high per capita income, high penetration of internet users, innovative products, rising trend of smart home devices, awareness about safety and security devices, mitigating the risk of carbon emission etc. besides large population of Japan understand the energy efficiency of the products will further propel the market in the future course of time.
Request a free Brochure copy of the report: https://www.renub.com/request-sample-page.php?gturl=japan-smart-home-market-volume-home-automation-entertainment-energy-management-security-ambient-assisted-living-aal-p.php
In Japan, people are basically working class and they highly focuses on lifestyle and living standard and they have very less time to do household activities. Smart home product makes the life so convenient so that people can focus on other productive work. In Japan, PPP model are implemented to achieve desired results and larger fund can help to invest on R&D part.
Market Summary:
By Segments: Japan smart home categorized by segments; Security, Control and Connectivity, Home Entertainment, Comfort and Lighting, Energy Management and Smart Appliances. Almost all segments have significant growth rate. The report also explains the key factors that propel each segment of Japan smart home market.
By Companies: This report provides competitive landscape of Japan smart home like which company investments, recent development, pilot projects, government rules and regulation, innovative product profiling etc.
Request a free Sample copy of the report: https://www.renub.com/request-sample-page.php?gturl=japan-smart-home-market-volume-home-automation-entertainment-energy-management-security-ambient-assisted-living-aal-p.php
If the information you seek is not included in the current scope of the study kindly share your specific requirements with our custom research team.
Contact Us
Email: info@renub.com
Phone: +1-678-302-0700
Web: www.renub.com
Browse Related Reports :
Key Topics Covered :
1. Introduction
2. Research & Methodology
3. Executive Summary
4. Japan Smart Home Market Analysis to 2025
4.1 Japan Smart Home Market
4.2 Japan Smart Home Household Penetration
4.3 Japan Smart Home Active Household Number
5. Market Share – Japan Smart Home Analysis to 2025
5.1 Market Share – By Application Areas
5.2 Penetration Share – By Application Areas
5.3 Households Share – By Application Areas
6. Application Areas – Japan Smart Home Market, Number of Active Households & Households Penetration
6.1 Control and Connectivity
6.2 Comfort and Lighting
6.3 Home Entertainment
6.4 Smart Appliances
6.5 Energy Management
6.6 Security
7. Japan Smart Home Standardization Policy
8. Key Players Profiles
8.1 Panasonic Corporation
8.2 Sony Corporation
8.3 Secual Inc.
8.4 Connected Design Inc
9. Growth Factors
9.1. Policies & Initiatives Driving Smart Homes
9.2 Key Measures Promoting the Spread of Smart Houses
9.3 IoT Drives Smart Home Market
9.4 Cost Savings Due to The Adoption of Energy Conservation Systems
9.5 Urbanization, Increasing Awareness & Concern for Monitoring Elderly People
9.6 Development of Connected Innovative Products
10. Challenges
10.1 Security and Privacy Breach Concern
10.2 Cyber Security Concerns
About Us
Renub Research is a Market Research and Consulting Company. We have more than 10 years of experience especially in international Business-to-Business Researches, Surveys, and Consulting. We provide a wide range of business research solutions that helps companies in making better business decisions. Our clients rely on our market analysis and data to make informed knowledgeable decisions. Our pertinent analysis helps consultants, bankers and executives to make informed and correct decisions.
Media Contact
Company Name: Renub Research
Contact Person: Rajat Gupta
Email: Send Email
Phone: 16783020700
Address:225 Kristie Ln
City: Roswell
State: GA
Country: United States
Website: www.renub.com/information-technology-telecom-and-internet-2-c.php