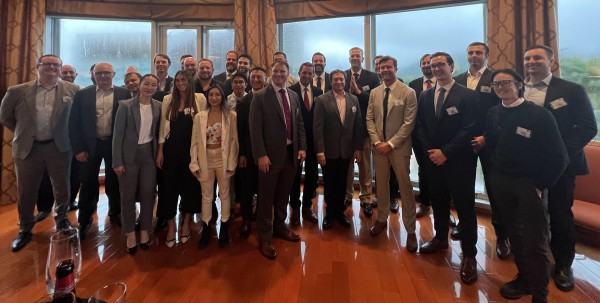 United States – In the dynamic realm of venture capital, where US funds continuously seek foreign investors to fuel their growth, one name stands out as a beacon of innovation: Irwin Katsof. As the visionary founder of Trademissions.org, Katsof has pioneered a unique approach to connecting US funds (GP's) with foreign investors (LP's) through international speed dating events.
Trademissions.org's groundbreaking concept involves organizing international trips where US fund managers can meet a plethora of foreign investors in a single sitting. This efficient and effective method of introduction has transformed the way venture capital funds connect with potential investors, eliminating the traditional barriers of distance, time, and access.
The recent 'cap intro trade mission' held in June 2023 at the US Consul General residence in Hong Kong stands as a testament to the success and demand for such events. Due to overwhelming interest from LPs, Trademissions.org has announced its return to Hong Kong for a second event this year, scheduled for November 6, 2023.
Irwin Katsof's journey to creating Trademissions.org is a story of vision, determination, and a deep understanding of the venture capital landscape. Recognizing the challenges faced by US funds in accessing foreign investors, Katsof sought to create a platform that would bridge this gap. His innovative approach has not only streamlined the process but has also fostered genuine connections between funds and investors, leading to fruitful collaborations.
"Since 2012, we have now connected over 10,000 foreign investors to 750 US funds over the course of 70 international events. We are doing powerful and exciting work," says Irwin Katsof, reflecting on the impact and reach of Trademissions.org.
The venture capital world is characterized by its fast-paced nature, where funds are in a constant quest for investors who align with their vision and objectives. Trademissions.org, with its unique speed dating events, offers a solution that is both time-efficient and effective. By bringing together US funds and foreign investors in a relaxed yet professional setting, the platform ensures that both parties can engage in meaningful conversations, assess compatibility, and lay the groundwork for potential collaborations.
For US funds, the benefits are manifold. Not only do they get an opportunity to meet a diverse group of foreign investors in a single event, but they also gain exposure to international markets, insights into global investment trends, and the chance to expand their network beyond the US borders.
Foreign investors, on the other hand, get a firsthand look at a curated selection of US funds, allowing them to assess potential investment opportunities, understand the funds' strategies and objectives, and engage in direct dialogue with fund managers.
As Trademissions.org continues to grow and evolve, its commitment to fostering genuine connections between US funds and foreign investors remains unwavering. With a calendar packed with international events and a growing community of funds and investors, the platform is set to redefine the venture capital landscape further.
In conclusion, Irwin Katsof's Trademissions.org stands as a testament to the power of innovation in the world of venture capital. By recognizing a gap in the market and addressing it with a unique solution, Katsof has not only created a platform that benefits both US funds and foreign investors but has also left an indelible mark on the venture capital industry.
Media Contact
Company Name: Trademissions.org
Contact Person: Irwin Katsof
Email: Send Email
Country: United States
Website: https://www.trademissions.org/