Softener is a kind of chemical substance that can change the static and dynamic friction coefficient of fiber. It can be adsorbed on the surface of textile fiber and make the fiber smooth, so as to change the hand feeling and make the product more comfortable. In order to give you a better understanding of softeners, today I will introduce you to the classification and characteristics of softeners. Softeners can be roughly classified from two aspects: ionicity and main composition.

1. Classification from ionicity
(1) Anionic type: usually contains -COO- or -SO3- groups. This kind of softener has a general softening effect, but has good slippage and cannot be used in the same bath with positive dyeing materials.
(2) Cationic type: usually quaternary ammonium salt, this kind of softener has good softening effect, full hand feeling, and slightly less slippery. Can not be used in the same bath with anionic dyestuffs.
(3) Non-ionic softener: usually contains -NHOH, -OH, -(CH2CH2O)nH or emulsified by emulsifier. The softening effect and smoothness of these softeners are between that of anionic and cationic softeners. It can be used in the same bath with most dyestuffs.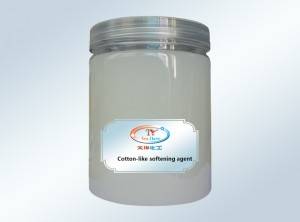 2. Classification of main components
The basic composition of softeners is mainly two types of long-chain fatty acid (saturated or unsaturated) derivatives and silicones.
(1) Fatty acid softener
This type of softener is usually a surfactant, which is one of the earlier applications. The main synthetic raw materials are stearic acid, oleic acid and other long-chain fatty acids or esters, or polyethylenes, which are prepared by introducing water-soluble groups or emulsifying with emulsifying and dispersing agents. The hand feeling finished by this kind of softener is generally thicker.
(2) Silicone softener
It is usually synthesized from the basic raw material octamethylcyclosiloxane (D4), and the composition is then emulsified and dispersed in an aqueous solution by an emulsifier. The products developed so far include methyl silicone oil, hydrogen-containing silicone oil, hydroxy silicone oil, amino silicone oil, and epoxy Modified silicone oil and many other varieties, and amino silicone oil is currently the most researched and fastest-growing variety among softeners. After finishing the fabric with this kind of softener, the softness and smoothness are significantly improved.
(3) Mixtures of fatty acids and silicones
Fatty acid softeners have the advantages of simple synthesis, low price, and full hand feeling, but they are usually not smooth enough. Silicone softeners can improve the smoothness of fabrics. Therefore, manufacturers often add 10-50% of fatty acid softeners. Silicone. At present, the softening agent of low and medium gears on the market is often this kind of product.
Media Contact
Company Name: Dongguan Taiyang Textile Chemicals Co., Ltd.
Email: Send Email
Phone: +86 13556731312
Country: China
Website: https://www.dgtytexchem.com/