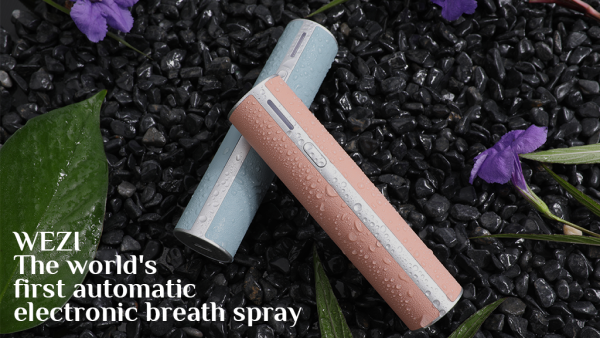 With its sleek, electric lifting design and stylish leather carrying case, WEZI is the ultimate accessory for anyone looking to maintain fresh breath and a confident smile throughout the day. But that's not all – WEZI also provides relief for sore throats and dry mouth, making it the perfect all-in-one solution for oral hygiene.
WEZI can help inhibit 99% of oral bacteria without damaging the throat. The fine water ions produced by high-frequency atomization cover the mouth, which can immediately relieve discomfort and keep your mouth fresh for 2 hours.
Unlike traditional breath sprays that can be messy and ineffective, WEZI uses advanced technology to deliver a precise, targeted dose of breath freshening ingredients directly to the source of bad breath. This means that you can enjoy long-lasting fresh breath without the need for multiple sprays or the worry of overspraying.
EpixDesign is famed for combining high-tech function with elegant product appearance. This is because the company's core production services is enshrined in developing the functions and simplifying the design of its products, a prerequisite they used on the WEZI next-gen electric breath spray. "It encourages us to keep improving our products in order to meet various needs from our customers", declared the CEO of EpixDesign.
The nozzle can automatically fall back after each use. With an almost perfect "seamless design", WEZI can isolate bacterial contamination. The lifting structure contains more than 100 components. The lifting function is still stable even if you use it 100,000 times.
"WEZI can not only freshen your breath, but also moisten your throat. For oropharyngeal pathogenic bacteria, such as Staphylococcus aureus, Streptococcus mutans and Porphyromonas gingivalis, the bacteriostatic rate of EIZI is as high as 99%. 24 hours against bacteria, day and night", said the CEO.
WEZI is also incredibly easy to use. Simply press the button on the handle to activate the spray, and let WEZI do the rest. And with its compact, portable design, you can take WEZI with you wherever you go – whether you're at work, on a date, or traveling.
"But don't just take our word for it – WEZI has a National patent certification, which entails the performance should not be underestimated," said the CEO.
About EpixDesign Studio
EpixDesign Studio gathers a team of excellent designers. This time the company developed a great cooperation with WEZI. WEZI is a team of trendy scientists and pioneering artists, committed to creating products that combine professional intelligence and cool technology. WEZI comes from the concept "We take it easy", which expresses the expectation for the team – to be a brand is to take it easy to be yourself.
To know more about the fascinating WEZI next-gen electric breath spray, check out the company's page on Kickstarter.
Media Contact
Company Name: WEZI
Contact Person: Neslon
Email: Send Email
Country: China
Website: https://www.kickstarter.com/projects/epixdesign/wezi-the-next-gen-electronic-breath-spray?ref=37t3ne&token=37fd5760