The SMACO S700MAX is built to eliminate the frustration of missing the underwater experience due to bulky dive gear. This innovative gear ensures that you do not miss the underwater when it calls. It is defined to be lightweight and portable combined with top-shelf performance. It has been launched on Kickstarter and has racked up more than $22,000 so far. The huge backing it is attracting signifies how innovative and convenient this gear is for divers.
For extended underwater exploration, the SMACO S700MAX features a unique double tank with a regulator. This sleekly designed dive gear is not just built to be an underwater companion but to provide users with travel solutions as it comes with a large storage capacity for travel essentials.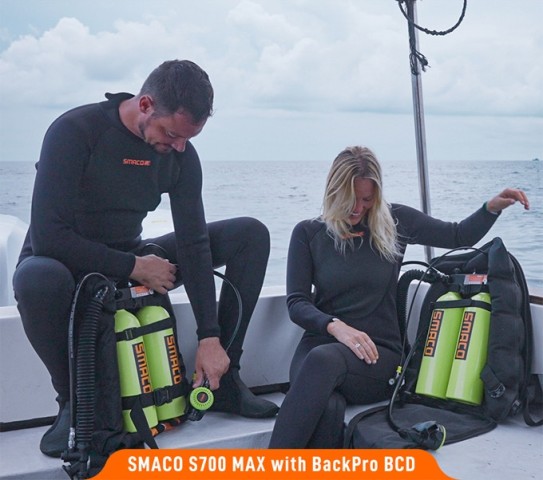 The backpack's lightweight makes it ideal for convenient long dives for both inexperienced and experienced divers. With a 2*1.9L oxygen capacity, this scuba tank can last an average of 30 to 45 minutes underwater. It has been designed to align with BCD compatibility. This makes it compatible with most BCD equipment in the market. Users can dive up to 33ft underwater.
Customer reviews of the SMACO S700MAX have so far been glowing, emphasizing its portability, ease of use, and unparalleled performance. Trip Smith, a diving enthusiast praised the diving gear saying: "They are so good for exploring or cleaning the bottom of a boat. It really is pretty cool. So fun to use, enjoyed it. For checking/cleaning the underside of the boat or clearing a problem with the motor. Easier than snorkeling or holding your breath."
Whether you are a recreational or professional diver, the launch of SMACO S700MAX on Kickstarter offers you an opportunity to be among the first to experience this cutting-edge gear. Backers are opportune now to choose the package that suits their diving needs.
The Kickstarter launch campaign is still ongoing and will last for the next 24 days. Early backers can take advantage of the cheap pricing to experience the exclusive rewards it offers. To back up the project and to get more information, visit the Kickstarter page here.
About Smaco
SMACO is a leading provider of convenient, reusable, and versatile diving gear. With a team of experts, SMACO is dedicated to designing easy-to-use, safe, and highly performing gears to ensure that everyone does miss the exploration of the wonders of the underwater.
Media Contact
Company Name: Smaco
Contact Person: Bill
Email: Send Email
Country: China
Website: https://www.smacodive.com/