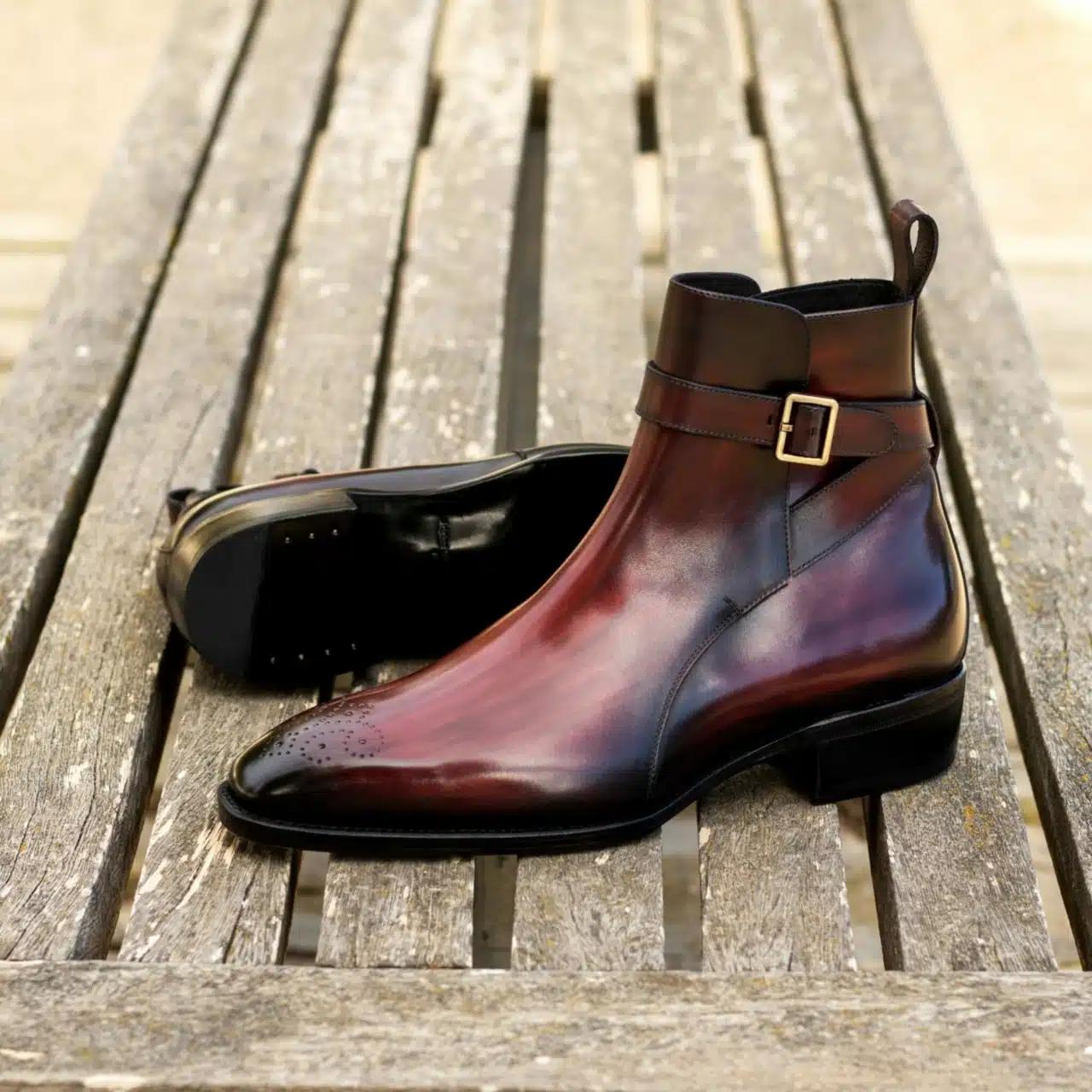 Robert August, a premier men's footwear brand renowned for its commitment to quality and craftsmanship, proudly presents The Rush St. Jodhpur Boot No. 8063, an exquisite addition to their bespoke collection. Handcrafted with precision and passion, these Jodhpur boots exemplify the brand's dedication to creating footwear that transcends time and fashion trends.
The Rush St. Jodhpur Boot No. 8063 is the epitome of sophistication and style. Meticulously handcrafted to order, each pair is a unique masterpiece, a testament to the skilled artisans who bring them to life. Crafted with sumptuous Italian leather, these boots are characterized by their distinctive burgundy hand patina finish. This meticulous attention to detail results in a rich, deep color and a unique, timeless look that sets them apart from the ordinary.
Robert August's commitment to individuality is reflected not only in The Rush St. Jodhpur Boot No. 8063 but also in their extensive made-to-order design studio. Customers can choose from thousands of designs, allowing them to customize their footwear to match their personal style, ensuring that every pair of Robert August shoes is a true reflection of the wearer.
What sets Robert August apart is not only the quality and craftsmanship of their footwear but also their global reach. All Robert August shoes are handcrafted in Spain, a country renowned for its tradition of artisanal shoemaking. This dedication to quality extends to the global stage, as Robert August offers free worldwide shipping, ensuring that customers around the world can experience the luxury and comfort of their meticulously crafted footwear.
Robert Baum, the founder of Robert August, has built the brand on a foundation of passion, quality, and timeless style. Based in Chicago, Illinois, Robert August is proud to be a part of the city's rich history of craftsmanship and innovation.
Experience the craftsmanship, elegance, and individuality of The Rush St. Jodhpur Boot No. 8063 and the entire Robert August collection by visiting their website at https://augustapparel.com. For inquiries, please contact contact@augustapparel.com
About Robert August:
Founded by Robert Baum, Robert August is a distinguished men's footwear brand based in Chicago, Illinois. With a commitment to quality, craftsmanship, and individuality, Robert August creates bespoke shoes that transcend time and fashion trends. Each pair of Robert August shoes is meticulously handcrafted in Spain and is a testament to the brand's dedication to excellence.
Media Contact
Company Name: Robert August
Contact Person: Robert Baum
Email: Send Email
Phone: 3126008056
Address:1 E. Erie St Suite 525-4647
City: Chicago
State: IL
Country: United States
Website: https://augustapparel.com