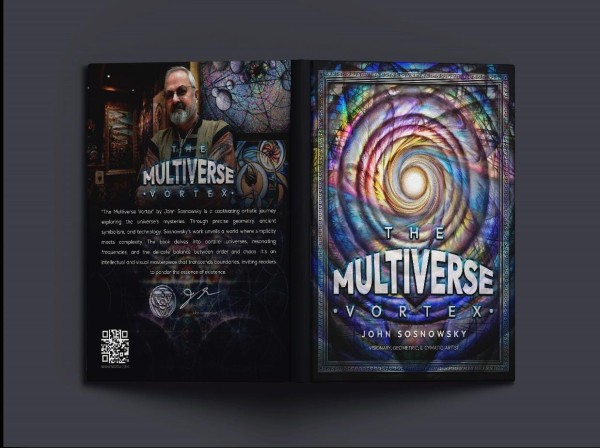 John Sosnowsky invites readers and art enthusiasts on a mesmerizing journey through the realms of simplicity, complexity, and the universal forces that shape our existence in his latest masterpiece, "The Multiverse Vortex."
Drawing inspiration from the profound connection between art and nature, Sosnowsky's "The Multiverse Vortex" seamlessly weaves together elements of simplicity, geometry, technology, and ancient symbolism to create a collection that transcends time and culture. This captivating book showcases not only his remarkable artistic talent but also his deep understanding of the fundamental laws that govern our visual creations.
With a Bachelor's Degree in Art from Towson University and over 46 years of dedicated artistic work alongside his wife, Debby, John Sosnowsky's creative journey has taken him to juried shows and galleries across the nation. His passion for art has led him to serve on prestigious boards, including the Maryland Renaissance Arts and Craft Board, and to become the Artist Market Chair of the Frederick Festival of the Arts.
"The Multiverse Vortex" is a series of three interconnected pieces that offer a unique perspective on the universe, human existence, and the forces that shape our reality. This series is a testament to Sosnowsky's visionary, geometric, and cymatic approach to art.
The first piece in the series, titled "One," invites readers to contemplate the vastness of creation. It paints a cosmic tableau, illustrating the relationship between our universe and countless others that exist in perfect harmony with nature. Sosnowsky's artwork challenges our imagination, inviting us to explore the endless possibilities that lie beyond our understanding.
"Vortex," the second piece in the series, represents the grand cosmic vortex where opposing forces unite to create our existence. It serves as a portal to the infinite ways in which we can interact with other universes while navigating the boundaries of space and time.
The third piece, "Crystalize," offers a glimpse into the crystallization of life itself. Sosnowsky delves into the interplay between science, mathematics, physics, and the unknown spiritual forces that underpin our understanding of reality.
"The Multiverse Vortex" is more than just a book; it's a visual odyssey that invites readers to contemplate the balance and order inherent in the natural world. Sosnowsky's art reflects the eternal struggle of nature to harmonize its elements, a theme he brilliantly translates into his work.
John Sosnowsky's "The Multiverse Vortex" will be available soon, featuring exquisite illustrations that will transport you into the depths of the multiverse. Whether you're an art aficionado or simply seeking inspiration, this book promises to take you on a profound and thought-provoking journey. Stay tuned…!!
About John Sosnowsky:
John Sosnowsky is a visionary artist with over four decades of experience, specializing in geometric and cymatic art. Alongside his wife Debby, he has dedicated his life to creating and sharing art, leaving an indelible mark on the world of contemporary art. John's work is featured in juried shows, galleries, and on the web, captivating audiences with its harmonious blend of simplicity and complexity.
For more information or to get more information from the author, email: sozra@pipeline.com
Media Contact
Company Name: John Sosnowsky
Contact Person: John Sosnowsky
Email: Send Email
Country: United States
Website: pipeline.com