Premier Business consulting company, DWS Holdings, have launched the Eraser Laser™ v2, an at-home tattoo removal laser designed to provide optimal safety, convenience, and ample healing time.
According to Market Research Future, tattoo removal is a rapidly growing industry that is estimated to reach $4.8 billion in global market size by 2023. According to a Dalia research survey, 46% of Americans (approximately 150 million people) have at least one tattoo. Consequently, it's estimated that 30 million people may be actively seeking removal or fading of a tattoo.
Tattoos are extremely popular, especially for their permanent design. But that design aspect often leads to many cases of tattoo regret. People may want to remove tattoos after making big changes in career or relationships, or generally to have more time to consider the image they want to project to the world. Whatever be the reason, the Eraser Laser is on hand to offer a seamless and fluid transition from designer skin to plain skin.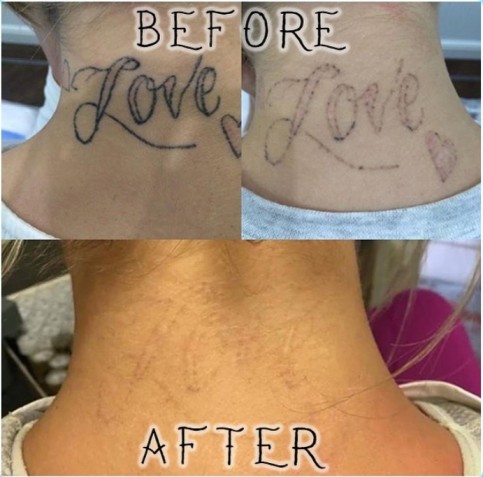 The Eraser Laser works by emitting light at a wavelength of 450nm (or 850nm), which breaks up the large portions of ink particles in the skin. The blue Eraser Laser works on brightly colored ink more optimally at 450nm. The red Eraser Laser targets black ink the best at 850nm. The laser fires 1000x faster than a nanosecond releasing energy that heats and vibrates, breaking down the ink particles. Now that the ink particles are small enough, the white blood cells begin moving them to the kidneys, where they are safely processed and dissolved.
Speaking about their services, a company executive, Dennis Liu, said: Did you know that on average, tattoo removals cost $1,000 over multiple sessions? We have provided an easier, affordable alternative for you. That's why we invented the Eraser Laser. Our patented laser breaks up the pigment in your skin and allows your body to absorb it harmlessly. No long treatment times, no losing hundreds of dollars per session, no costly and ineffective creams or chemicals, just simple, safe, science."
Undoubtedly, a testament to the Eraser Laser's efficacy is the rave reviews it has elicited from its users. According to a user, Mason Williams, "You could save money if you used this device!!! I've done 1st shots, and it faded my Tatoo a little bit. I've set up a low frequency. Don't expect it to be gone right away. But for sure, it works for Tatoo. I'll post more photos later." Another user, Evelyn Davis, said: "This awesome tool is nothing to play with. It is very powerful and effective. Look up YouTube videos to learn how to use it. I'm very happy with the purchase and the seller."
Media Contact
Company Name: DWS Holdings Inc
Contact Person: Dennis Liu
Email: Send Email
Phone: 844-397-4620
Country: United States
Website: theeraserlaser.myshopify.com