Premier Realtor and former credentialed teacher, Roger Flowers is set to make a sensational return to real estate with HomeSmart Evergreen Realty after an 8-year hiatus.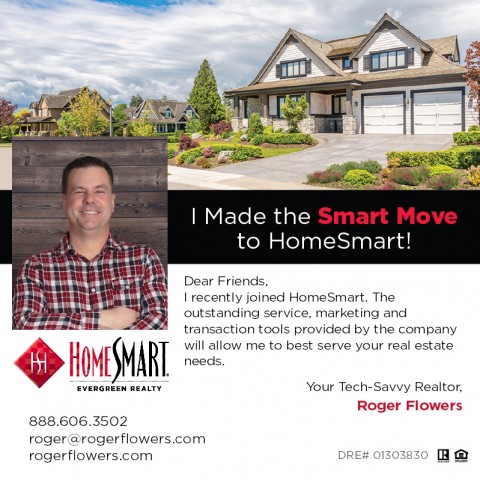 In 2013, CareerBliss announced that being a real estate agent is the single most satisfying job one could have. As expected, this affected the national real estate market, and many people switched to that line of work. It's unarguable that everyone wants to be happy. Today, there are more than two million real estate agents working in the United States.
With so much active competition, it's imperative to stand out from the crowd. Anthony Hitt said: "to be successful in real estate, you must always and consistently put your clients' best interests first. When you do, your personal needs will be realized beyond your greatest expectations", and Roger Flowers has been doing just that, conspicuously differentiating himself from the rest with his flat-rate listing (no percent commission), and his advanced use of technology.
Roger has been a licensed agent since 2001, and his services will cover the Redlands, Yucaipa, Calimesa, Beaumont, Mentone, and much of San Bernardino County.
The best real estate agents in the business have a knack for anticipating their clients' needs and matching those needs with the right piece of real estate; thus, Roger Flowers automated his services to match the modern market techniques of this age. By signing up for his Daily Property Alerts, Roger's clients will get alerts freely delivered to their inbox when new listings matching their criteria comes up.
Roger Flowers has built a reputation for excellent customer service while maintaining a friendly customer focus. His services have elicited rave reviews from his clients. According to a client, Jerry Jacobsen: "Working with a local agent is the way to go. Roger Flowers was only minutes away and always on time for scheduled showings. Great communication adds to the success of any transaction, and Roger is at the top of the class. I will use Roger Flowers again for all my future real estate endeavors. I highly recommend him."
Media Contact
Contact Person: Roger Flowers
Email: Send Email
Phone: 888-606-3502
Country: United States
Website: www.rogerflowers.com