• International school students win 20+ top awards at finals of international STEM competition at London's RAF Museum
• More than 25 teams competed in 'Dragon's Den' style pitches for a £5000 prize which was scooped by a team from Bosnia and Herzegovina with plan to protect endangered vultures
• Visual spectacle as finalists battled it out in the air as they showcased ways drones could be used to protect endangered species
• Organised by British International Education Association, the contest challenged youngsters to use technology for good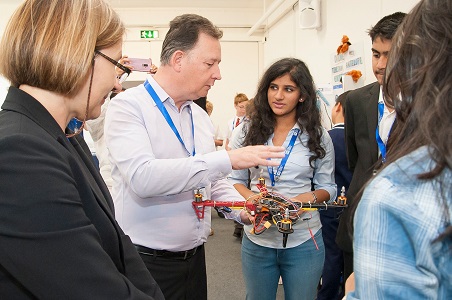 School children from around the world scooped some of the top awards at the finals of a major international STEM competition in London earlier this month, where they showcased their ideas on how they would use drones to conserve endangered species.
Teams from the Silver Oaks International School (age 9-11 category) and Visakha Valley School (age 15-17 category) in India came won awards for Champions and Second Runner Up respectively. These teams spent the day speaking to judges presenting their ideas for animal conservation.
Coming from across the world, multiple teams from China joined the BIEA in London on July 4th, taking two spots in the top awards of the day. They worked hard displaying their presentations, flying and evaluating their solutions to animal conservation via drones. Two teams from Hangzhou Shanghai World Foreign Language Primary School spent the day with the BIEA at the Royal Air Force Museum. The BIEA was happy to have multiple teams from the No. 2 High School of East China Normal University in London to represent their projects.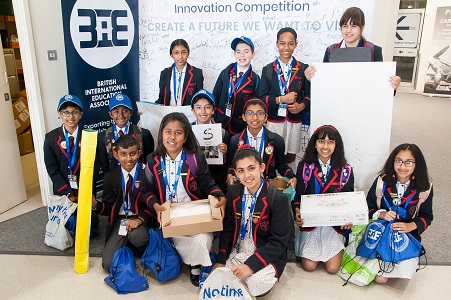 Taking an Outstanding Achievement Award in the 15-17 age category was the Macau Pooito Middle School team.
Team Delta Project from 1LO im. Stanislawa Dubois w Koszalinie in Poland snagged an Outstanding Achievement Award for their project that showed ways to help conservation efforts for the Grevy's Zebras.
From Southern California, USA, two teams from the Topkids Center came to London to showcase their projects. In the 15-17 age group, Team Zuberi was awarded the Best Creativity and Best Display as voted by their peers. Team Paracop in age group 9-11 had their hard work paid off as they were awarded Champion for their age group.
The overall grand prize of £5000 was won by the United World College in Mostar, Bosnia, for their impressive strategy to protect the endangered vultures of Bosnia and Herzegovina, a task made even harder by the estimated 80,000 landmines in 8500 locations around Bosnia and Herzegovina left over from the Balkan Wars.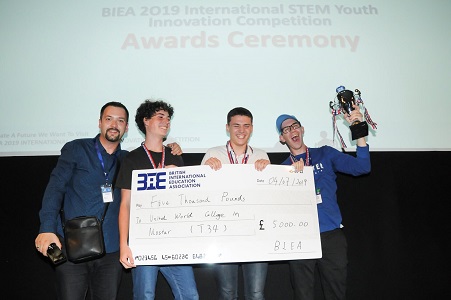 David Busley, 17, from the Bosnian team said:
"Vultures may have an image problem, but they are crucial to our country's ecosystem. They are endangered, yet their plight often barely registers with many Bosnians as they are out of sight and out of mind.
"Drones offer the perfect way to reach them safely in their natural habitat, and our hope is that by monitoring and tracking their numbers properly, we can encourage the government to take action to help conserve these vital animals."
They all won a trophy and medals for their school.
More than 25 teams from countries including China, the USA, India, Pakistan, Bosnia and Herzegovina, Poland and the UK converged on the Royal Air Force Museum to contest the International STEM Youth Innovation Competition.
Video Link: http://www.youtube.com/embed/9ZxcriNzPN8
The competition was organised by the British International Education Association (BIEA), which champions British education ideals around the world, and backed by the Born Free Foundation, the competition aims to fire the imagination – and test the creative and technical expertise – of young science students with the theme of 'Fighting Extinction via Drone Technology'.
Finalists in the three age groups – 9-11, 12-14 and 15-17 – from 18 countries were shortlisted for the grand final. Each school was given a budget of just £100 to build a drone for their entry, ensuring a level playing field. They battled it out in a day of tough competition, during which saw them each fly their drone and explain how they would use the technology to tackle species extinction.
Judges headed by the Chief Scientist of the Born Free Foundation, Professor Claudio Silleron, Dr Shaun Fitzgerald of The Royal Institution and STEM Chairman of the BIEA David Hanson, also included drone expert Stephen Prior from Southampton University, Education Innovations Manager for the British Science Association Jane Dowden and Competition Manager Amelia Perry from Engineering UK.
The STEM competition runs each year with a different theme. In 2018, schools were challenged to create a drone for a rescue situation. Registrations are already open for the 2020 competition at www.bieacompetition.org.uk.
David Hanson, STEM Chairman of the BIEA, said:
"How these groups of young people planned and executed their impressive strategies to protect endangered species was hugely impressive and we were all overawed by the talent and enthusiasm on display.
"As a not-for-profit education organisation working around the globe, the BIEA champions British education, STEM and innovation. Our competition brings all those themes together, and aims to inspire young people to use tech for good – and to fire young creative and technological minds around the world."
Professor Claudio Sillero, Chief Scientist at the Born Free Foundation said:
"What a wonderful day! I was privileged to present the STEM Youth Innovation Competition grand prize to the United World College team from Mostar. Smart modification of their drone for efficient battery recharging and data offload delivered an inexpensive device to remotely monitor threatened vultures in the ragged mountains of Serbia-Herzegovina.
"Born Free sees a promissory future for greater engagement of STEM professionals to devise smart conservation solutions.Born Free invests in a better future for both people and wildlife. The STEM Youth Innovation Competition provides a great vehicle for that aspiration. By addressing specific technical challenges to protect wildlife – as illustrated by some of the cool uses these youngsters have found for their drones, we foster their interest in technology while developing innovative ways of valuing and protecting wildlife."
Media Contact
Company Name: British International Education Association
Contact Person: Helen Hu
Email: hhu@biea.org.uk
Phone: +447766554217
City: London
Country: United Kingdom
Website: www.bieacompetition.org.uk