From September 15th to 18th 2023, the 51st International Broadcast Conference (IBC2023) will be opened at the RAI International Exhibition Center in Amsterdam, the capital of the Netherlands. As an exhibitor, Beijing Tianying Vision Technology Co., Ltd.(TYST Direct), a leader in China's intelligent audio and video industry, will bring four new products to the exhibition, Stand located at 3.D14.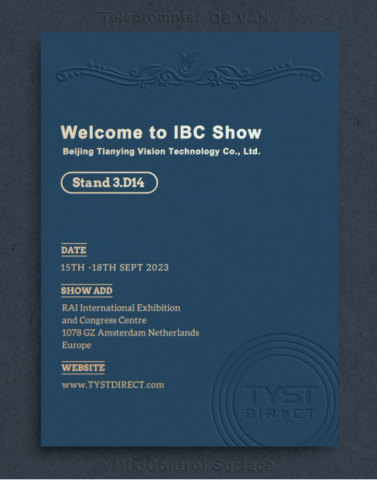 2023 IBC Show Invitation from Beijing Tianying Vision Technology Co., Ltd.
The "Oscar" of broadcasting equipment and technology Industry: TYST Direct will bring four new products to the show, sincerely inviting global users and resellers to visit us.
IBC Show is the most authoritative and largest professional exhibition of broadcasting and television equipment in the Netherlands and even the whole European region. The exhibition area exceeded 120, 000 square meters, with more than 1, 000 companies from all over the world participating in the exhibition, and a total of 60, 000 professional visitors during the exhibition.
It is reported that nearly a hundred exhibitors from China this year, with more than a thousand products on display. As an industry event, IBC Show is undoubtedly an "Oscar"-like existence in the broadcasting equipment and technology Industry. TYST Direct, as an excellent audio and video solution provider, is willing to actively explore overseas markets and find global partners on this valuable platform! This exhibition is highly valued by TYST Direct. The chairman of the board of directors Xu Zhanguo, deputy general manager of marketing department Duan Yuanfei, deputy general manager of technical support department Jiang Jinqiang, deputy general manager of product research and development department Wu Songlin are stationed at the booth with many years of professional experience, waiting for the arrival of global partners.
The four new products released at this exhibition are: 1. Teleprompter series (TS-350, TS-TCARM24G dual screen, TS-TCARM21G single screen); 2. Switching panel (TS-vMix ATEM1700); the new teleprompters can be folded much easier, camera lifting adjustment is more convenient, overall workmanship is more refined; the panel is technically adapted to Blackmagic products, while compatible with vMix software, cost-effective in similar products.
Beijing Tianying Vision Technology Co., Ltd.'s main business scope includes: EFP Box-loaded studio, OB Van (solution), Virtual Studio (solution), Teleprompter (multi-series), Switch Panel, LED Light, Intercom System, Virtual System, Professional Monitor, Non-linear Editing System, MOOC, Live Broadcasting All-in-one Machine, Professional Camera, High-definition Special Effects Switcher, Projector, Mobile Box-loaded Studio, Subtitle Device, TV program Non-linear Editing System, Digital TV program network production, Data storage management, Professional video console, Mixer, Amplifier, Audio and video distributor, Professional tripod, Microphone, Video tape and other peripheral products .We have more than ten years experience. Welcome to 2023 IBC Show booth number 3.D14!
Telling the world about ourselves with products and traveling all over the world with good services to find the best solution and smart solutions in the audio and video industry worldwide.
"TYST Direct has always been committed to providing customers with first-class audio and video system solutions to make customers more successful. The service concept is practiced on all domestic and foreign partners. This exhibition is a small step in implementing the group's overseas strategy. In the next five years and ten years, we will continue to take many steps." Xu Zhanguo, chairman of TYST Direct, summarized his speech before the exhibition.
Media Contact
Company Name: Beijing Tianying Vision Technology Co., Ltd.
Contact Person: Li
Email: Send Email
Country: China
Website: www.tystdirect.com