Some newly emerging content areas are: videos generated automatically with text inputs, mixed realities, short-form videos, and reactive content.
Instaoffyz, the new online AI tool for writing press releases, emailers and headlines, has shared the latest trends shaping the world of AI in content generation.
The prime considerations involved in the new world of AI generated content are – will it help reduce resources, costs and time required to create a fresh stream of content every day for various online channels. Also, can in-house processes be streamlined on the basis of AI capabilities.
Some newly emerging content areas are: videos generated automatically with text inputs, mixed realities, short-form videos, and reactive content. Some more areas that will adopt AI generated content are podcasting, first-party data collection and gaming.
According to Instaoffyz, the following are the new trends and AI impacted areas in content generation:
Content analysis and optimization
Only creating content is not useful, but analyzing its impact is also essential to create better content plans and strategies. AI content tools can be used to analyze any available user or traffic metrics, SEO related data and user behaviour to discover patterns that will help fine-tune future content.
Sentiment analysis has become simpler. It takes a small prompt to ask AI to tell us if a given piece of content carries positive, negative or neutral sentiments.
Generating feedback emailers and messages based on content analysis for sentiments and emotions is also a matter of seconds. The entire customer support and feedback industry is set for a major overhaul.
Analyze large volume of data
The huge capabilities of models like ChatGPT allow for easy data analysis with just a few prompts. These large language models can analyse huge volumes of data in less period of time, making data analysis for decision making much faster and easier.
More personalized and targeted content
Although it is said that AI generated content lacks the human touch, this opinion may need to be revised in the future as AI works on today's goldmine – data. It will help in targeting specific audiences and making tailor-fit messaging for them. So, personalized AI content is not far away!
Content automation tools and plugins
We can see several automated content creators on platforms like WordPress. These plugins currently require users to create article titles and provide keywords. The articles can then be scheduled for publication. It won't be surprising to see social media content that is AI generated. For websites that require a constant flow of articles and posts, AI plugins like these will bring down costs and requirements for resources.
On the other hand, search engines like Google, which created the need for fresh and long-form content on websites, are now fighting off the menace of poor quality, AI generated content with their own detection tools to ignore AI generated content.
More Chatbots
Very soon, users who are interacting with website messaging and chat boxes will first ask: Are you a chatbot?! Bots have already taken over many tasks related to customer support, general inquiries, and feedback.
Targeted advertising
While advertisers can currently tweak their ad campaigns in tools like Adwords based on user profiles, geographies and other factors, it will be interesting to see the impact of AI on targeted ad strategies.
Instaoffyz, the press release writing AI tool, helps generate content easily with forms and input parameters to make it all easier and faster and to produce more relevant and accurate content. All users get 1,750 words free to try out the tool.
Users can also ask for human editing of AI generated copies at budget prices, and cheap distribution of press releases to 400+ news outlets and reputed channels like Yahoo Finance, Bloomberg, AP News, Digital Journal, MarketWatch, etc.
Here is a simple example of how AI can help create or write interesting content based on popular memes and trends:
To create emailer subject lines for a discount offer, all one needs to do is supply a few parameters: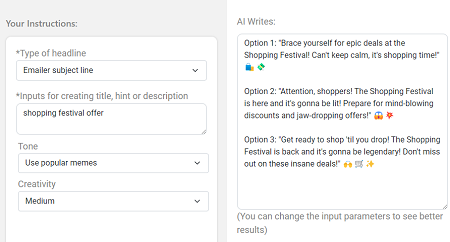 Other apps and tools by Instaoffyz:
Open Diary: A lean note taker and diary app: https://play.google.com/store/apps/details?id=com.instaoffyz.instanote
YogaSiddhi: A yoga asana video app for beginners and trainers: https://play.google.com/store/apps/details?id=com.instaoffyz.yogo
About
Instaoffyz is a Mumbai based venture that develops smart apps and digital solutions. For media inquiries and more information, please visit: https://instaoffyz.com
Media Contact
Company Name: Instaoffyz Digital Solutions (OPC) Pvt Ltd
Contact Person: Media Relations
Email: Send Email
City: Mumbai
Country: India
Website: https://instaoffyz.com