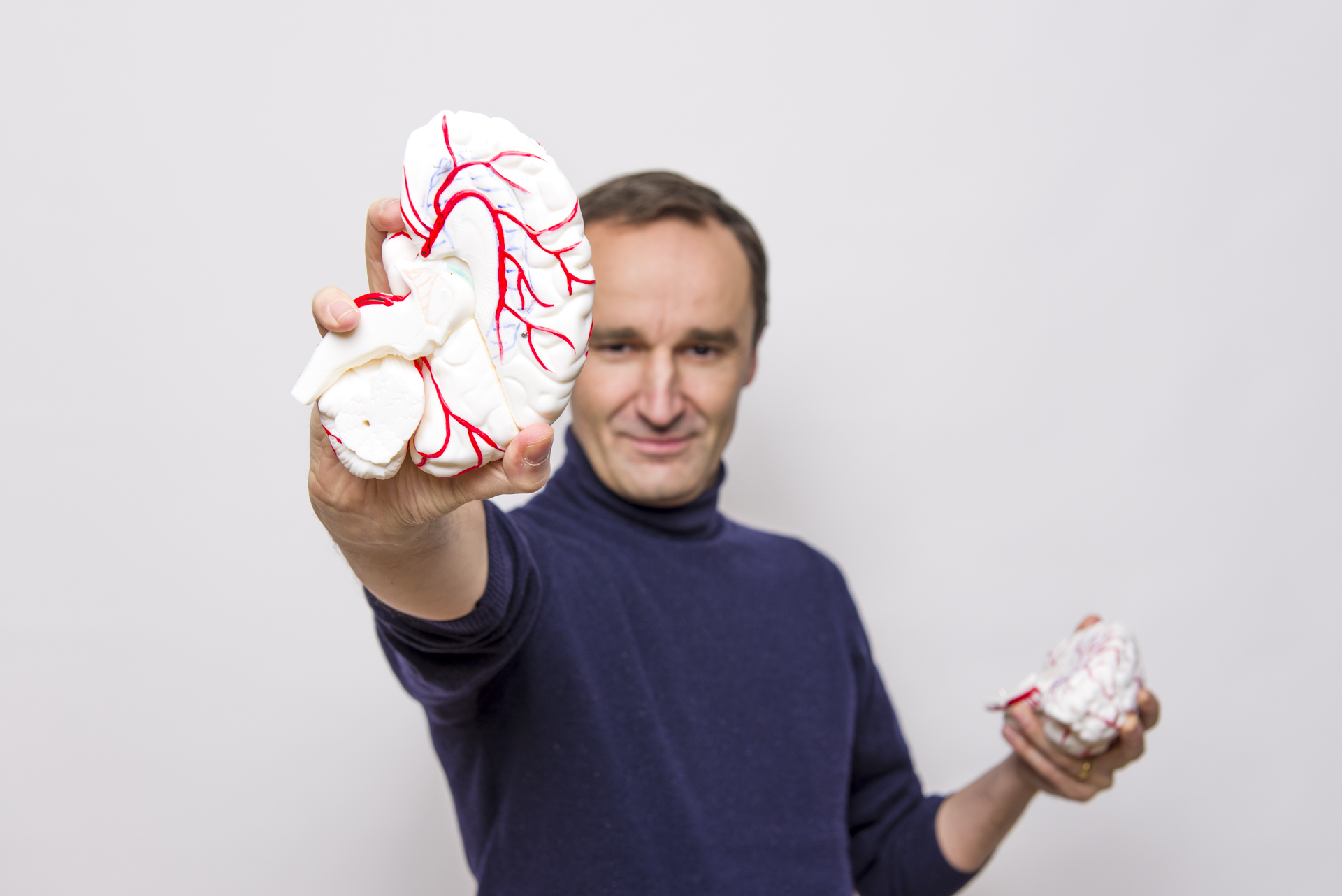 Gregory Caremans Sits Down To Discuss His Life, Business & Future Goals, along with his success as the founder of Brain Academy, which focuses on making brain science accessible to as many people as possible. To date, the Brain Academy has reached more than 240,000 students across the globe in 197 countries, and is growing daily. Gregory's work has been highlighted on CNN, in Entrepreneur Magazine and many others!
The brain is a complex operating system that controls everything we do and there is so much more to learn about it. There are many myths about the brain, such as, we only use five percent of the brain, or we use one side of the brain more than the other, and left-handed people are more creative. I am sure many of you have heard these very statements made at one point or another; however, after spending some time with a leading expert on the study of brain science, I have come to know otherwise. Today, it is my pleasure to share some time with Gregory Caremans. Gregory lives just outside of Brussels, Belgium, and has an impressive resume of accomplishments, especially over the past 10 years since he has really exploded within his passion for the study of the brain and what makes humans do what they do.
Gregory capitalized on his years of study in the areas of communication along with neurocognitive and behavioral psychology to found and launch Brain Academy in early-2014, and is a member of Germany's Max Planck Institute of Brain Research. At the Brain Academy, Gregory's drive is to make brain science accessible to as many people as possible. To date, the Brain Academy has reached more than 240,000 students across the globe in 197 countries, and is growing daily. Gregory's work has been highlighted on CNN, in Entrepreneur Magazine as having the top course on leadership, and was honored to have The Economist offer his courses to their readers. In November 2018, Gregory made it to the speaking stage as part of TEDxBucharest, where he delivered an amazing, must-see talk on the intricacies of the brain. He was referred to as Brain Master, and I am sure you will agree with me, that the title is very fitting.
Gregory, thanks for taking time out of your busy schedule to share this time with me today. I've seen the to-do list on your whiteboard, so that makes this time even more special. How are you doing today and how are things back home in Belgium?
These are strange times. I'm concerned, as most people are. Fortunately, my family and myself are safe and healthy. So, we're doing good.
Here in Belgium the government takes no chances and has been very hands-on in dealing with the virus. We're hopeful this will all soon be over, and we can think back to all this as a weird, surreal experience.
It definitely reminds us we shouldn't take anything for granted. It's been a wake up call for many of us.
I have some questions that will dive deeper into what you do and the impact that it's making, but I'd like to give you a chance to tell us a little more about yourself before we get started.
Brain science is a passion; an obsession even. Everything I do, everything I think about, I do through this 'brain science' lens. I try to apply new found insights and studies to my own life and that of my family. I am a father of two myself, and they are my favorite guinea pigs. Now don't worry, I don't implant electrodes in their brains or something like that. We're talking about behavioral experiments here.
I feel so fortunate to be able to work in my field of passion. I find this study of the brain absolutely fascinating and, through Brain Academy, have decided to share the insights with as many people as possible, by translating often obscure scientific jargon into easily digestible, ready for use information.
As I have discovered already, brain science truly is a great passion for you, and now a self-proclaimed obsession. Can you tell us what piqued your interest in the study of the human mind and the evolution of events that led you to found and launch Brain Academy back in 2014.
I have always been interested in human behavior. I've always tried to understand what drives us, what makes us happy, what is worth fighting for. When I started in L&D, it was a good fit. I got hired as the country manager for Dale Carnegie Training for Belgium and Luxembourg. I became a Dale Carnegie Trainer and bought an operating license. Then the financial crisis of 2009 hit. From one day to another, the economy just stood still. No one was buying management training anymore. I went out of business, just like that.
It took me some time to get back on my feet, and when I did, I became the Director of the Institute of Neurocognitivism (INC) here in Brussels. A whole new world opened up to me. Taking the brain as the lens through which you look at human behavior and interaction was, to me, a revolution. The INC was very methodical and scientifically rigorous. It was the best school I could dream of. The people who work there are brilliant. Unfortunately, they often lose themselves in theoretical debates about abstract nuances, and after some time I started to become hungry for translating all these fabulous insights into concrete tools people would be able to use in their everyday life.
In 2014, a friend of mine suggested I start creating online courses. I was very skeptical at first. Asking myself, "How would one ever be able to make a living with that?" But I eventually did create one and put it online. The rest, as they say, is history …
You have such an impressive story. If there was one thing, the most important thing, that you would want people to know about you, what would it be?
I'm genuinely passionate about what I do. There's a big difference between people who launch a project to make money, and people who launch a project out of passion. When you're in it for the money, you end up using all types of shady tactics to maximize your sales. Your client is there for your benefit. Most of my work is online. Trust me on this one: it can get ugly out there.
When you're in it for the passion, it's a different game all together. Your focus is to bring added value and to help people. You are in it for the benefit of others. Sometimes it happens that people want a refund in our Academy. I get it. You can't please everyone. Especially when your audience is worldwide and extremely diverse. If a person didn't get value out of their Brain Academy experience, I would feel like a thief if I would keep their money. It's not even up for debate. It has to be a win-win.
Along those same lines, with so many students already exploring and growing their minds every day, what is it about Brain Academy that is so different and beneficial than anything else out there?
When our first course went online in 2014, there was nothing like it. Sure, you could find a couple of courses on how the brain works, but they were all very academic and…really boring. Our approach has always been from a student's perspective: what's in it for them? How can they use this information in their daily life? And how can we keep their interest throughout the course?
The other thing is, we're not interested in copying what's already out there. We thoroughly research every subject we cover, and then combine the information in such a way to come up with a fresh new perspective to it.
We pride ourselves in keeping our information current. Brain science evolves rapidly, and we need to keep pace. Most of our courses have been updated and upgraded several times since they were first released. Several courses have even been re-written from scratch. Right now we spend more time updating/upgrading existing courses than we do releasing new ones.
I've had a neuroscience student from a leading university write to me to say my courses were more interesting than the ones he got from his professors. I've had professors write to me to say they use my course material in their courses. I love that kind of feedback. It tells me we're on the right track.
If you would ask me who my competitors are, I wouldn't be able to give you names. In my opinion there's no one doing what we do, the way we do it. Sure, there are a lot of marketers who try to make a quick buck by releasing courses on Neuroplasticity, because they see it sells. But in the end, if you can choose between a marketing expert who has 50 courses on sales, marketing and social media , and on the other hand a brain expert who's courses are all on the subject of the brain, who would you choose to teach you brain science? Exactly, that's the very reason why I don't see any of them as competition.
There's maybe one website kinda competing with us, but then the other day I found out that they were pushing our courses through affiliate links to their readers. That made me smile.
You see, we're the trendsetters. We're the innovators. We're the ones being copied. In business, it's the greatest compliment you can get.
Having impacted the lives and likely reshaped the minds of so many people, what kind of responses do you get from those that have completed your courses?
There are so many, I don't even know where to start. I get daily messages from people who thank us for the work we're doing. That alone is our biggest motivator. Every single one of our courses is transformational. I'm personally convinced that the study of the brain is about empowerment. Understanding how our brain works, helps us and empowers us in our daily life.
The thing is, we cover so much ground, from parenting and leadership to stress management and procrastination, over memory, focus, neuroplasticity, flow theory, and so on. I feel like singling out one example would just not do justice to all the others.
I get emails from parents and educators on our parenting course. So many coaches thank us for the tools in our course on personal development. Managers who got their eureka moment after taking our course on leadership. On procrastination, we got messages from people telling how they could finally move forward, after years of being held back by their habits. And the list just goes on and on…
Is there a particular person or situation that comes to mind, where a course had a life-changing impact?
There are so many, but if there has to be only one, my favorite success story would have to be that of Aldaci. She enrolled in the Neuroplasticity course and fell in love with it and how she changed as a result of it. Aldaci not only consumed the content; she explored and experienced it in her own life and interactions with other people. She learned how to incorporate social plasticity in her personal and professional life. The real testament to the value of the course comes from her comment, "I can say that I am no longer the same person after this course."
Aldaci's story is but one of many that I could share. Anyone can go through the thousands of reviews we've received and see for themselves how our work sparks enthusiasm. Whenever I have a bad day, I read through them. It's an instant morale boost and reminder of why I do this work in the first place.
What would you say is the most important thing for people to know and understand about the brain and the work that you and your team are doing?
I really want people to understand that our Brain Academy is not some kind of magical remedy which will make you smart overnight. It's not one of those many platforms claiming to improve your IQ, or improve your cognitive performance overnight with all kinds of 'brain games'. Regardless of what they claim, almost all of them have no leg to stand on. They're not helping people…it's all hot air. There's no transferability of skills. You are fooled with the impression your brain improves, but it's not. You're just getting better at that specific game, which is normal. If you do something repeatedly, you get better at it.
Remember what I said about money and passion. We're not all about the money…passion and impact matters more. We're about factually informing people about how our brains work. We debunk many myths about the brain. It's all factual, scientifically researched information, which we bring in a fun and comprehensive format, so people can understand themselves and others better, and start making changes in their life.
With such an amazing following from individual students, as well as those globally from corporate and academia, where do you see Brain Academy in the next 3 to 10 years?
This information is too important to be kept hidden behind university walls or high paying online platforms. The more people will know about this, the better. Understanding our brain better will lead to more empathy, more tolerance, better communication, better understanding of why we act in a certain way in certain circumstances…and then act upon it.
Understanding how our brains work will free us from unconscious processes holding us back. It will empower us in taking back control over our own life. It will dramatically increase our well-being. That's why I'm so passionate about this. It simply has to be shared with as many people as possible. Brain Academy has directly impacted over 240,000 students, probably double that indirectly, and see this growing to 1 million, then 2 million and hopefully 10 million or more students. Growth in this area is endless and I intend to be a part of that growth as long as possible.
What projects or plans do you have for the coming year?
We just launched a new Brain Vlog on YouTube, with new episodes weekly, where we share brain insights. I'm currently writing a book about brain health which will come out later this year. We also have two new courses planned for the second half of the year. This year is strange with the global COVID-19 pandemic. We had plans to launch a global certification program to train coaches worldwide, but that will be postponed to sometime in 2021.
Most people have life goals, aspirations and dreams for themselves, and I am sure you are no different. What is something that would rank right at the top of your ultimate dream list?
In my wildest dreams, somewhere in the future…
Brain Academy has its own research center, which we fund ourselves. We will have a network of partners worldwide who can help disseminate our information in their local regions. We would even talk to governments to help them shape educational policy to integrate brain science insights into the pedagogical programs our kids go through at school.
If we start educating our kids at school, and if they are able to integrate these insights into their life…not only does it have the potential to change our society for the better, but also, once they reach old age, their brains will remain strong and healthy. We would have way less issues with Alzheimer's, dementia and other cognitive decline we see nowadays.
This is important to me, as I saw how both my grandmothers fight against dementia. It was so hard on them and everyone around them. You know, it still hurts when I think about their last years…
Do you have a favorite quote or mantra?
My favorite quote is by Swiss psychiatrist and founder of analytical psychology, Carl Jung, "Until you make the unconscious conscious, it will direct your life and you will call it fate."
I like to end my guest interviews with a lighthearted question, but one that I think can give a great glimpse into what makes a person great and special at what they do. So, Gregory, what would you say is your superpower and how does it help you in what you do?
My superpower… I guess… is my in-depth knowledge of the brain. I have an unfair advantage in life now. I mean, I live and breathe brain science. With every decision I make, I keep in mind what is best for my brain. Now that doesn't make me smarter than anybody else. Brain science is not about being smart, a high IQ, or things like that. Seriously, it's not. With all that I have studied and knowledge I've gained over the years, I can honestly say my brain is in better shape than it has ever been.
When we take care of our brain, it shows in things like better focus, an improved memory executive function, etc. However, the real impact of having a healthy, well-functioning brain is evidenced by how we feel in life. It gives us optimism, positivism, enthusiasm and a true lust for life. That is what Brain Academy is all about.
So, you truly are the Brain Master! Gregory…thank you so much for taking the time to share your story and learning how Brain Academy is literally influencing and impacting the world. Before you go, can you leave our audience with the best way for someone to get in contact with you?
Thanks. Yes, I can be reached and followed in a number of ways, but the best are via my email contact@brainacademy.com; website www.brainacademy.com; or follow my YouTube channel https://www.youtube.com/channel/UCtJlhPYjr12Lc2Sc9FYtl2Q.
Media Contact
Company Name: Staiber Consulting
Contact Person: Rich Parsons
Email: Send Email
Address:1728 DeKalb Street
City: Norristown
State: Pennsylvania
Country: United States
Website: www.staiberconsulting.com