MerryTek, an expert developer of sensor technology, has an incredibly far reach thanks to the thousands of clients across hundreds of countries they work with. MerryTek is a well-known brand in the field of intelligent lighting design and is highly regarded for its innovative product concepts and excellent product quality. MerryTek is an occupancy sensor supplier and a presence sensor manufacturer, currently spanning four major industries and continually expanding into new industries.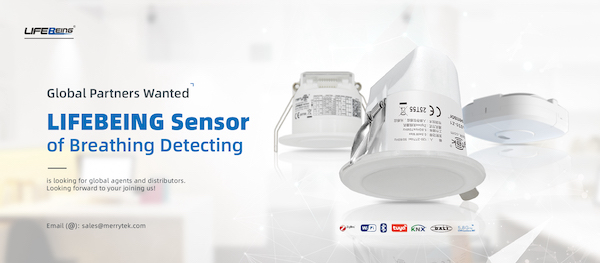 With over 200 patents, MerryTek is constantly reaching new heights and finding creative, real-life solutions to common problems. MerryTek was the first company in China to unlock microwave sensing technology for smart living and an improved living environment.
One of MerryTek's most useful inventions is an internationally patented low-impedance antenna that solves the industrial problems of traditional microwave sensors with poor environmental adaptability and susceptibility to interfering with wireless signals, including 5G, WiFi, and Bluetooth. This technology has been adopted for use in breathing heartbeat signal detection, unlocking microwave sensing in smart homes, and optimizing healthcare and security monitoring in smart buildings. This is particularly useful in MerryTek's work as a vacancy sensor company.
To learn more about MerryTek, please click here.
About MerryTek
MerryTek, founded in 2011, is a leading enterprise in the lighting control industry, expertly integrating research, development, as well as the manufacturing and sale of products. At present, the company possesses four major industries: occupancy sensors, microwave sensors, Dimmable Driver, Led Emergency Converter, and digital accessories, though MerryTek is always looking to the future. MerryTek owns one manufacturing base located in Shenzhen. Together with more than 260 employees, MerryTek builds innovative solutions. By the end of 2020, the company had obtained a total of 200 patents.
Media Contact
Company Name: Merrytek
Contact Person: Pierre
Email: sales@merrytek.com
Phone: 0086 – 755 2305 7253
Address:No.3 building, 380 Xiangshan Avenue, Luotian, Yanluo, Baoan
City: Shenzhen 518127
State: Guangdong
Country: China
Website: https://www.merryteksensor.com/