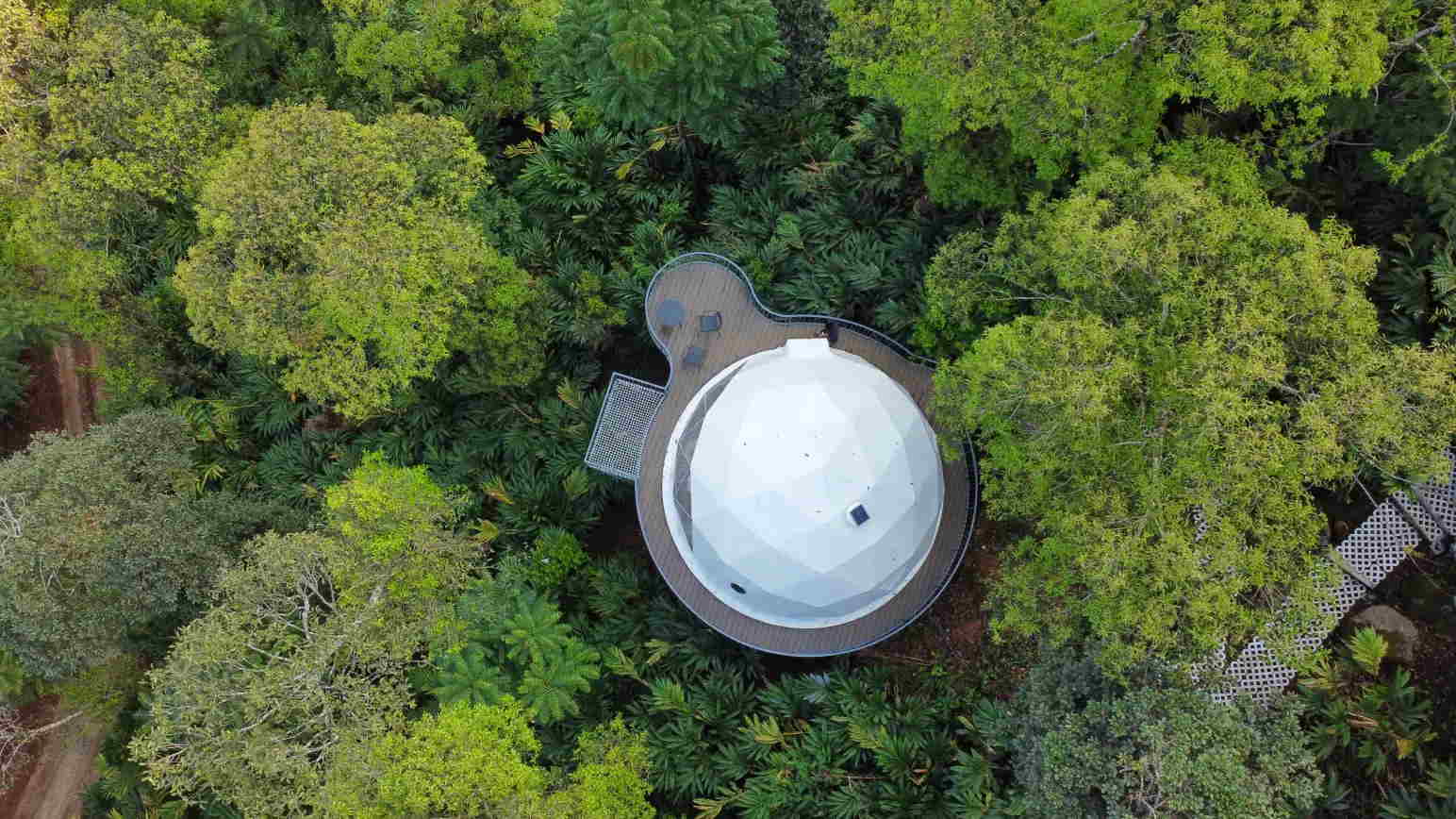 In order to provide camping enthusiasts with a better experience, Shelter Dome recently announced the integration of PVDF membrane materials into the dome design, which is regarded as a breakthrough innovation in dome materials. The eco-town of hipcamp at Los Angeles has already adopted this new material. The dome provided by Shelter Dome successfully solves the problem of seamlessly combining outdoor experiences with luxury camping. The project will be completed in September 2023, and the PVDF membrane material will become the core of the new dome material launched by Shelter Dome in the fourth quarter.
Traditional dome materials are typically glass or plastic, but they face numerous challenges in terms of heat resistance, weather resistance and durability. Compared with this, PVDF membrane materials show better characteristics in these aspects. First of all, PVDF membrane material is a flexible and colorful material, which gives the dome a variety of shapes and colors, so that Shelter Dome's products can provide users with a rich atmosphere in different occasions and activities, such as camping, weddings, brand promotions, etc. feel. Secondly, the PVDF membrane material is light in weight, only 1/8 of the steel structure and 1/40 of the concrete structure. It has good adaptability to horizontal earthquake forces and wind forces. Its structure can absorb earthquake forces and wind forces, making the dome more durable. For stability. This is Shelter Dome's solution to the problem of the dome being blown away by the wind. Furthermore, the PVDF membrane is a fabric base material woven from fibers, and is fixed with resin on both sides of the base material, showing super durability. During the installation process of the PVDF membrane, Shelter Dome made large pieces of membrane cloth in the factory and implemented effective management, which reduced on-site operation time and other costs of the entire system, and lowered the construction cost of the Dome.
Under the planning of Shelter Dome, the PVDF membrane material used in the ecological town of hipcamp has a cold resistance of -15 degrees and is flame retardant in compliance with EN71-2 standards, marking an innovative application in the field of dome building design. PVDF membrane materials are suitable for a range of dome structures, setting a new benchmark in dome architectural design. At the same time, the built dome is suitable for luxury camping and other themes in ecological towns, improving users' outdoor experience.
This innovative design of Shelter Dome provides camping enthusiasts with a new public space experience, successfully combining wilderness experience with luxury camping, and opening a new chapter in camping domes. The application of PVDF membrane materials not only brings new business opportunities to Shelter Dome, but also provides strong support for the sustainable development of the camping field. Shelter Dome plans to launch a new dome product with PVDF membrane material as the core in the fourth quarter to bring more wonderful outdoor experiences to camping enthusiasts.
"We are actively pursuing opportunities to work with global partners to support businesses around the world," Shelter Dome states its vision. The move demonstrates determination in driving global collaboration and expanding the boundaries of architectural innovation. Never content with past success, Shelter Dome is always looking for new features and benefits for customers around the world, with a passion for innovation and design advancement.
For further details on this innovative design venture, interested parties are encouraged to visit: https://shelter-dome.com/
About Shelter Dome:
An emblem of architectural innovation, Shelter Dome, with its enriched history of over 15 years, stands at the nexus of design excellence and architectural integrity. Through a blend of technological advancements, industry best practices, and global collaborations, Shelter Dome has been at the vanguard of delivering high-quality, innovative architectural solutions. With an expansive footprint across 50+ countries and 100+ projects, Shelter Dome remains devoted to exploring new design horizons, ensuring superior design, and fostering global partnerships.
Media Contact
Company Name: Shelter Dome
Contact Person: Sales
Email: Send Email
Phone: +1 424-254-9172
Country: United States
Website: https://shelter-dome.com/