• 64-inch Eight Channel High Speed Dye Sub Printer
• Utilizes High Resolution DX7 Printheads for Outstanding Images
• Ships with GO SubliMate DX Ink with Incredible Blacks and Outstanding Color Gamut
• Advanced Media Handling System for High Quality
• Supports All Types of Dye Sub Papers from Thin to Thick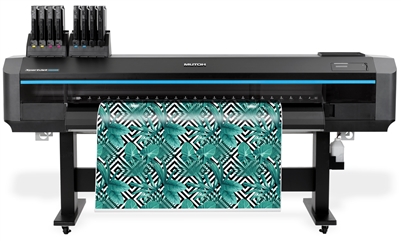 Introducing the Mutoh XpertJet 1682WR Printer
InkJetBiz is pleased to announce the availability of the new Mutoh XPJ1682WR 64-inch dye sub printer as part of its large format dye sub printer offering. As the successor to Mutoh's popular, award winning ValueJet 1638WX, the XpertJet 1682WR features im- proved usability and reduced operational workload which will ensure an excellent user experience and optimum quality output. As a result, the XPJ 1682WR dye sublimation printer is fit for both startup and established businesses wanting to extend their product portfolio.
GO SubliMate DX Dye Sub Ink for Mutoh Printers
There are two gold-plated DX piezo printheads mounted in a staggered arrangement, each supplying eight channels of ink. Our GO SubliMate DX Dye Sub Ink, as manufactured by Prism Inks, has been especially formulated for the printheads being used by the XPJ1682WR. Additionally, the XPJ1682WR is the first large format printer to feature self-dispersing dye sub ink from Prism Inks. Im- aging up to 1440×1440 dpi, the combination of SubliMate ink and Mutoh's DX print heads are a potent combination that provides incredibly rich blacks along with a color gamut not offered by other ink providers.
Target Markets
According to Elmira Mirnezami, Sales Executive, InkJetBiz, "the XpertJet 1682WR printer delivers high quality graphics for transfer onto all possible types of polyester coated or polyester based rigids, gadgets and flexible materials. We are excited to add this unit to our dye sub printer offering."
Availability
The Mutoh XpertJet 1682WR is available immediately from InkjetBiz including SubliMate Dye Sub Ink and SubliMate Dye Sub Paper.
Further information about the Mutoh XpertJet 1682WR can be found at: https://www.inkjetbiz.com/mutoh-xpertjet-1682wr-dye- sublimation-printer-p/p-002-xpj1682.htm
About InkJetBiz (IJB)
InkJetBiz provides customers with the most advanced and highest-quality digital imaging solutions possible at an affordable price
Visit IJB's e-commerce website at www.inkjetbiz.com.
With more than 20 years of experience, InkJetbiz offers the highest level of product quality and consistency for wide-format and desktop printers. We take pride in the fact that all our original inks are made in the USA.
We offer complete solutions for textile transfers, dye sublimation, color separation along with other important markets including signage, proofing, fine arts graphic arts and photography. We represent a variety of products from leading digital imaging compa- nies such as GO, Mutoh, Mogk, Shock Line, CADLink and others.
Further information about the Mutoh XpertJet 1682WR can be found at: https://www.inkjetbiz.com/mutoh-xpertjet-1682wr-dye- sublimation-printer-p/p-002-xpj1682.htm
Media Contact
Company Name: InkJetBiz
Contact Person: Jason Lance
Email: Send Email
Country: United States
Website: https://www.inkjetbiz.com/