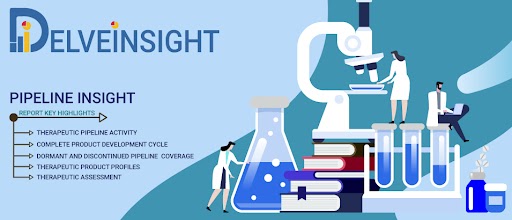 (Las Vegas, Nevada, United States) As per DelveInsight's assessment, globally, Influenza pipeline constitutes 120+ key companies continuously working towards developing 120+ Influenza treatment therapies, analysis of Clinical Trials, Therapies, Mechanism of Action, Route of Administration, and Developments analyzes DelveInsight.
The Influenza Pipeline report embraces in-depth commercial and clinical assessment of the pipeline products from the pre-clinical developmental phase to the marketed phase. The report also covers a detailed description of the drug, including the mechanism of action of the drug, clinical studies, NDA approvals (if any), and product development activities comprising the technology, collaborations, mergers acquisition, funding, designations, and other product-related details.
"Influenza Pipeline Insight, 2023" report by DelveInsight outlines comprehensive insights into the present clinical development scenario and growth prospects across the Influenza Market.
Some of the key takeaways from the Influenza Pipeline Report:
Companies across the globe are diligently working toward developing novel Influenza treatment therapies with a considerable amount of success over the years.
Influenza companies working in the treatment market are Arcturus Therapeutics, Emergex Vaccines, Emergent Biosolutions, Cocrystal Pharma Inc, GlaxoSmithKline, CureVac AG, AlloVir, Moderna, OSIVAX, Pneumagen Ltd., Ena Respiratory, Moderna, Inc., Valenta Pharmaceuticals, Raynovent Co., Ltd, and others, are developing therapies for the Influenza treatment
Emerging Influenza therapies in the different phases of clinical trials are- LUNAR-FLU, naNO-Flu, UniFlu, CC-42344, GSK4382276A, CVSQIV, ALVR 106, mRNA-1073, OVX836, Neumifil, INNA-051, mRNA-1010, XC-221, ZSP1273, and others are expected to have a significant impact on the Influenza market in the coming years.
In June 2022, In order to assess the safety and immunological non-inferiority of mRNA-1010 against a licensed seasonal influenza vaccination in adults 18 years of age and older, Moderna conducted a Phase III randomized, observer-blind research.
In July 2022, Emergex Vaccines Holding Limited has announced the production of their universal/pandemic influenza vaccine, which is prepared for Phase I clinical trials. The company developed totally synthetic CD8+ T cell Adaptive Vaccines.
Working with GSK, CureVac has dosed the first subject in a Phase I trial of the modified influenza vaccine candidate FLU SV mRNA. The investigation comes after a Phase I trial to assess CVSQIV, an unmodified multivalent influenza vaccine candidate, at clinical locations in Panama was initiated in February 2022. It is anticipated that the data from the two investigations would be presented as one big data collection.
In April 2022, Initial findings from the Phase I/II clinical trial of the COVID-19 Influenza Combination Vaccine (CIC) were released by Novavax, Inc. The COVID-19 vaccine from Novavax, NVX-CoV2373, and its quadrivalent influenza vaccine candidate are combined in the CIC. The CIC study proved that creating the combination vaccination is doable, immunogenic, and well-tolerated.
In April 2022, A study titled "Randomized, Double-Blind, Reference-Controlled, Phase IIa Study Evaluating the Immunogenicity and Safety of OVX836, A Nucleoprotein-Based Influenza Vaccine" was published in the journal Frontiers in Immunology. Osivax announced the results of this phase of research for its broad-spectrum influenza vaccine candidate, OVX836. OVX836 targets an internal nucleoprotein (NP), a highly conserved antigen that is less vulnerable to the influenza virus's continuous changes of its surface antigens. It was developed utilizing Osivax's own self-assembling nanoparticle technology.
BioNTech and Pfizer are working together to create an influenza vaccine that utilizes BioNTech's array of mRNA platforms. Data from the Phase II expansion study of BNT161 in participants 65 years of age and above were published in July 2022, demonstrating the first indications of a significant induction of strain-specific CD4+ and CD8+ responses. The GMFR was greater for both CD4+ and CD8+ strain-specific T cell responses when compared to the control quadrivalent influenza vaccine. In the second half of 2022, a Phase III investigation of the quadrivalent modified mRNA influenza vaccine is scheduled to begin, based on these encouraging T cell responses and observed seroconversion.
In May 2022, To develop BWV's universal influenza candidate, BWV-101, in Brazil, Blue Water Vaccines established a partnership with the Interdisciplinary Center for R&D in Immunobiologics, an Instituto Butantan project. With 100% of the influenza vaccine doses utilized by the Brazilian Ministry of Health produced there, Butantan is the largest flu vaccine factory in the Southern Hemisphere.
Influenza Overview
A contagious virus that affects the upper respiratory system, including the upper and lower respiratory passages, called influenza. It is caused by a broad range of influenza viruses. While some of these viruses are unique to particular species, others can infect humans.
Get a Free Sample PDF Report to know more about Influenza Pipeline Therapeutic Assessment-
https://www.delveinsight.com/report-store/influenza-pipeline-insight
Emerging Influenza Drugs Under Different Phases of Clinical Development Include:
LUNAR-FLU: Arcturus Therapeutics
naNO-Flu: Emergex Vaccines
UniFlu: Emergent Biosolutions
CC-42344: Cocrystal Pharma Inc
GSK4382276A: GlaxoSmithKline
CVSQIV: CureVac AG
ALVR 106: AlloVir
mRNA-1073: Moderna
OVX836: OSIVAX
Neumifil: Pneumagen Ltd.
INNA-051: Ena Respiratory
mRNA-1010: Moderna, Inc.
XC-221: Valenta Pharmaceuticals
ZSP1273: Raynovent Co., Ltd
Influenza Route of Administration
Influenza pipeline report provides the therapeutic assessment of the pipeline drugs by the Route of Administration. Products have been categorized under various ROAs, such as
Inhalation
Inhalation/Intravenous/Oral
Intranasal
Intravenous
Intravenous/ Subcutaneous
NA
Oral
Oral/intranasal/subcutaneous
Parenteral
Subcutaneous
Influenza Molecule Type
Influenza Products have been categorized under various Molecule types, such as
Antibody
Antisense oligonucleotides
Immunotherapy
Monoclonal antibody
Peptides
Protein
Recombinant protein
Small molecule
Stem Cell
Vaccine
Influenza Pipeline Therapeutics Assessment
Influenza Assessment by Product Type
Influenza By Stage and Product Type
Influenza Assessment by Route of Administration
Influenza By Stage and Route of Administration
Influenza Assessment by Molecule Type
Influenza by Stage and Molecule Type
DelveInsight's Influenza Report covers around 120+ products under different phases of clinical development like
Late-stage products (Phase III)
Mid-stage products (Phase II)
Early-stage product (Phase I)
Pre-clinical and Discovery stage candidates
Discontinued & Inactive candidates
Route of Administration
Further Influenza product details are provided in the report. Download the Influenza pipeline report to learn more about the emerging Influenza therapies
Some of the key companies in the Influenza Therapeutics Market include:
Key companies developing therapies for Influenza are – Moderna, SAB Biotherapeutics, ENA Respiratory Pty Ltd, Codagenix, AlloVir, Osivax, CureVac AG, GlaxoSmithKline, Cocrystal Pharma Inc, Viriom, Emergent BioSolutions, Pfizer, Jiangxi Qingfeng Pharmaceutical Co. Ltd., Guangdong Raynovent Biotech Co., Ltd, FluGen Inc, BlueWillow Biologics, AVM Biotechnology LLC, Ansun Biopharma, Inc., Guangzhou Henovcom Bioscience, Sunshine Lake Pharma Co., Ltd., Emergex Vaccines, Vir Biotechnology, CSL Limited, Novavax, Mitsubishi Chemical Group Corporation, Poolbeg Pharma, MYMETICS, CELLTRION INC., and others.
Influenza Pipeline Analysis:
The Influenza pipeline report provides insights into
The report provides detailed insights about companies that are developing therapies for the treatment of Influenza with aggregate therapies developed by each company for the same.
It accesses the Different therapeutic candidates segmented into early-stage, mid-stage, and late-stage of development for Influenza Treatment.
Influenza key companies are involved in targeted therapeutics development with respective active and inactive (dormant or discontinued) projects.
Influenza Drugs under development based on the stage of development, route of administration, target receptor, monotherapy or combination therapy, a different mechanism of action, and molecular type.
Detailed analysis of collaborations (company-company collaborations and company-academia collaborations), licensing agreement and financing details for future advancement of the Influenza market.
The report is built using data and information traced from the researcher's proprietary databases, company/university websites, clinical trial registries, conferences, SEC filings, investor presentations, and featured press releases from company/university websites and industry-specific third-party sources, etc.
Download Sample PDF Report to know more about Influenza drugs and therapies
Influenza Pipeline Market Drivers
Increasing awareness by government authorities, increasing clinical trials for new product development, increase in investment by leading market players are some of the important factors that are fueling the Influenza Market.
Influenza Pipeline Market Barriers
However, longer processes for novel vaccine development, high cost of vaccine development and other factors are creating obstacles in the Influenza Market growth.
Scope of Influenza Pipeline Drug Insight
Coverage: Global
Key Influenza Companies: Arcturus Therapeutics, Emergex Vaccines, Emergent Biosolutions, Cocrystal Pharma Inc, GlaxoSmithKline, CureVac AG, AlloVir, Moderna, OSIVAX, Pneumagen Ltd., Ena Respiratory, Moderna, Inc., Valenta Pharmaceuticals, Raynovent Co., Ltd, and others
Key Influenza Therapies: LUNAR-FLU, naNO-Flu, UniFlu, CC-42344, GSK4382276A, CVSQIV, ALVR 106, mRNA-1073, OVX836, Neumifil, INNA-051, mRNA-1010, XC-221, ZSP1273, and others
Influenza Therapeutic Assessment: Influenza current marketed and Influenza emerging therapies
Influenza Market Dynamics: Influenza market drivers and Influenza market barriers
Request for Sample PDF Report for Influenza Pipeline Assessment and clinical trials
Table of Contents
1. Influenza Report Introduction
2. Influenza Executive Summary
3. Influenza Overview
4. Influenza- Analytical Perspective In-depth Commercial Assessment
5. Influenza Pipeline Therapeutics
6. Influenza Late Stage Products (Phase II/III)
7. Influenza Mid Stage Products (Phase II)
8. Influenza Early Stage Products (Phase I)
9. Influenza Preclinical Stage Products
10. Influenza Therapeutics Assessment
11. Influenza Inactive Products
12. Company-University Collaborations (Licensing/Partnering) Analysis
13. Influenza Key Companies
14. Influenza Key Products
15. Influenza Unmet Needs
16 . Influenza Market Drivers and Barriers
17. Influenza Future Perspectives and Conclusion
18. Influenza Analyst Views
19. Appendix
20. About DelveInsight
About DelveInsight
DelveInsight is a leading Business Consultant and Market Research firm focused exclusively on life sciences. It supports Pharma companies by providing comprehensive end-to-end solutions to improve their performance. It also offers Healthcare Consulting Services, which benefits in market analysis to accelerate business growth and overcome challenges with a practical approach.
Media Contact
Company Name: DelveInsight Business Research
Contact Person: Gaurav Bora
Email: Send Email
Phone: 8774225362
Address:27 Drydock Ave S. Jones Blvd #2432
City: Boston
State: MA
Country: United States
Website: https://www.delveinsight.com/consulting/asset-prioritizaton-services