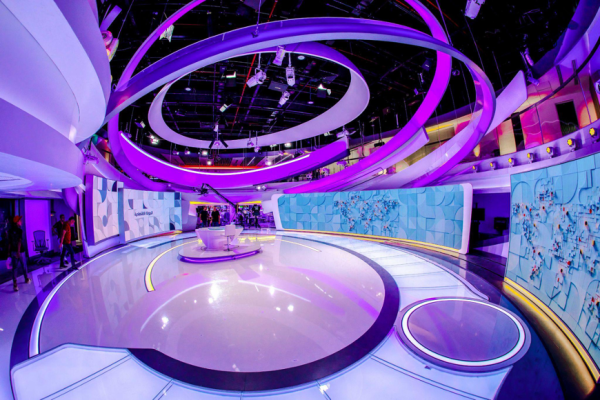 Ideal Systems Group announced today the successful completion of a turn-key project for Al-Ghad TV, to design and build visually stunning and technically advanced TV News Studios in Cairo, Egypt.
Ideal Systems was selected by Al-Ghad TV which in English means Tomorrow, is the leading Arab news channel in Egypt as a one-stop-shop to migrate Al-Ghad TV from their existing broadcast facilities in Egyptian Media Production City (EMPC) to the gleaming new facilities nearby which were fully designed and built by Ideal Systems.
The Ideal Systems design team worked with Al-Ghad to create visually stunning news studios with a variety of sets to support different programming styles. The main studio design concept centres on a stylised globe as the core of the design. Curved features surround the globe providing additional visual impact which is captured by Sony studio cameras. These curved features become multi-layer backdrops for all the sets, expressing how Al-Ghad TV news platform is connected from the centre to the whole world. The dual level studio design also incorporates five sets of LianTronics LED display walls connected to the graphics systems, three of which are on motorized tracks with one on a rotating frame to allow for portrait or landscape content.
The Ideal designed studio lighting system is fully IP based using the ArtNet Protocol, enabling sophisticated LED floor and ceiling lighting features for mood transformations that align with the essence of each show.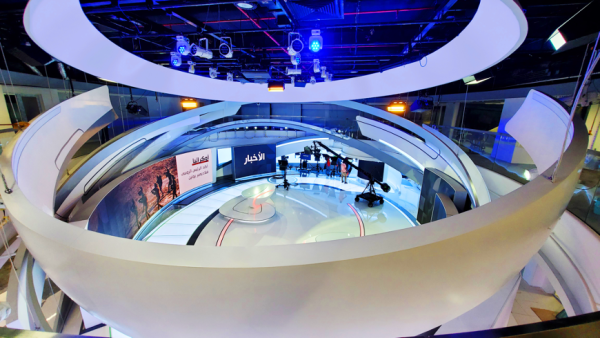 Ideal Systems designed and integrated AVID's iNews NRCS and Media Central Cloud UX Production Asset Management system (PAM) with VizRT's V5 Graphics Engine including AR and VR graphics functionality. The Audio network is all IP utilizing DANTE, controlled by fully redundant S300's and Tempest Control Rack from Solid State Logic (SSL). And also incorporates Sennheiser's DANTE microphones and in ear monitoring systems. Ideal used Imagine Communications for playout, automation, routing, and core broadcast infrastructure with Lynx Technik Green Machines for additional AV processing.
The full turn-key project included over 8,000 sqft of fixed and virtual studios over three floors, with redundant studio production control rooms plus transmission and master control rooms and a lines room for satellite bookings, seven near line edit suits, eight creative desks, and workstations for over one hundred and thirty journalists.
Video Link: https://www.idealsys.com/alghad-tv-news-studio
About Al-Ghad TV
Al-Ghad TV is an Arabic language satellite and online news channel which was first launched in 2012. It broadcasts international and Middle East news 24/7 to many audiences around the globe; specifically, Arabic speaking audiences. Al-Ghad TV has 34 news bureaus around the world with more than 50 correspondents. Al-Ghad TV delivers objective and accurate news away from sectorial and regional conflicts, giving an alternative voice to audiences in a region where the media has become very divided and polarized. Al-Ghad TV promotes the culture of tolerance and aims to enlighten the views of its audiences.
About Ideal Group

With 14 offices across MENA and APAC, Ideal Systems is the region's largest broadcast and media systems integrator. Ideal is a multinational organization providing innovative Broadcast, Cloud, AV and AI solutions and consultancy to sectors including broadcasting, media, house of worship, corporate and government organizations. Ideal Systems provides services that range from systems and business consultancy, cloud and AI integration and systems design, systems deployment and support, building of media facilities to live broadcast services.
Web: www.idealsys.com
Contact: ideal_dubai@idealsys.com
Media Contact
Company Name: Ideal Systems Media Contact
Contact Person: Melody Bilegt
Email: Send Email
Phone: +65 6684-8770
Country: HongKong
Website: www.idealsys.com