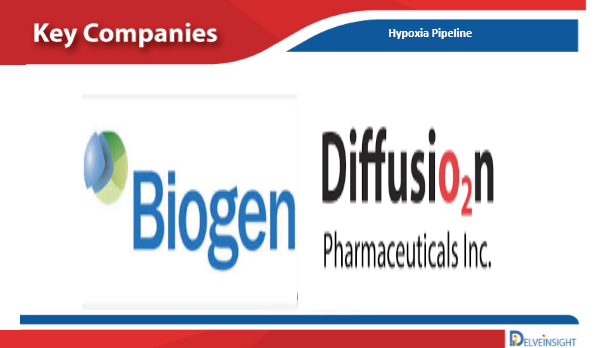 DelveInsight has launched a new report on Hypoxia Pipeline
Hypoxia is a state in which oxygen is not available in sufficient amounts at tissue level to maintain adequate homeostasis; this can result from inadequate oxygen delivery to the tissues either due to low blood supply or low oxygen content in blood (hypoxemia). Hypoxia can vary in intensity from mild to severe and can present in acute, chronic, or acute and chronic both forms. The response to hypoxia is variable; while some tissues can tolerate some forms of for a longer duration, other tissues are severely damaged by low oxygen levels. Hypoxia/ischemia
Browse free sample copy- https://www.delveinsight.com/sample-request/hypoxia-pipeline-insight
Hypoxia Pipeline analysis across different stages of development (Phase III and Phase II), different emerging trends and comparative analysis of Hypoxia pipeline products with detailed clinical profiles, key cross-competition, launch date along with product development activities.
Hypoxia Pipeline
Cerebral hypoxia refers to a situation in which there is a decrease of oxygen supply to the brain even though there is adequate blood flow, it affects the largest parts of the brain, called the cerebral hemispheres. There are multiple causes of cerebral hypoxia including cardiac arrest, choking, stroke, low blood pressure, shock, drowning, and drug overdose, paralysis of the breathing muscles in conditions such as amyotrophic lateral sclerosis (ALS), strangulation, smoke inhalation, and carbon monoxide poisoning. Cerebral hypoxia can also occur at birth and lead to brain damage in the newborn.
Hypoxia Symptoms
Symptoms of mild cerebral hypoxia include inattentiveness, poor judgment, memory loss, and a decrease in motor coordination. Brain cells are extremely sensitive to oxygen deprivation and can begin to die within five minutes after oxygen supply has been cut off. When hypoxia lasts for longer periods of time, it can cause coma, seizures, and even brain death. In brain death, there is no measurable activity in the brain, although cardiovascular function is preserved.
Emerging therapies included in the report
TMS-007: Biogen
Trans-Sodium Crocetinate: Diffusion Pharmaceuticals
Hypoxia Treatment
Treatment of vascular brain disorders has great impact clinically, financially, and socially throughout the world. Prevention of their occurrence through lifestyle adjustments and clinical antihypertensive treatment is an essential part of the therapy to reduce stroke probability and vascular malfunction-related gradual decline in memory.
Hypoxia Report Scope
The Hypoxia report provides an overview of therapeutic pipeline activity and therapeutic assessment of the products by development stage, product type, route of administration, molecule type, and MOA type for Hypoxia across the complete product development cycle, including all clinical and nonclinical stages.
It comprises of detailed profiles of Hypoxia therapeutic products with key coverage of developmental activities, including technology, collaborations, licensing, mergers and acquisition, funding, designations and other product-related details
Detailed Hypoxia research and development progress and trial details, results wherever available, are also included in the pipeline study.
Coverage of dormant and discontinued pipeline projects along with the reasons if available across Hypoxia.
Browse free sample copy- https://www.delveinsight.com/sample-request/hypoxia-pipeline-insight
Table of content
1. Report Introduction
2. Hypoxia
3. Hypoxia Current Treatment Patterns
4. Hypoxia – DelveInsight's Analytical Perspective
5. Therapeutic Assessment
6. Hypoxia Late Stage Products (Phase-III)
7. Hypoxia Mid Stage Products (Phase-II)
8. Early Stage Products (Phase-I)
9. Pre-clinical Products and Discovery Stage Products
10. Inactive Products
11. Dormant Products
12. Hypoxia Discontinued Products
13. Hypoxia Product Profiles
14. Hypoxia Key Companies
15. Hypoxia Key Products
16. Dormant and Discontinued Products
17. Hypoxia Unmet Needs
18. Hypoxia Future Perspectives
19. Hypoxia Analyst Review
20. Appendix
21. Report Methodology
What are the report highlights?
A better understanding of disease pathogenesis contributing to the development of novel therapeutics for Hypoxia.
In the coming years, the Hypoxia market is set to change due to the rising awareness of the disease, and incremental healthcare spending across the world; which would expand the size of the market to enable the drug manufacturers to penetrate more into the market.
The companies and academics that are working to assess challenges and seek opportunities that could influence Hypoxia R&D. The therapies under development are focused on novel approaches to treat/improve the disease condition.
A detailed portfolio of major pharma players who are involved in fueling the Hypoxia treatment market. Several potential therapies for Hypoxia are under investigation. With the expected launch of these emerging therapies, it is expected that there will be a significant impact on the Hypoxia market size in the coming years.
Our in-depth analysis of the pipeline assets (in early-stage, mid-stage and late stage of development for the treatment of Hypoxia) includes therapeutic assessment and comparative analysis. This will support the clients in the decision-making process regarding their therapeutic portfolio by identifying the overall scenario of the research and development activities.
Related Reports
Media Contact
Company Name: DelveInsight Business Research LLP
Contact Person: Yash Bhardwaj
Email: Send Email
Phone: +919650213330
Address:304 S. Jones Blvd #2432
City: Las Vegas
State: NV
Country: United States
Website: https://www.delveinsight.com/