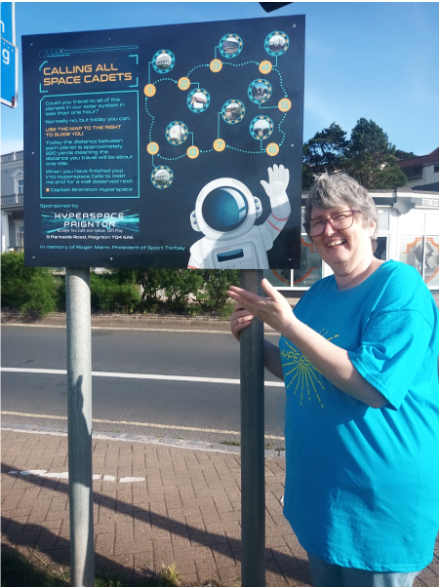 New signage enhances the jogging experience and promotes numeracy among children.
Paignton, Torbay, Devon – August 21, 2023 – Hyperspace Paignton, the town's premier family-friendly coffee shop, has breathed new life into the beloved "Green Mile" around Paignton Green. This initiative, in collaboration with Partington Print and Torbay Sports, aims to make the measured mile more accessible and engaging for everyone.
The Paignton Green circumference, historically known to locals as a mile, was first marked as a jogging route in 2010. Over the years, the "Green Mile" has served as a flat terrain for both locals and tourists to follow a mapped-out mile for regular exercise. However, with the original sponsors no longer in business and the signage showing its age, Hyperspace Paignton saw an opportunity for rejuvenation.
The revamped signs now boast large, clear numbers, making it easier for joggers to track their progress and for children to recognize and count. Additionally, fun facts have been added to enrich the experience and keep it engaging.
Lesley Morrison of Hyperspace Paignton emphasized the importance of this initiative, stating, "Young children are naturally drawn to numbers. By enhancing the markers, we not only encourage physical activity but also stimulate their curiosity and foster early numeracy and math skills."
This revitalization also serves as a tribute to Roger Mann, the late President of Torbay Sport, fondly referred to as "Mr. Sport." He was a staunch advocate for promoting sports and physical activity in Torbay. Through this project, Hyperspace Paignton hopes to keep his passion alive and inspire others to embrace an active lifestyle.
Lesley Morrison added, "By sponsoring this project, we aim to allocate public funds to other essential initiatives without compromising this invaluable community asset. As a dedicated local business, our mission is to uplift and support the broader community through innovative and collaborative efforts."
About Hyperspace Paignton:
Situated in the heart of Paignton, Hyperspace Paignton is more than just a coffee shop. It boasts a selection of quality refreshments, including 100% arabica coffee, vegan hot chocolate, and the town's first Bubble Tea offerings. Catering to families, the establishment features a soft playroom for children up to six years old and a separate Train Play area for those aged two and above. Established amidst the challenges of the COVID-19 pandemic in 2020, Hyperspace Paignton remains committed to providing a safe and welcoming environment for the entire community.
For the latest updates, events, and promotions, follow their social media platforms:
Follow us on Instagram: @hyperspacepaignton
Media Contact
Company Name: Hyperspace Paignton
Contact Person: Lesley Morrison
Email: Send Email
Country: United Kingdom
Website: hyperspacepaignton.uk