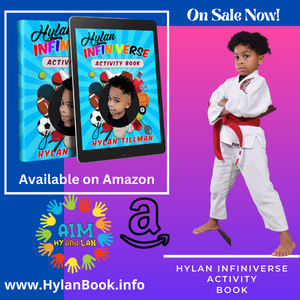 Brentwood, TN – Dec 9, 2022 – Hylan Drew Tillman is the epitome of the clique "chip off the block". His father at the age of 5 worked as a news carrier and accomplished much as a child. Today Hylan is being mentored and a prodigy of his father with his first engaging activity book. The book will help kids and adults' memory and fine motor skills.
Hylan Drew Tillman, is a gifted 8-year-old that loves sports, wrestling, martial arts, and watching videos on YouTube. Due to Covid-19, he had to start over at a new martial art school after learning one style of self- defense and completed his first book. Today he is Red Belt studying Youn Wha Taekwondo and will be testing for another belt soon. He wants to be a Black Belt before he is 10 years old. He is and exceptional child in his academics and phenomenal memory. He has been recognized for his exceptional math and comprehension at school. Hylan has taught himself the history, bio, and important facts of wrestlers, athletes, and learning about other people of influence in our history. He will amaze you with his goals and dreams.
His parents said, "We teach Hylan to not limit his learning to the classroom and he has taking that literally." So far he said that he wants to be a professional athlete in football and work towards being an actor. The foundation and support is in place for him to maximize his potential so it will be just a matter of time that we will being hearing more of his success. He was featured in Influential People Magazine and Prayze Factor Magazine. His book was featured Book of the Month on Preach The Word Network TV and on several radio station. Hylan a cover model for laExpose' Spring Magazine and earned the Young Martial Artist of the Year and Youngest Author of the Year from Extraordinary People Awards.
He is represented by laExpose' Productions for his marketing and managed by his dad. His book sales are to help with his schooling.
To help the next generation of talent visit https://www.hylanbook.info/
Media Contact
Contact Person: LaVerne Adekunle
Email: Send Email
Country: United States
Website: https://www.HylanBook.info