The property website Zoopla's most recent data published in August 2021 shows that rents outside of London are soaring at a rate not seen in over a decade. Zoopla has found that private rental prices outside of London, across the UK, have increased by 5% in the 12 months ending in July, this is more than double the 2.2% rise that was recorded in January. This means that the typical price to rent a UK home, excluding the capital, currently stands at £790 per month, which is up from £752 a year prior, adding £456 a year to the average tenant's bill. Even with these increases, competition remains fierce for properties, Zoopla stated, with rents typically agreed within only 15 days of the initial property listing.
The 5% jump is the largest recorded since the Zoopla index began in 2008. Zoopla stated that most of the increase was due to an increased demand for city living with renters returning to populated areas but finding a limited rental supply. With the start of the Covid-19 pandemic, there was a fleeing of dwellers from city centers choosing rural living to be closer to family and away from larger populations and high infection rates. Those able to work from home chose larger accommodations to create their home offices and areas for kids to continue at home education.
As the UK's lockdown restrictions have begun to ease, post the Delta Variant closure, businesses have finally reopened in city centers, resulting in a marked return to more built-up areas, according to Zoopla's report.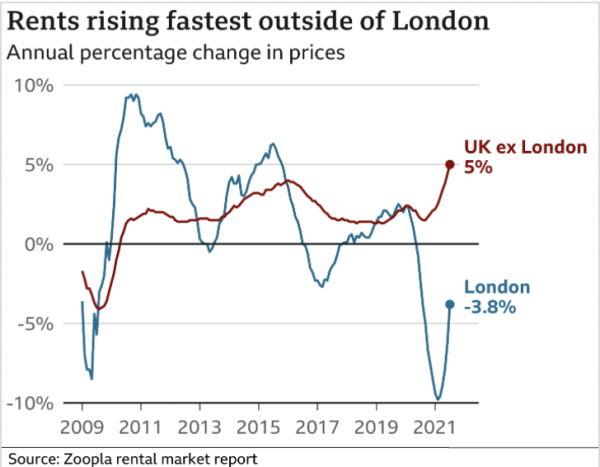 According to the Zoopla report, the August supply of property available for rent outside UK's capital was about one-third below its typical levels. This was while the selection pool was already facing pressure.
Is It A Real Return To City Life?
According to Zoopla's head of research, Grainne Gillmore, "The strong levels of rental demand that are seen across the United Kingdom during August should moderate with seasonal trends" however she continues, "overall demand for rental properties is likely to remain above the average in the coming months, during this swing back to city life." Gillmore added caution that the market would remain dependent on the path that Covid-19 viral recovery takes, specifically if any additional governmental lockdowns or restrictions are reintroduced. However, Gillmore went on, "given no deviation from the current (viral and rental market) landscape, the demands for rental properties coupled with lower levels of supply will continue putting the upward pressure on rents."
Zoopla's data showed that London had a decline of -3.8% in July on an annual basis. HULT Private Capital's Amrit Singh, part of the dynamic team behind their multinational real estate fund, agreed with Gillmore's views of eventual upward pressure but added that, "We see the PCL (Prime Central London) market lagging behind the rest of the country mainly because of the restrictions. Most of the businesses that don't require workers to be in the office have made continued accommodations for minimal office work. This will slowly come to an end as the UK gets control of the virus. Though this maybe a new normal for the time being, the city's draw will bring the masses back. It is just a matter of time. With it, London will begin to see its rents climb as well."
Significant Rental Increases In Specific Areas
According to the Zoopla rental market report, the UK's South West saw the most significant hike in rents, with their cost of being a tenant jumping by 7.6% year over year. The South-West was followed closely by the East Midlands and the North East, whose rents were up 6.8% and 6.5%, respectively.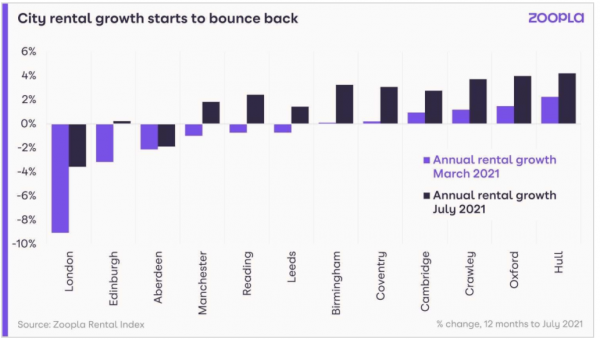 As Ms. Gilmore stated above, rent increases were quite robust in some cities and towns, with Wigan up 10.5% and Mansfield seeing a hike of 10%. At the same time, Blackburn, Hastings, Barnsley, and Norwich all grew by a minimum of 9.4%. Despite these specific city increases, they still remain some of the more affordable locations to be a tenant. A single earner must spend, on average, 20% of their income on rent while the total of the UK averages 32%. But with average earnings rising faster than rents, rental affordability is holding steady for tenants who are employed.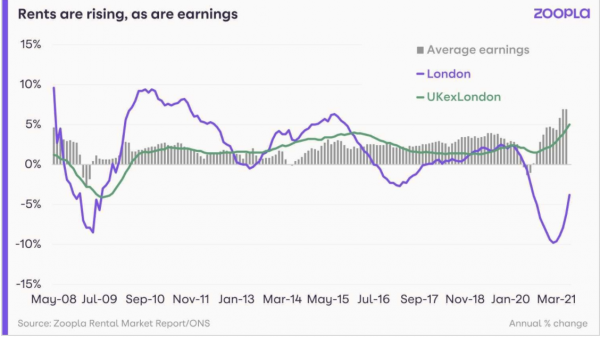 Edinburgh and London Homes
While London's total rents (homes and flats) have been down, even so, the rate at which rents in the capital are falling is showing signs of bottoming out as tenants return to the city. Homes, on the other hand, are a different story; tenant demand is soaring across the country, nearly 80% higher in August than average levels between 2017 and 2019. What's more, a home rental bounce back has begun in the 12 inner boroughs of London, where rents have risen by an average of 2.3% between May and July. HULT's Singh confirmed this trend saying, "HULT has seen a building growth in the rental market which makes buying investment properties more enticing. Our investors are more confident knowing that a revenue stream can start immediately with a London property providing a higher overall return."
Dark Period Is Coming To An End, Profits In Sight
Zoopla's Gilmore explained that the high number of people looking for a home to rent during August will ease in line with seasonal trends; however, demand is expected to remain high in the coming months while the return to city life continues. Gilmore explained, with COVID restrictions easing, "In London, this will translate into (all) rental growth returning to positive territory late 2021 or early 2022."
HULT's Singh sees a UK market with much better prospects than those of the region. "The UK's housing prices have lagged behind Europe for several years. There is going to be rebalancing, bringing investment money in to the UK to take advantage of these depressed prices."
Halifax, the UK's biggest mortgage lender, recently stated that while home prices hit a record high in August, the annual pace of growth in property values has slowed. Halifax continued, however, more importantly, the broader economic picture was positive, with high job vacancies and consumer confidence returning, which benefits the overall housing market.
Media Contact
Company Name: HULT Private Capital
Contact Person: Media Relations
Email: Send Email
Phone: +97145664052
Address:Jumeirah Bay X3, PO Box 71301, Cluster X, JLT
City: Dubai
Country: United Arab Emirates
Website: http://www.hultprivatecapital.com