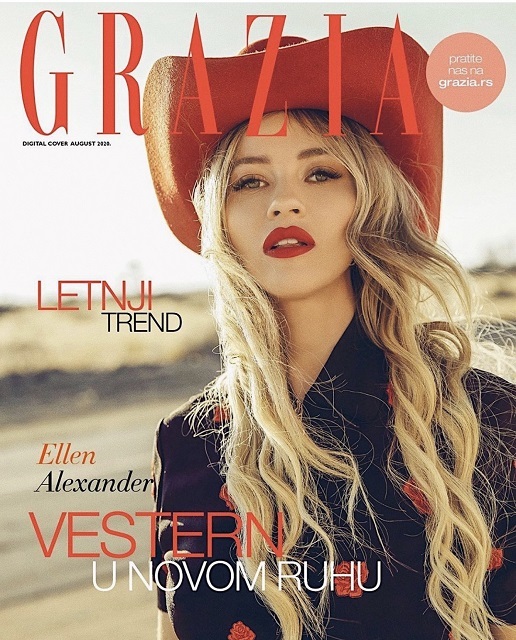 How to have great looking hair – Tips from a Russia-born supermodel
We all dream about lustrous, shiny hair with a lot of volume, but so few of us manage to make a dream come true. The experts agree that there are many causes that could lead to hair loss, as well as dull, lifeless hair that has no volume. From stress to an unbalanced diet, there is a long list of the things we can do wrong and affect the hair's quality and aspect. However, there are also some things that we could do to have the hair we've always wanted!
We decided to ask Ellen Alexander, a superb, blonde supermodel, what she does to have such amazing hair! Let's see her tips and tricks for healthy, silky, shiny hair!
Your hair looks absolutely stunning all the time! We've seen you on the cover of Vogue, but also on your Instagram pics in your PJs, and the hair is just as great! What's your secret?
Ellen Alexander: The secret is that there is no secret! It's all pretty simple and basic with me when it comes to hair care! But, at the same time, I also try to avoid common hair mistakes like using too many styling products or using heat to style the hair all the time. I believe these can do a lot of damage, especially if it's on a regular basis. I try to be moderate in everything I do, including this. Actually, I don't even do my hair much. Definitely not every day! And I don't dye my hair. Every once in a while, I would get highlights, and that's all.
How do you get amazing hair on the go?
Ellen Alexander: Well, this is a good one, actually. Because I don't always have the time to do my hair at home or spend hours on the job, I got just the right tool to help me when I'm on the run. Dyson Corrale Hair Straightener is what I get with me and use when I'm in the car. I can adjust my hair in minutes before a meeting, and it's like I had it done two minutes ago (and this is actually true!). This is the product I'd recommend everyone to use for quick results. And even if it's a hair straightener, you can use it to get light curls too.
Did you ever try natural remedies for hair?
Ellen Alexander: I think many would consider that all I do for my hair falls within this category! I am very specific about the products I use on my hair and face. And for the hair, I usually prefer natural products. There is one shampoo I like a lot, Oribe Gold Lust Repair & Restore Shampoo. Other than this, I use vitamin E oils and castor oil. I would just apply castor oil on the hair and let it nourish the hair for some time, then rinse with warm water. But I believe that it's our diet that affects the quality of the skin and hair, sometimes even more than the hair or skincare products themselves. I also take natural supplements, like vitamins and minerals, and my hair got so much better since I started doing this.
Occasionally I'd try a new hair mask or a new hair product, but mostly I try to avoid damaging my hair.
Did you try aesthetic hair procedures?
Ellen Alexander: Yes, from time to time, I'd get PRP therapy for hair. This is the well-known Vampire therapy that uses plasma from your own blood to regenerate the hair and face. I don't do it very often; it could be as rare as one session per year. And I haven't tried other treatments; I try to keep it natural and cool!
Media Contact
Company Name: Ellen Lifestyle
Contact Person: Ellen Alexander
Email: Send Email
Country: United States
Website: ellenlifestyle.com