After 15 years in the beauty industry, Natalie Christopher finally gets insights to expand her hair business.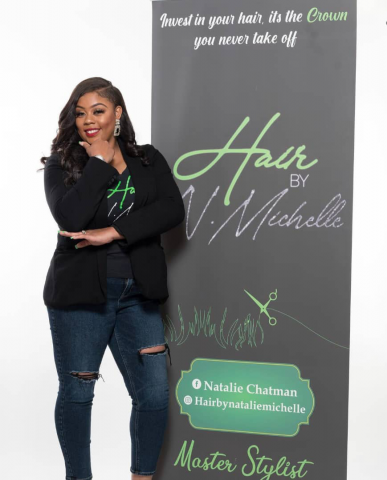 Natalie Christopher, owner of Hair by Natalie Michelle sets a record for herself and black owned businesses in Houston. Natalie, who before the pandemic, was only providing hair services had the chance to analyse her business during the pandemic and came up with a whole new idea for her hair business. She stepped up her business from just offering hair styling services to having a product line of hair care and beauty products. Products which are presently selling in Walmart. Also, Natalie currently offers online and in person classes for stylists and potential stylists, teaching others how to start and scale their businesses.
The Houston stylist has been in the beauty industry for over 15 years. She started doing hair in middle school. Growing up, her passion for the beauty business also grew and she started beauty school at Trinity Valley Community College. She was at Trinity Valley Community college for a year before she left for Franklin Beauty School. In the year 2011, she graduated from the Franklin Beauty School where she received her license and chose to specialize in hair extensions and natural hair. In her words, "Even though we love our hair extensions, we still have to care for our own natural hair, it's also what's underneath that counts!" Recently, she launched her mobile app, Hair by Natalie Michelle, on which clients can book her services and also purchase online courses.
She believes that people have to build and learn during the growing process because that is what makes businesses stand out. According to her, ''You have to start from somewhere." This is the motivation behind her resolve to always look out to doing other things in the beauty industry so that she can always scale her business. Natalie Christopher's favorite childhood memory was always doing hair at school (in classrooms), at home on the porch, on the school bus to high school games. She confirms that hair making was something that she had been known for always doing. Hence, giving hairs the importance, they deserve through her business Hair by Natalie Michelle is something she loves and hopes to continue doing.
For more information about Hair by Natalie Michelle, visit – http://hairbynataliemichelle.net
Media Contact
Company Name: Hair by Natalie Michelle
Contact Person: Natalie Christopher
Email: Send Email
Phone: 832-216-9829
Country: United States
Website: hairbynataliemichelle.net