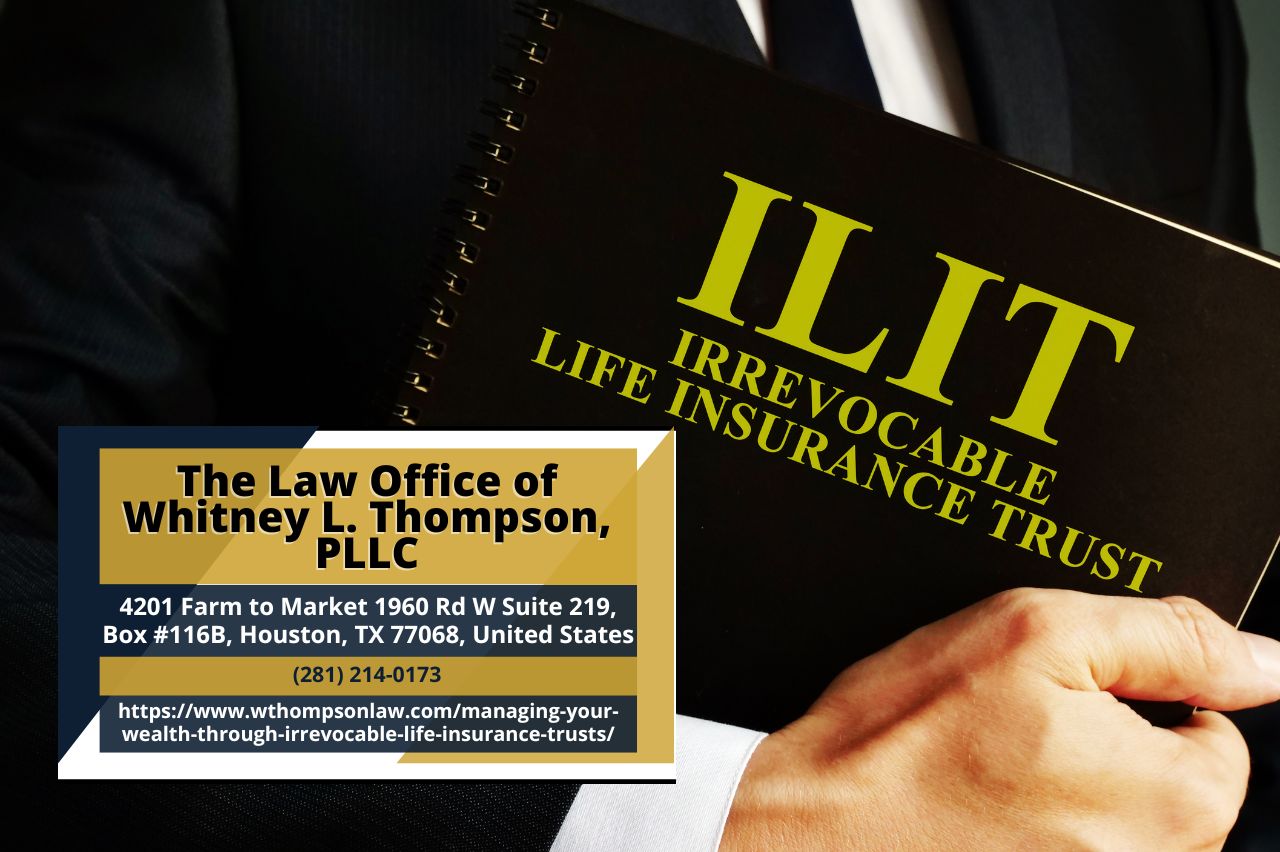 Houston trust attorney Whitney L. Thompson (https://www.wthompsonlaw.com/managing-your-wealth-through-irrevocable-life-insurance-trusts/) of The Law Office of Whitney L. Thompson has recently published a comprehensive article titled 'Managing Your Wealth Through Irrevocable Life Insurance Trusts.' The publication comes at a crucial time when the federal estate tax exemption allowance is potentially facing significant reductions, prompting a need for reassessment of wealth transfer strategies.
Whitney L. Thompson, a renowned Houston trust attorney, discusses the intricacies of Irrevocable Life Insurance Trusts (ILITs) in her recent publication. She emphasizes the necessity for individuals to navigate the complexities of these financial tools effectively to secure their family's financial future.
The Houston trust attorney sheds light on the strategic role played by life insurance trusts for individuals with substantial wealth. Thompson states, "A life insurance trust is a legally structured arrangement that serves as a pivotal tool in reducing estate taxes during the transfer of life insurance policies." She further adds that these trusts ensure financial security for loved ones, although life insurance proceeds may be subject to taxation.
Thompson highlights the numerous benefits of establishing a life insurance trust, including estate tax reduction, controlled asset distribution, and creditor protection. She explains, "By transferring a life insurance policy into the trust, the policyholder effectively removes it from their taxable estate. This strategic move results in substantial tax savings for their heirs."
The article further delves into the understanding of Irrevocable Life Insurance Trusts and their employment as a mechanism to reduce estate tax. Thompson points out the important requirements for correctly creating and maintaining an ILIT. "It's crucial to name a trusted person or financial institution to act as a responsible trustee," she advises. "The trust itself must be the owner of the life insurance policy to avoid the policy being considered part of the estate due to a look-back rule."
Thompson provides a detailed explanation of the Crummey power to accommodate the gift tax exclusion requirement. "Sending a Crummey letter to the beneficiaries of an ILIT informs that a gift has been made to the trust, and there is an immediate and unrestricted right to withdraw those assets for up to thirty days," she mentions.
The Houston trust attorney emphasizes the potential of an ILIT as a powerful tool that can minimize estate taxes, avoid gift taxes, protect assets and government benefits, and select the timeline of distribution to beneficiaries.
The article is a must-read for individuals and families looking to navigate the complexities of estate planning, especially in light of potential changes to the federal estate tax exemption.
About The Law Office of Whitney L. Thompson:
The Law Office of Whitney L. Thompson is a prominent legal firm based in Houston, Texas. Led by Whitney L. Thompson, the firm's team of dedicated attorneys is committed to helping clients navigate the intricacies of estate planning and wealth management. With extensive knowledge and experience, they assist in creating legal instruments that protect clients' assets and loved ones, fostering financial security for generations to come.
Embeds:
Youtube Video: https://www.youtube.com/watch?v=3Df80bRnOvU
GMB: https://www.google.com/maps?cid=9428708165305469162
Email and website
Email: info@wthompsonlaw.com
Website: https://www.wthompsonlaw.com/
Media Contact
Company Name: The Law Office of Whitney L. Thompson, PLLC
Contact Person: Whitney L. Thompson
Email: Send Email
Phone: (281) 214-0173
Address:4201 Farm to Market 1960 Rd W Suite 219, Box #116B
City: Houston
State: Texas 77068
Country: United States
Website: https://www.wthompsonlaw.com/